Native American students in New Mexico are expelled far more often than members of any other group. One school district, Gallup-McKinley County Schools, is responsible for most of that disparity.
New Mexico Attorney General Raúl Torrez is opening an investigation into disproportionately harsh punishment of Native American children by Gallup-McKinley County Schools.
New Mexico In Depth and ProPublica reported in December that Native students are expelled from the state's public schools at a much higher rate than other children, and that Gallup-McKinley, with the largest Native student population of any public school district in the U.S., is largely responsible.
The district, which includes large swaths of the Navajo Nation in northwestern New Mexico, enrolls a quarter of the state's Native students but was responsible for at least three-quarters of Native expulsions in the 2016-17 to 2019-20 school years, according to student discipline data. The district's annual expulsion rate was 4.6 per 1,000 students, at least 10 times as high as the rest of the state during those four school years.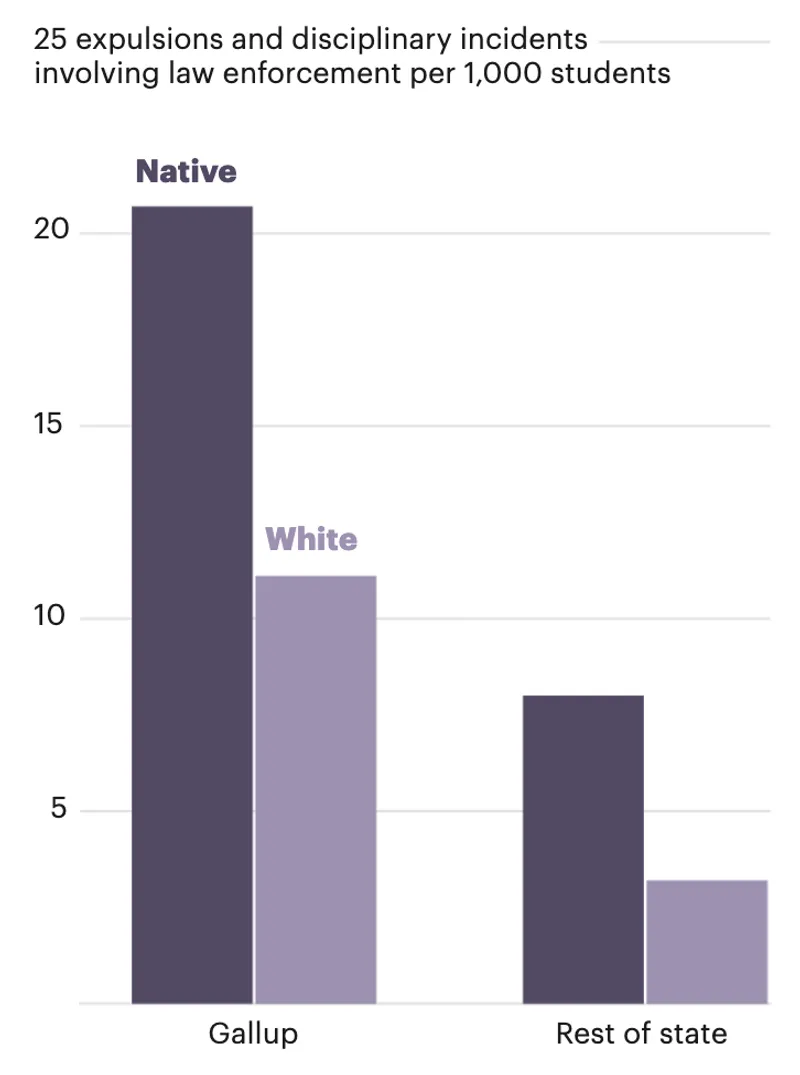 After the news outlets published their investigation, superintendent Mike Hyatt disputed those findings, claiming that the district had made an error in how it classified discipline, which drove up expulsion rates. (He said his district had misreported suspensions to the state Public Education Department as expulsions.) But Gallup-McKinley's rate of student removals from school for 90 days or longer, regardless of what those removals were called, remained far higher than in the rest of the state, the news outlets found.
Gallup-McKinley officials did not respond to questions about Torrez's intention to investigate the district's discipline disparities.
The attorney general's office has traditionally defended public agencies accused of wrongdoing rather than investigating them. Torrez, who took office in January, told New Mexico In Depth he's dismayed that it's taken this long for the attorney general's office to investigate agencies and school districts suspected of violating New Mexicans' civil rights.
"It's embarrassing, frankly, when I speak with colleagues from other states who have been doing this work since the 1970s," Torrez said.
In March, state lawmakers passed a bill that would have enshrined a new Civil Rights Division in the attorney general's office. Gov. Michelle Lujan Grisham didn't sign the bill into law, noting that the agency already had the authority to pursue civil rights cases and that executive agencies can police themselves.
The legislation would have granted the attorney general authority to demand records from public bodies suspected of civil rights violations, which the agency does not have now. Without that authority, his investigators must get public bodies to cooperate and, if they refuse, sue them in court to obtain records — a much longer process.
The governor's office did not respond to questions about the attorney general's investigation into school discipline at Gallup-McKinley.
Torrez said that investigation will not be limited to expulsion and suspension rates. It will look at how often the district refers students to law enforcement, among other things.
His office is seeking updated student discipline data from the Public Education Department, but for now it's examining a dataset the news organizations obtained from the department and published online, along with a detailed description of their data analysis. Martha Pincoffs, the acting communications director for the department, said that it plans to share updated data with Torrez's office.
Torrez did not say when his office would formally notify Gallup-McKinley of its investigation, and it's unclear how long the probe will take.
"Our hope is that they will voluntarily change these practices," he said.
Torrez also wants to take control of the state's response to a decade-old lawsuit in which a judge ruled that the state had violated the educational rights of Native Americans, English-language learners and disabled and low-income children.
Caroline Sweeney, spokesperson for Lujan Grisham, defended her administration's work to resolve that suit, known as Yazzie-Martinez, and suggested that Torrez focus on holding local school districts accountable.
The grandmother of one Navajo middle school student whose removals from a Gallup-McKinley school were described in New Mexico In Depth and ProPublica's story said the investigation was welcome news. (New Mexico In Depth and ProPublica agreed not to name her or use her grandson's full name due to her fear that he would face retribution in school.)
"I'm not too sure Gallup-McKinley will be honest with them, though," she said.
Joel Jacobs contributed reporting.