After the Supreme Court overturned Roe v. Wade, ending nearly 50 years of federal protection for abortion, some states began enforcing strict abortion bans while others became new havens for the procedure. ProPublica is investigating how sweeping changes to reproductive health care access in America are affecting people, institutions and governments.
When the U.S. Supreme Court last year overturned Roe v. Wade, it greenlighted the kind of near-universal abortion restrictions that Idaho lawmakers had spent the previous two years crafting. Gov. Brad Little said the state should turn to helping women who might otherwise have terminated pregnancies.
"We absolutely must come together like never before to support women and teens facing unexpected or unwanted pregnancies," said Little, a Republican who supports the abortion ban. About 1,700 to 2,000 people a year in Idaho had abortions before the court ruling. "Families, churches, charities, and local and state government must stand ready to lift them up and help them and their families with access to adoption services, health care, financial and food assistance, counseling and treatment, and family planning."
But since the June 2022 decision, Idaho has failed to deliver — even as other conservative states with abortion bans took steps to enhance their safety nets for families during pregnancy and after birth.
Idaho legislators disbanded a state committee that investigated the root causes of maternal deaths, making it the only state in the nation with no such mortality review.
They allowed two bills to die that would have put Idaho on the same track as nearly every other state with abortion restrictions — including Florida, Kentucky and Texas — by extending postpartum Medicaid coverage to 12 months. Idaho's Medicaid coverage ends two months after birth, the minimum under federal law.
They turned down $36 million in federal grants to support child care this summer, while other states with new abortion restrictions — Alabama, Louisiana and Missouri among them — made investments in early childhood education and day care. Idaho lawmakers at the time attributed the decision to a pending audit of a different batch of grants.
Democrats generally support these kinds of measures, but Idaho Republicans dominate the state capitol and therefore control which bills move forward.
Rep. Brent Crane, a longtime Republican leader who chairs the House State Affairs Committee, said GOP lawmakers last year had hoped to put forward bills to improve health care and support for kids and families after the Supreme Court struck down federal protections for abortion rights. They instead got bogged down in debate over exceptions to the abortion ban.
"Idaho has some work to do," Crane said. "Be patient with us."
The need is urgent, according to Emily Allen, policy associate for the nonprofit Idaho Voices for Children. The state, she said, needs health care funding and other support in place to adjust to life after the abortion ban.
"Things have changed," Allen said. "We can either bury our head in the sand, or we can respond with good policy that is very family-centric."
But Blaine Conzatti, president of the Idaho Family Policy Center and a leading anti-abortion lobbyist, is not bothered by the lack of government support. Pregnancies, births and child care are not the purview of the government, he said, but of families, communities, charities and, most of all, churches.
"The Bible is clear, and the history of Christendom broadly is clear, that it's the church's responsibility to meet the needs of the poor and to ensure that people have the services that they need to live flourishing lives," Conzatti said.
No action set Idaho apart from other abortion-ban states more than when the Idaho Legislature allowed its Maternal Mortality Review Committee to die this year. The committee had been granted unique powers to review private health care and other records of women who died during or within a year after pregnancy and draw conclusions about the root causes of those deaths.
Its budget of $10,000 a year came only from federal funds, so keeping the committee going seemed pro forma. Every single state, New York and Texas alike, had put one in place. But in Idaho, a lobbyist for an ultraconservative political nonprofit stood up and spoke against it at a hearing.
Fred Birnbaum, legislative affairs director of Idaho Freedom Foundation, said studying the causes of Idaho's roughly 10 to 15 preventable maternal deaths each year risked inviting a push for more government support to help keep people from dying. And government support was anathema to his group.
"You know the old saying, 'All roads lead to Rome,'" said Birnbaum, who testified against the committee's creation on similar grounds in 2019. "Well, all government-created committees lead to the call for more government spending."
Birnbaum's assessment was partly correct. Idaho's maternal mortality committee had made recommendations that could increase public spending, such as extending Medicaid coverage postpartum, expanding access to naloxone to prevent death from opioid overdose and providing better housing and child care support. But of the 52 recommendations in the committee's final report, most called for no new government spending.
The role of such committees has not been so controversial in other Republican-led states.
The Texas Maternal Mortality and Morbidity Review Committee, for example, has been around for about a decade and is now "part of the entire effort" to reduce tragic outcomes from pregnancy and birth, said Chris Van Deusen, director of media relations for the Texas Department of State Health Services.
The Texas committee's findings in 2018 that patients had bled to death in childbirth helped push the state to adopt recommendations and protocols for hospitals to train their employees to measure blood loss and to educate people on what is abnormal bleeding. Birth-related hemorrhage deaths started to fall the following year, Van Deusen said.
He said the committee has generally had the support of Texas lawmakers, who voted last year to adopt one of its recommendations and extend postpartum Medicaid coverage to 12 months.
Advocates for the creation of Idaho's committee in 2019 pointed out how other states had helped reduce maternal death rates: seat belt laws in Nevada; substance use disorder treatment in Michigan; urgent messages to doctors and hospitals in Florida.
Lucky Bourn, the longtime Republican coroner of Minidoka County and a member of the maternal mortality committee, said its demise means Idaho will have no window into maternal deaths in the wake of its abortion ban, because the committee's final report used data from 2021.
"I was very disappointed in the Legislature when they did not continue the funding of it," Bourn said. "The thought that comes to my mind is, 'With the change in the abortion laws in the state of Idaho, do you think that might have a correlation in the rise of the mortality rate of the women who don't want to be pregnant?'"
The number of maternal deaths since the abortion ban took effect has not yet been reported. The committee believed it would have had 10 maternal deaths to evaluate from 2022 if it had continued.
ProPublica identified at least two deaths during pregnancy and childbirth that the maternal mortality committee could have evaluated. One death was from complications during childbirth in 2022, according to the woman's obituary. The other was a murder-suicide this year that claimed the life of the pregnant mother and her toddler, according to the sheriff in the rural North Idaho county where she lived.
Little's staff told ProPublica that he will bring forward a proposal in 2024 "to continue the work of this important committee."
Lawmakers are also poised to consider other proposals that have previously gone nowhere. Idaho House Majority Leader Megan Blanksma, a Republican from Elmore County, said she is working on bills that would improve prenatal and postpartum health care, resume the study of maternal deaths and "support young families."
Blanksma also said she will revive legislation to extend Medicaid coverage for postpartum care to a full year, a concept she said she dropped last session because of the ballooning cost of Medicaid.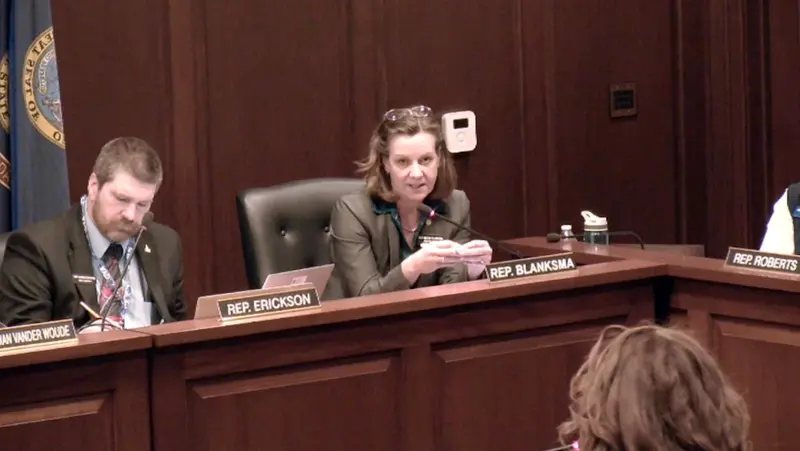 "We are working on a full package to introduce come January," Blanksma told ProPublica.
Conzatti, the anti-abortion lobbyist, advocates a more hands-off approach from the state.
Idaho has at least 16 "pregnancy resource centers" spread across every region of the state. Many in Idaho are Christian-oriented organizations that offer counseling, referrals and some material support like diapers. According to the American College of Obstetricians and Gynecologists, the centers' goal back when Roe v. Wade was in effect was to persuade women to carry their pregnancies to term rather than have abortions.
Few Idaho centers offer medical care beyond pregnancy tests and "heartbeat" ultrasounds.
But those centers are where Conzatti said people who have unplanned pregnancies should now look to for help. They embody his vision of a world before legalized abortion and before Medicaid got involved in the lives of poor families.
Crane, the Republican House leader, wouldn't rule out state-funded support for pregnancy centers if there's political will for it among lawmakers.
"Every option is on the table," he said.