JACKSON, Miss. — The freeze of early 2021 wasn't the origin of Jackson, Mississippi's water system collapse. But the winter storm introduced the country to Jackson's aging and improperly maintained pipes and water plants, which failed and left residents without clean water for over a month.
The crisis surged back in the summer of 2022, leaving residents without clean water for two months and drawing comparisons to Flint, Michigan's lead-poisoning scandal, another banner example of America's ruinous infrastructure systems. Here, as in Flint, the federal government stepped in: In November, the Department of Justice appointed a federal manager to take control of the beleaguered utility, and less than a month later, Congress approved $600 million exclusively for the city's water system.
But the rescue effort is already running up against the realities of local politics, reflecting historic tensions between Jackson and the rest of the state. For decades, state and city leaders have clashed over who should control local spending, services and infrastructure. Now, both the federal manager and the city's mayor are warning that state politicians are attempting to take over Jackson's water system, along with hundreds of millions in federal funds meant for repairing it.
At the heart of the feud is Senate Bill 2889, introduced in mid-January by a lawmaker who says his only goal is to ensure the Mississippi capital's water system is restored.
The legislation would create a new regional water-authority board to oversee the system's water, sewer and drainage systems. The governor and lieutenant governor would appoint a majority of the board. Over the years, state leaders including the current governor, Tate Reeves, have expressed skepticism about whether Jackson is capable of managing its own affairs. Federal agencies, including the Justice Department and the Environmental Protection Agency, have also questioned the city's management of its water and wastewater systems.
The latest move in the Legislature worries the manager, Ted Henifin, who says a regional authority could allow improvements and debt relief to flow out of Jackson and into suburban utilities that join the entity. "I believe the $600+ million in federal funding has created a monster in the Mississippi Legislature," Henifin told the Mississippi Free Press and ProPublica in a written statement last week. A federal judge appointed Henifin to the position of interim third-party manager in late November.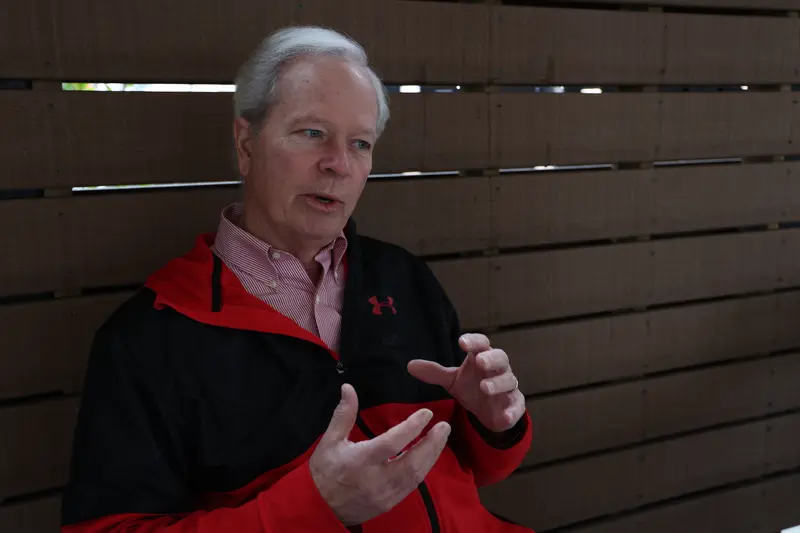 Jackson Mayor Chokwe A. Lumumba built on Henifin's critique Monday. "It is a colonial power taking over our city. It is plantation politics. I have not been shy in the ways that I have referenced this," he said.
The mayor highlighted a litany of other proposed legislation that together would give Mississippi authority over segments of Jackson's police and court systems. He called the legislative proposals a "unified attack" against the city's autonomy.
"It reminds me of apartheid," he said. "They dictate our leadership, put a military force over us and we're just supposed to pay taxes to the king."
The bill's sponsor, state Sen. David Parker, R-Olive Branch, and Lt. Gov. Delbert Hosemann, whose office helped design the measure, strongly denied that attempts to divert federal funds were behind the legislation. After the news organizations asked Parker about some critics' concerns, he and Hosemann agreed that the state should recoup none of the federal funds, and Parker pledged to introduce an amendment that would explicitly prohibit the use of the funds outside Jackson's city limits.
Henifin was unmoved, saying he was concerned that amendments could be overwritten later, and that a regional utility was the wrong solution for Jackson in any case.
"We Need an Arbitrator"
If the Senate bill becomes law, the Mississippi Capitol Region Utility Act would effectively give the state authority over Jackson's water system once the federal manager's authority lapses.
That's because it would grant the governor power to appoint three of the nine members, and the lieutenant governor two, giving statewide leaders, who are white, majority control over water, wastewater and stormwater utilities in Jackson, whose population is 82% Black. The mayor would get four appointments, including one that he would have to select in "consultation" with the mayor of nearby Byram, majority Black, and another chosen with the mayor of Ridgeland, a demographically mixed suburb. The board would then elect a president to formally lead the new regional utility.
In an interview, Henifin said he believes Jackson's system requires judicial and federal oversight to prevent the mismanagement of critical infrastructure funds, which he estimates would take years to properly spend.
"I think at the end of the day we need an arbitrator, and I think that's a federal judge in this case." He said he believes this oversight should be extended to protect the federal dollars, estimating that five years of some form of oversight should be sufficient to lock in the necessary contracts and investments.
He later said that legislative interference might threaten efforts to procure a contract to address the water system's crucial staffing shortages because the prospect of a change in the water utility's leadership while a long-term contract is still being executed could scare off large corporations.
Although Parker and Hosemann were complimentary of Henifin in interviews with the Mississippi Free Press, Henifin says neither of the parties involved has ever consulted him. Indeed, he said that Hosemann's office rebuffed his attempt to set up a meeting. Hosemann acknowledged that he had not spoken with Henifin yet but said he intended to "shortly."
"I Wanted to Be Very Sympathetic"
Parker said that although he lives 200 miles from Jackson, he did experience the city's water crisis firsthand.
"I have a daughter that I live with during the legislative session," he said. "I've spent numerous times walking down to the swimming pool and dipping water into a cooler, taking it back up to the toilet to flush. We live in an apartment complex that's had to put portable facilities on the ground floor to allow people to go to the bathroom."
"I wanted to be very sympathetic and compassionate to the feelings of the mayor and other people who have spent a long time trying to seek answers to this problem," Parker said. "So in setting up a board that would be overseeing the water and sewer system, my idea was to give the mayor four appointments on a nine-member board."
He said he believed the governor and lieutenant governor should appoint a majority of the board's members because Mississippi's failure to "provide the basic needs and services that our people deserve is reflected 100% back on the governor and the people in this building."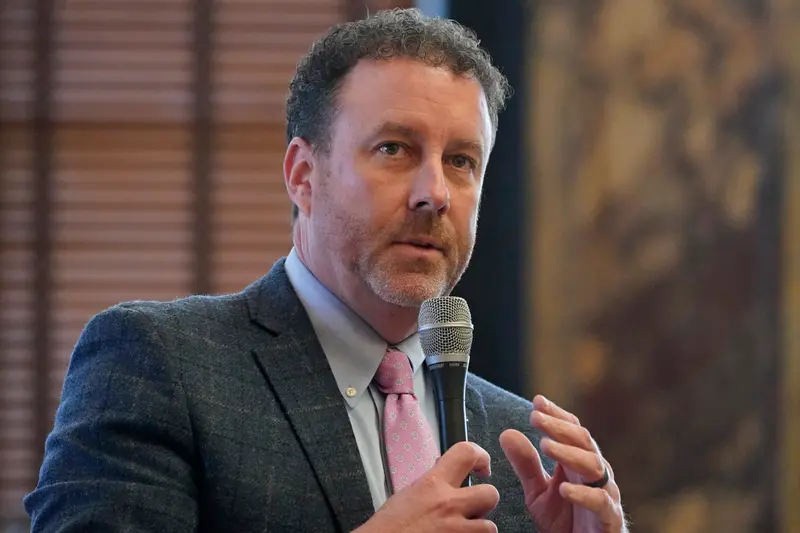 Parker said he initially believed that residents in Ridgeland drew water from Jackson's treatment plant. Though the facility itself is located in Ridgeland, reporters told Parker that Ridgeland does not currently receive water from Jackson's water system; they also told him that parts of Ridgeland may use Jackson's greater sewage system. He then suggested the bill may have included that city's mayor in light of that fact.
He expressed surprise over Henifin's comments and strongly denied any intent to divert money away from Jackson.
"There is no intent on my part to stack a board in any way, shape or form that would give preferential treatment to the fringe areas of the water authority," he said. "My hope would be that if the majority of the water authority is within the city of Jackson, I would hope that the governor, lieutenant governor and mayor would put people on the board from those geographic areas."
Parker said he intends to speak with Henifin as his bill makes its way through the Senate.
"Crafting something like this is an extreme challenge."
The bill gives the surrounding municipalities a path to join the new capital water authority, transferring their assets and debts to it, a common feature of regional utilities.
The news organizations asked Parker if any part of SB 2889 prevented that regionalization from allowing federal funds to be dispersed to utilities outside Jackson. Parker said he would look into that question. A day later, Hosemann said he had agreed with Parker that they should address any gaps that might allow money to be spent outside of the authority itself.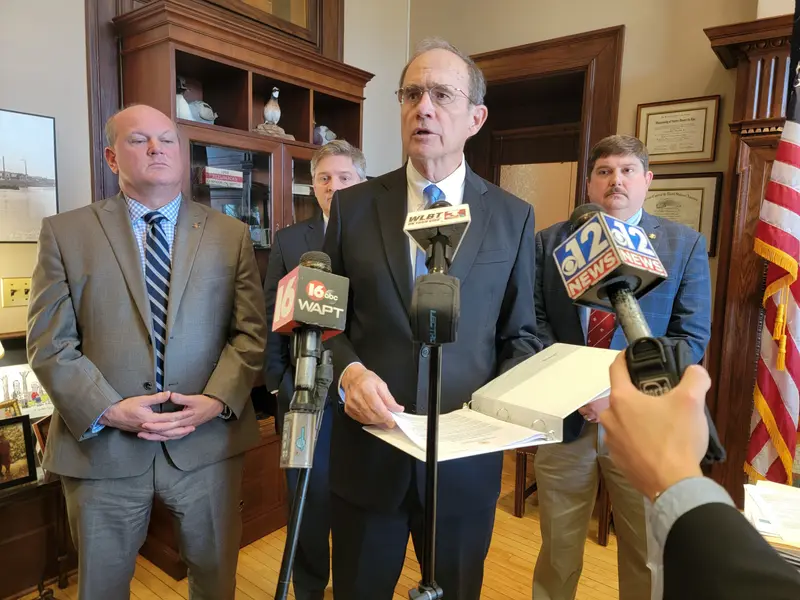 "It Is Plantation Politics"
Lumumba said the feud over spending the federal funds highlights the friction between the state's majority-white leaders and the majority-Black capital city.
"It is plantation politics," Lumumba said. "It's consistent with this paternalistic relationship that the state of Mississippi believes that it maintains with the city of Jackson."
Lumumba compared it to the 1% Sales Tax Commission, a system the Legislature designed to assert control over spending derived from a special sales tax Jackson maintains to fund infrastructure projects.
The mayor identified other bills as part of what he considers an assault on the city's right to self-determination, including bills to expand the Capitol Police's territory. Another bill would create an independent court system of unelected judges and prosecutors for that same area. Lawmakers said the legislation was needed to respond to a rise in crime rates.
"It's all a unified attack," he said.
In a response to additional inquiries, Hosemann's Deputy Chief of Staff Leah Rupp Smith said they defer to Parker on the legislation but "share a desire with all parties to find a long-term solution," and she said that a regional utility authority "has been viable in other parts of our state." They said they planned to meet with Henifin the week after next.
Parker said his conversations with the mayor have been "productive and congenial." He added that they "share an interest in ensuring all people served by the systems have access to safe and reliable water and wastewater services at a fair and reasonable cost."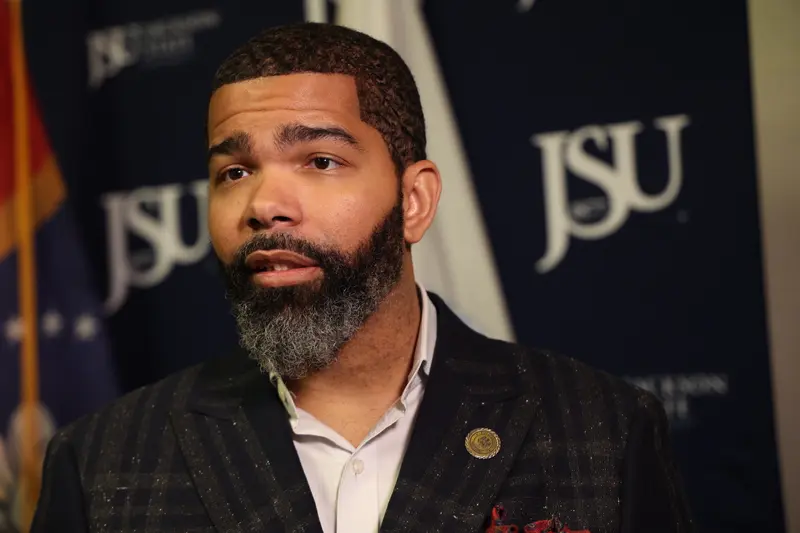 In recent years, Lumumba has clashed repeatedly with Hosemann over Jackson's autonomy. "The last time I met with him, he said that I needed to look at a possible relationship with the state of Mississippi, because 'what did I think, that Biden was gonna write me a check?'"
"I recently told him I do, and he did," the mayor said of Biden.
Senior reporter Kayode Crown of the Mississippi Free Press contributed reporting.