Oprah Winfrey looked upset.
The photo caught her midsentence, her left hand jabbing at the camera.
"They are twisting everything," the TV icon was quoted as saying, under a red "BREAKING NEWS" banner.
The ad featuring the Winfrey image and quote ran on the conservative website DC Swamp Tales. It directed readers to a webpage that resembled a news article. The text spun a narrative about a television interviewer who unfairly berated Winfrey for promoting a revolutionary product that could "reverse Dementia instantly & for good."
But there was no such dispute. Winfrey's quote was fake, and her name and likeness were used without permission. The product, a low-dose, cannabis-derived gummy supplement, does not treat dementia, let alone reverse it.
"These ads are false. Oprah Winfrey does not have anything to do with these products," Nicole Nichols, a spokesperson for Winfrey's company Harpo Inc., told ProPublica.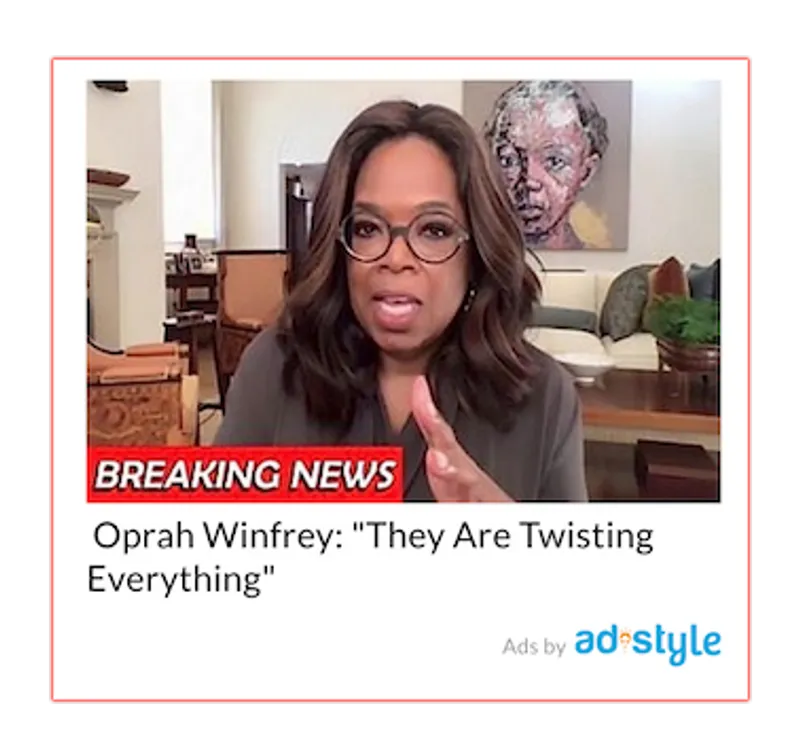 Such scam ads have proliferated on right-wing websites worldwide in the past eight months. They use fake endorsements from celebrities including Winfrey, country music singers Dolly Parton and Reba McEntire, Twitter and Tesla owner Elon Musk, actor Ryan Reynolds, Canadian prime minister Justin Trudeau and former German chancellor Gerhard Schröder to promote dubious medicines and cryptocurrency frauds. Conservative publishers make money from each click on a deceptive ad, exploiting their like-minded readers.
The ads were placed by AdStyle, an ad network whose corporate website lists it as being registered in Delaware with an office in Boca Raton, Florida. Its website said it is "trusted by" major brands including Toyota, Ikea, EA Games and L'Oréal. But Florida and Delaware corporate registries have no record of AdStyle, which appears to be operated by a Latvian couple living in Italy. Spokespeople for Toyota, Ikea and EA Games said they could not find any records of those companies working with AdStyle. L'Oréal did not respond to queries.
"These ads are certainly terrible," said Kirsten Grenier Burnett, a spokesperson for McEntire. Spokespeople for Trudeau, Musk, Reynolds, Schröder and Parton either did not respond or declined to comment.
This month, after reporters contacted AdStyle, the "trusted by" assertion and the brand logos were removed from the company's website.
Since November, reporters for ProPublica, Sweden's Expressen newspaper, the Organized Crime and Corruption Reporting Project, and Paper Trail Media in Germany have viewed hundreds of AdStyle ads across scores of right-wing websites. The vast majority of the ads were outright scams or made seemingly exaggerated claims. "This 197-Year-Old Man's Longevity Secret Makes Your Cells 4 TIMES Younger," one pitch proclaimed.
AdStyle ads are often displayed on a network of more than a dozen U.S. conservative outlets connected to a lawyer whose clients have included former President Donald Trump. Advertisers pay AdStyle to show their ads to web users, and the company splits the revenue with its publisher partners. Its ads are easy to spot because they carry the AdStyle logo.
The prevalence of scam ads on AdStyle and its many partnerships with right-wing sites around the world exemplify how conservative publishers, politicians and operatives profit from fleecing their fellow right-wingers — and how some players take the strategy global. Even the editorially conservative National Review has acknowledged "the right's grifter problem."
Deceptive ads abound on Trump's Truth Social network, while his former campaign chair Steve Bannon and other supporters face federal charges for running an alleged fraudulent donation scheme to build a privately funded border wall. (Bannon has pleaded not guilty to money laundering, fraud and conspiracy charges. Two other people have pleaded guilty.)
A recent New York Times investigation revealed how a group of conservative operatives had raised close to $100 million using robocalls that asked for money to help veterans and first responders. Only 1% of the money went to those causes. And this month ProPublica reported on an IRS whistleblower complaint alleging that leaders of 2020 election denialist nonprofit True the Vote had used donations for personal gain. True the Vote said the complaint was without merit.
Digital advertising has made it easy and lucrative to target people on the internet with scam ads and donation pitches. Besides AdStyle, other networks and social media platforms have carried scam ads. Earlier this month, Harpo filed two federal lawsuits against people and companies it said used Winfrey's name and trademarks without permission to market weight loss and CBD gummies. Both cases are pending. Harpo did not sue AdStyle. Asked why, Winfrey's company declined to comment.
It's unclear who ultimately owns AdStyle and how much money it and its publisher partners earn from the scam ads. Ad networks like AdStyle act as a middleman by connecting advertisers with publishers. An advertiser signs up with a network, uploads the ads it wants to run, identifies the kind of people it wants to reach, and sets the price range it's willing to pay each time someone views or clicks on an ad.
Meanwhile, the network signs deals with publishers to place ads on their websites in exchange for a share of the revenue. It's unclear how AdStyle splits revenue with publishers, but ad networks typically take between 20% and 50% of the revenue generated.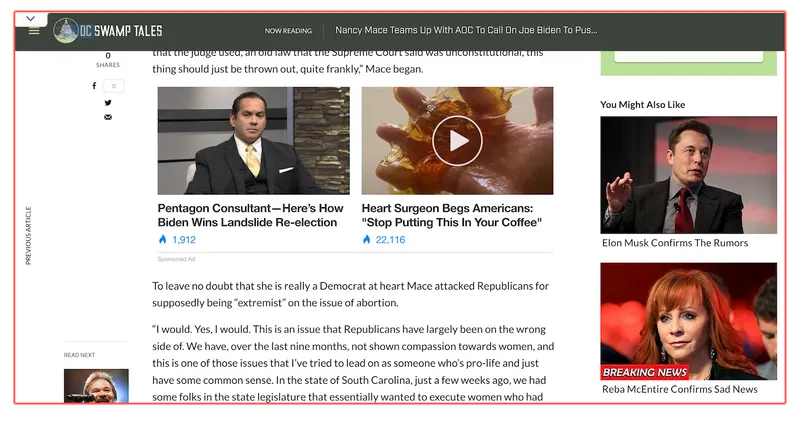 In the U.S., AdStyle primarily works with right-wing sites operated by two companies, Saber Communications and Digital Communications LLC, located a few doors down from each other in Fredericksburg, Virginia.
The companies are owned by Andrew Coelho and Michael Rothfeld, political marketers with ties to former U.S. representative and presidential candidate Ron Paul and his son, Kentucky Sen. Rand Paul. Federal Election Commission records show Saber provided digital marketing services to Rand Paul and PACs that support him. Ron Paul's 2012 presidential campaign paid Saber close to $8 million.
With names like Liberal Hack Watch, DC Dirt Sheet and DC Swamp Tales, most sites in the Saber/Digital Media Communications network publish content with a pro-Trump bent. Four other sites produce Christian content or travel and lifestyle advice for conservatives.
Through their websites, Rothfeld and Coelho collect the email addresses of American conservatives and target them with paid political and marketing messages.
"I am a professional junk mailer," Rothfeld said in a 2012 talk to the Young Americans for Liberty National Convention, according to BuzzFeed News. "I am a professional telemarketer. I'm a professional spammer — like, a hundred million pieces of, emails a month. And I'm a professional negative campaigner. And I'm damn proud of all four."
Until 2020, Digital Communications listed David Warrington as its registered agent. The Virginia-based Warrington was also the agent for at least seven now-defunct LLCs connected to websites in the Rothberg/Coelho network.
Warrington represented Trump in his dealings with the Jan. 6 congressional committee. His clients have also included Jessie Benton, a Texas political consultant convicted of illegally funneling money to Trump's campaign on behalf of Roman Vasilenko, who has been described as a "Russian naval officer turned multilevel marketer." Vasilenko, who was not charged, did not respond to requests for comment through his social media accounts.
Warrington said he represents Rothfeld, Coelho and their companies. He provided a statement from Saber about the AdStyle ads on its sites.
AdStyle is "by far our least active ad service, delivering less than 3% of total banner impressions on the sites we manage," the statement said. "For the sites that still host their ads in low-priority positions, their ads currently generate an average of $11 per month per site." He declined to comment further.
Rand Paul and the Trump campaign did not respond to requests for comment, nor did Ron Paul when he was contacted through his institute and social media accounts.
In Sweden, AdStyle works with Samnytt, one of the country's leading far-right sites. In 2021, its publisher and political editor, Mats Dagerlind, was convicted in a Stockholm court of gross defamation against a Syrian-Swedish journalist for calling him a "jihadist undercover." Dagerlind was fined about $2,800 plus court costs and given a suspended sentence. The site's CEO is Kent Ekeroth, a politician affiliated with the Sweden Democrats, a nationalist party that pursues anti-immigration policies.
In a statement to the Expressen newspaper, Dagerlind said the site does not control the content of ads placed by AdStyle. "Due to political persecution from the establishment in Sweden, Samnytt has been blocked from using the more established ad exchanges," he said. (Google Ads, for example, do not appear on Samnytt.)
In Germany, AdStyle places ads on far-right sites such as Journalistenwatch, which a previous ProPublica investigation identified as a source of false information.
"We don't care because we think our readership is smart enough to not be scammed," said Conny Axel Meier, a member of Journalistenwatch's board and editorial team. "I don't really care what advertising is going on. After all, we work with a lot of advertising partners. We don't control the advertising, we don't care, we can't check them all." He plans to continue working with AdStyle "as long as I don't get a letter from a public prosecutor's office," he added.
The celebrities featured in the scam ads on these and other sites change depending on the location of the person viewing the ad. In Germany, scam ads featured Schröder and former tennis star Boris Becker. In Sweden, they used Stefan Persson, the majority owner of fast fashion retailer H&M and the country's richest person. In each case, the ads placed by AdStyle sent readers to websites promoting fraudulent cryptocurrency investment schemes that can cause people to lose their life savings.
"These are 100% incorrect and false claims," said Kristina Stenvinkel, a spokesperson for Persson's family company. "It is very regrettable that there are people who fabricate and mislead by exploiting and using public figures for their own gain."
On its LinkedIn page, AdStyle says it was founded in 2015 by "a small group of great minds in Boca Raton." Its website gives an address there. But building management and a lessor of office space there said AdStyle isn't a tenant.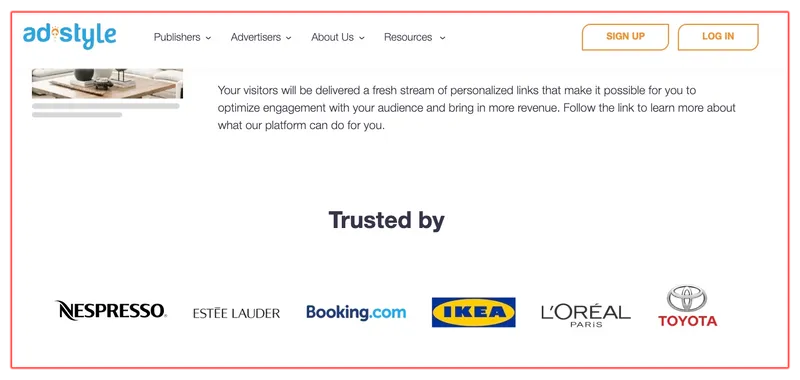 At least five profiles for current AdStyle employees on LinkedIn use headshots that exhibit characteristics of AI-generated images, such as mismatched earrings and unrealistic backgrounds. ProPublica could not find the employees in public records. One actual employee is Anna Bella Burjak, whose LinkedIn profile says she is the company's director of business development.
Burjak is married to a web developer named Leonid Volinski, whose name appears in a domain registration linked to AdStyle. Originally from Latvia, the couple used to live in Israel but recently moved to a town roughly 60 miles from Venice, Italy.
When reporters visited the couple's residence, Burjak and Volinski declined to comment. Within a day, AdStyle had removed the investment and dementia scam ads from the network, including the Winfrey ad.
"We have taken immediate action to reinforce our systems and processes, working diligently to enhance our ad approval mechanisms to better prevent the appearance of misleading or low-quality advertisements," the company said in an unsigned email. "We are actively reviewing and refining our content moderation policies."
Update, July 10, 2023: This story was updated to note that EA Games said it could not find any record of working with AdStyle.