The Dig
An investigative reporter's candid advice for uncovering life's everyday truths
Today, we wrap up our mini-series on using investigative reporting techniques to research your Tinder matches. Last week featured reader ideas. Now, it's time for the pro-tip version. What would investigative journalists do (#WWIJD)? Today, The Dig will introduce you to public records about love — the Tinder Files.
First, a confession. One of the most important tools in an investigative journalist's kit are backgrounding services. These are paid, subscription-only websites that go around compiling public records and tying them together. Two of the most popular are Accurint, a product from LexisNexis, and TLOxp, from TransUnion. If you have a name, or part of a name; a company; a hometown; a former residence; or even a tiny detail like an age range, then these services will comb their vast stores of information to turn up phone numbers, property records, criminal histories.
Here's the catch: these services operate under federal privacy laws.[1] You have to be a registered business to use them. You undergo vetting by the service provider before gaining access. You sign contracts. Plus, such services cost a lot — thousands of dollars for a yearly subscription, and/or charges for each search. So while they're useful for investigative journos, the average Tinderite is probably going to be shut out.
What to do? One hope may lie in academia. Many colleges, universities and journalism schools subscribe to LexisNexis and similar research tools. Some alumni groups provide access to school library services after graduation. These academic subscriptions probably don't have a full-service account. But they will let you search some online public records.
If that doesn't work, the web offers plenty pay-as-you-go backgrounding services, such as Spokeo, Intelius and InstantCheckmate. They all work pretty much the same. They offer nationwide public record searches with a simple interface. Type in a name and off you go. If you get a hit, be forewarned: the services will cajole, upsell and offer free peeks to convince you to buy the results.
I did a totally unscientific poll on three names: myself (slightly unusual name), a friend with a common name and no particular public profile, and Marc P. O'Leary, a serial rapist sentenced to 327 ½ years in prison whose crimes were chronicled in "An Unbelievable Story of Rape," (i.e., the person whose background you would most want to know if you were agreeing to a date.) I typed in the names and states of residence on all three services.[2]
The results varied dramatically — different services pulled up different info. Spokeo, for instance, had trouble finding me without additional personal details. It found my buddy, and an old address for O'Leary — but not the fact that he was a convict.
Intelius found all three names, with good addresses and histories. It discovered that O'Leary had a criminal record, but offered no details about the charges. But that was using the priciest, premium service for $49.95. Who's going to pay that for every right swipe?
InstantCheckmate, in my small sample, turned up the most information. It found all three names, along with address and relative information. It also was the only one of the three services that pulled up a complete criminal record showing that O'Leary had been convicted and sentenced for rape. The company seems to realize the risk of the information it's delivering. This warning pops up at the end of a successful search (note the gossip prohibition):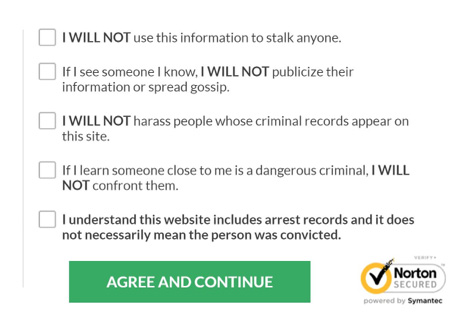 Fair warning. The Internet is filled with complaints from angry people who have used the services and felt cheated by their baroque pricing plans. And all three services turned up erroneous data in my sample. My friend was listed as a current resident at a place he hasn't lived since 2006. InstantCheckmate claimed I had a Drug Enforcement Agency license, and could prescribe narcotics. Sadly not true.
Perhaps most puzzling: Spokeo turned up this photo for O'Leary:
So while the professional backgrounding services and the consumer web services offer valuable information, I'm going to make a case for the stuff that's free: whether you're a reporter, lovelorn, inquisitive, or all three, get to know your local county courthouse. Every one holds troves of public records that cost nothing to access.[3] And, even today, they contain plenty of information that you cannot find online.
Here's my take. Tinder users, reporters and every curious person should understand how to make use of those documents stuffed in government buildings that you, the taxpayers of America, have paid to collect.
Your success in this digging depends on having at least a first name and last name, and hopefully another detail or two, like an age. It depends on your having patience. And it depends on your willingness to tolerate drudgery.
The painful truth about public records: There will be lines. There will be bureaucrats. There will be frustration. But in the end, a public records hunt carries its own special reward — discovery, insight, information. Perhaps even love, at least for the purposes of this column.
The public records about love, and more often its lack, available at your county courthouse include:
Marriage: Marriage licenses are often found at the county recorder's office. They will list, at a minimum, the date of marriage and the marriage partner. If you want to know how the marriage turned out, proceed to search for…
Divorce: Divorce records will be filed in the superior civil court records section. They can provide an enormous amount of information — financial assets, children, property and, in some states, reasons for separation. Both marriage licenses and divorce lawsuits are generally open to anyone who wants to see them. Usually, there's a battered computer terminal from the 1980s which allows you to look up a name. Then you go to the clerk and ask to pull the file. Many counties offer online access, too, but without any of the sad details. If you've got a Tinder match, or, more realistically, are a little further along with a person of (romantic) interest, you might want to check out these most basic records.
Child Support: Maybe your love talks freely about his divorce. But is your potential match a deadbeat dad? If a former partner has ever had to file an enforcement order against him to collect on child support payments, you'll find that order in the civil courthouse.
Temporary Restraining Order: Now we're getting serious. Did your newly found love lose it one day? A temporary restraining order, or TRO, is issued by a judge typically to keep an offending party a certain distance away from the complaining party. They are common features of domestic violence cases. One important warning: Such orders are usually issued on an emergency basis, without the judge having heard from both sides. So know that you're getting only one side of the story in reading a restraining order that is not permanent.
For some practice, tool around here — it's the public records access page for Pinellas County, Florida, home to the Tampa Bay Times (née St. Petersburg), my old newspaper. Florida is also a state with great public records laws. So don't expect such ease of access everywhere.
This week's contest: In honor of the Gramm-Leach-Bliley Act (GLBA) and the Fair Credit Reporting Act (FCRA), send your nomination for worst government acronym to [email protected]. The winner gets a professionally written Freedom of Information Act request.
Also: Questions, people, questions! They won't get answered if you don't send them in.
Laws like the Gramm-Leach-Bliley Act (GLBA), aka "glibba," and the Fair Credit Reporting Act (FCRA), for which you can create your own acronym-based nickname. ↩
Spokeo reached out to provide me a complimentary account. I made my way through the sea of upselling on Intelius and InstantCheckmate to purchase reports, ranging from $4.95 for minimal info to $49.95 to a full report. ↩
Although you may have to pay an absurd amount for copies. Again, another column. ↩