For decades, lawyers at the Thomas More Society have backed provocateurs and long shot causes in hopes of winning severe restrictions on abortion in the U.S.
As others in the anti-abortion movement distanced themselves from clinic protestors accused of trespassing, vandalism and sometimes violence, the Thomas More Society defended them in civil and criminal court. The legal nonprofit once sided with a Wisconsin pharmacist who refused to fill a birth control prescription on religious grounds.
More recently, the Chicago-based organization has embraced a far different but equally divisive undertaking — relentlessly questioning the integrity of elections. Leaping into the 2020 "Stop the Steal" frenzy, which was consistently discredited, the Thomas More Society aggressively pursued scores of lawsuits and complaints across the country.
Yet for all the scrutiny given to election denialism and its champions — including Rudy Giuliani, Mike Flynn and Sidney Powell, former advisers to President Donald Trump — the significant role played by the Thomas More Society has received little attention.
One of its strategists, Phill Kline, tried to convince state legislatures in swing states to hold off on certifying Joe Biden's electors, a maneuver that drew the notice of the House Jan. 6 committee. Kline is the former attorney general of Kansas whose law license was suspended indefinitely a decade ago by the state Supreme Court over ethical violations. Interviews and records examined by ProPublica show how closely aligned Kline has been with the Thomas More Society.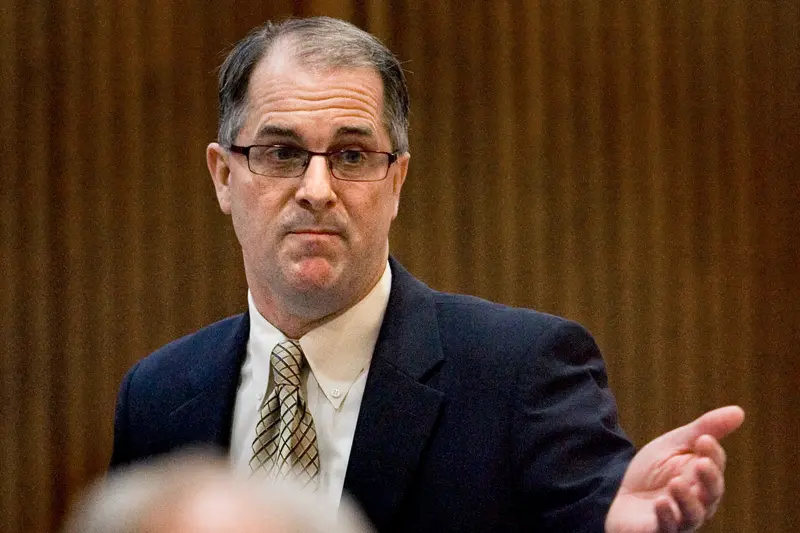 With the overturning of Roe v. Wade, the fight over abortion is increasingly playing out at the state level and local elections for legislators and judges have taken on added weight. "That's why it's doubly important for pro-life advocates to ensure the integrity of state and local elections," one of the group's attorneys wrote in an op-ed last summer.
Thomas More's role in the push to change election law should not be underestimated, say abortion rights groups familiar with the legal society's tactics and record.
An examination by ProPublica of Thomas More's 2020 election-law initiative shows it helped fuel skepticism over President Joe Biden's victory and the fairness of elections in numerous states.
The legal machinations haven't led to big victories in court so far, and in fact Thomas More's efforts have sometimes drawn ridicule from the bench. In one such rebuke, a judge concluded that the real goal of a Thomas More attorney's request was "the undermining of a democratic election for President of the United States."
But these persistent legal challenges mirror the approaches used in the fight over abortion: Never stop pushing for the cause in court or legislatures. Play the long game.
Ilyse Hogue, former president of NARAL Pro-Choice America, does not doubt the willingness of the Thomas More Society or other anti-abortion forces to stick with a strategy for years, even decades, until they're successful.
"One win erases a dozen losses," she said. "We saw that time and again on abortion."
Other anti-abortion groups have likewise become more involved in influencing voting laws. The Election Transparency Initiative is a project, in part, of Susan B. Anthony Pro-Life America, which works to elect anti-abortion lawmakers. The initiative, established in early 2021, targeted federal voter rights legislation for defeat. In recent months, it successfully lobbied Ohio lawmakers to enact a strict voter photo ID law.
Through its efforts, the Thomas More Society raised its profile in Republican circles and broadened its appeal beyond its foremost cause of outlawing nearly all abortions. Contributions to the Thomas More Society jumped 82% between 2019 and 2020 to nearly $17.4 million, financial documents filed with the IRS show. (The organization does not release the names of its donors.)
Initially, the group — which is run by staunch Catholics and named for a Catholic saint and lawyer — focused on defending people in the anti-abortion movement. Its most well-known cause was the decades long defense of Joe Scheidler, founder of the Pro-Life Action League, against the National Organization for Women.
NOW accused him and others of conspiring to close down clinics through extreme measures, including blockades and mob violence; it sought a permanent injunction forbidding the groups from engaging in illegal conduct. Lawyers for Thomas More made three trips to the U.S. Supreme Court in the clash, ultimately winning a 2006 decision in which the court held that the protests couldn't be barred under extortion or racketeering statutes.
Lawyers for the society, in recent years, also have brought legal action opposing vaccine mandates, gay marriage and transgender rights. Then came Trump and an obsession among his followers with proving that he lost due to election fraud, and a new mission emerged.
Alliance Leads to New Strategy
Long before the Thomas More Society and Kline joined together on election law, they had a different kind of relationship. Kline was a client.
Kline needed help in Kansas, beginning in about 2010, fighting professional misconduct charges arising from his investigation of abortion clinics as attorney general and later as a county district attorney. The state Supreme Court ultimately suspended his law license indefinitely in 2013 for 11 violations of professional conduct rules, including misleading a judge and grand jury.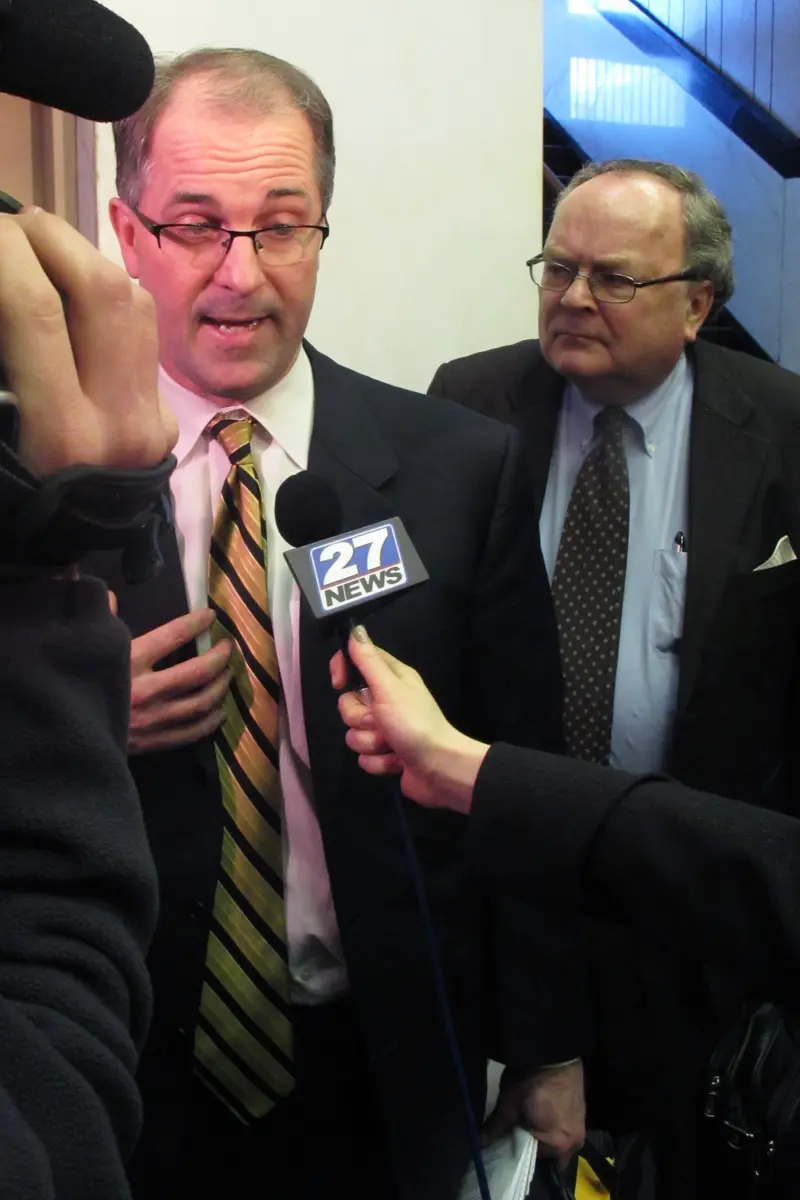 Kline considered the case against him to be political and denied acting unethically. Throughout the struggle, he had a key ally from Chicago: attorney Tom Brejcha, president of the Thomas More Society. According to a 2014 press release, the Thomas More Society underwrote Kline's appeal of his suspension. The U.S. Supreme Court declined to consider it.
"We've known Phill Kline. He's been a client of ours for a long time. We respect him terribly, " Brejcha said in a 2020 webinar.
Kline, who now teaches law at the evangelical Liberty University, told ProPublica he approached the society in 2018 about working together to publicize alleged election vulnerabilities. "He brought it to us. We adopted it," Brejcha is quoted saying in the Catholic publication Our Sunday Visitor.
At the time, the integrity of voter rolls was very much in the news. Early in 2018, Trump had disbanded a controversial White House commission he'd set up to investigate voter fraud after numerous state election agencies refused to supply requested voter information. The president made baseless claims that millions of ballots were cast illegally in 2016, causing him to lose the popular vote.
At the society, Brejcha and Kline agreed on a contract that covered 2018 through 2021, Kline said. They called their initiative the Amistad Project, a reference to an 1839 mutiny aboard a slave ship of that name. References to slavery are common in the anti-abortion movement, where the historical denial of personhood to Black people is likened to not treating a fetus as a person. Kline had already been working on a project called The Amistad Journey in his anti-abortion efforts and later incorporated a for-profit company by that name in January 2020, listing his home as its principal office.
An IRS form shows the Thomas More Society paid Kline's firm more than $1.4 million in consulting fees in 2020. Kline said the fees were for the full length of the contract and helped cover hundreds of thousands of dollars in expenses, including payments to contractors he employed.
The society declined repeated requests from ProPublica for an interview or to answer specific questions. It provided a three-page memo, however, highlighting some of its strategic initiatives and stating: "The core traditional values that the Thomas More Society fights to protect — the right to life, family values, and religious liberty — can be preserved only if elections are fair and secure."
In the 2020 webinar, Brejcha described the society's crossover into election lawyering as "a natural progression" of its work opposing what it considers government abuse of religious freedom, such as the forced closing of churches during COVID-19 lockdowns. "We are nonpartisan, we're bipartisan, but we want the laws to be enforced so that the democratic process is not distorted and destroyed," he said.
As director of the election project for Thomas More, Kline couldn't argue the legal cases himself because of his ethical violations in Kansas, but he oversaw investigators and analysts, hired litigators and devised strategies.
Together, the society and Amistad moved aggressively. They targeted cities, counties, county commissioners, mayors, governors and election officials for legal action, focusing on key states Trump lost in 2020 — Michigan, Wisconsin, Pennsylvania, Georgia and Minnesota.
Asked whether his work regarding elections had any relationship to his moral objections to abortion, Kline said in an email to ProPublica, "Only in the general sense that any unjustified disparate treatment under the law represents an assault on the inherent value of the individual."
One of the Amistad Project's chief arguments in 2020 was that election officials in swing states adopted pandemic-related measures — such as the use of drop boxes for absentee ballots — that disproportionately aided turnout in Democratic strongholds. The society contended that those local governments placed their "thumb on the scale" by accepting tens of millions of dollars in private grants for election administration from a nonprofit backed by Facebook founder Mark Zuckerberg. The money was awarded to communities across 47 states to pay for more staff, training, equipment and outreach to voters on how to safely cast their ballots.
"We have a corporate oligarchy that's trying to control this election process," Kline alleged on former Trump strategist Steve Bannon's "War Room" podcast on Dec. 14, 2020.
After receiving complaints unconnected to the Amistad Project, the Federal Election Commission reviewed the grants last year and determined that Zuckerberg did not violate campaign finance laws, concluding that the grants were awarded to many jurisdictions and did not suggest any partisan motive.
A Litany of Judicial Criticism
In case after case over the Zuckerberg grants, judges found no merit in the arguments presented by lawyers associated with Kline and Thomas More. They were subjected to often stinging rebukes.
In tossing one of the Amistad Project's suits in Wisconsin, U.S. District Judge William C. Griesbach wrote that they offered "only a political argument" and "their brief is bereft of any legal argument" that would support their claim.
Another Wisconsin judge, in state court, rejected the Thomas More Society's lawyer's characterization of the grants as "election bribery," calling the assertion "ridiculous."
Likewise, a federal judge in Iowa ruled in a case brought by the Thomas More Society that "the record contains no evidence" supporting accusations that the grants "pose an actual risk of shaping the outcome of any election or of favoring any particular party or candidate."
Kline said he strongly disagreed with the judges' opinions and believed the cases were valid.
In Wisconsin, the uproar over the grants became a central element of a taxpayer-funded, partisan review of the 2020 election, led by Trump supporter Michael Gableman, a former state Supreme Court justice. Erick Kaardal, a Thomas More Society attorney, worked closely with Gableman, who was appointed by the speaker of the state Assembly, a Republican.
Much of Gableman's final report, released in March 2022, echoed the society's assertions about private election grants and one of its other chief concerns: the validity of some votes from nursing homes. The state Assembly speaker later shut down the inquiry and Gableman got a job with the Thomas More Society.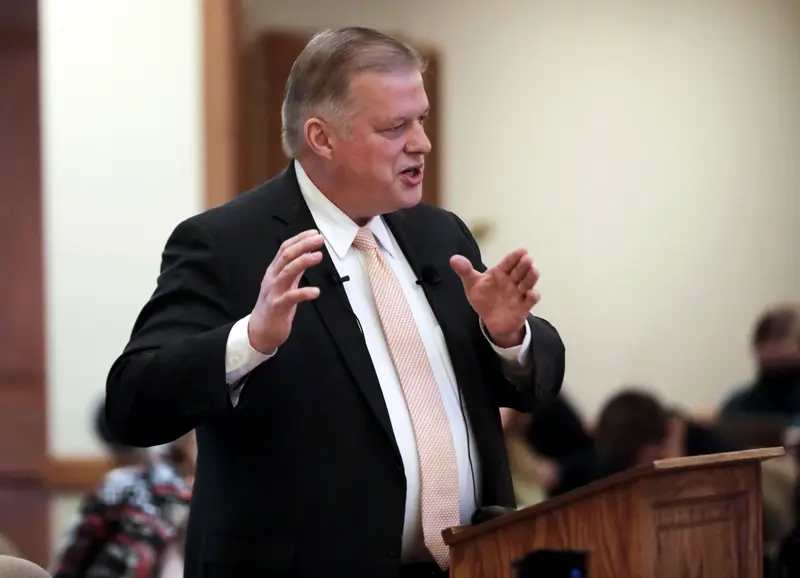 Despite the court losses, the society considers its assault on the Zuckerberg funds to be a major success because it "blazed the trail" for two dozen states to ban private funding of election administration, according to the memo Thomas More provided.
The organization also considers its efforts to ban ballot drop boxes in Wisconsin a success. It did not win through court action, but as increasing attention was paid to the drop boxes, the state Supreme Court ruled their use unlawful. Five cities embroiled in suits brought by Thomas More then abandoned their support for the boxes and the cases were dismissed.
In a slew of related legal actions in Wisconsin and other states, the Thomas More Society also raised the possibility that some nursing home residents had been able to vote despite having been declared mentally incompetent; challenged signature verifications for absentee ballot applications; and questioned COVID-19 restrictions that limited some large gatherings, such as campaign crowds, but not others, such as Black Lives Matter protests.
Kaardal filed at least 18 administrative complaints with the Wisconsin Elections Commission, beginning shortly before the 2020 election. Two are still pending and the others were denied, dismissed or withdrawn, according to the commission.
Kaardal also filed at least seven lawsuits against the agency, beginning just before the 2020 election. Only one is still pending; the rest were voluntarily dismissed or ended in defeat, according to the commission.
He did not respond to requests for comment.
One Democratic member of the bipartisan elections commission thought the Thomas More Society "nitpicked issues" in the midst of a deadly pandemic.
Said Mark Thomsen: "My overall sense is they filed things that were redundant and repetitive and served no legitimate purpose, in my mind, other than trying to wear down the staff and waste precious resources."
Trying to Overturn the 2020 Results
Plenty of names associated with Trump's efforts to overturn the 2020 results are well known by now. Kline's is not one of them.
But records and interviews show he played a prominent role, working largely behind the scenes, in attempting to stall the certification of Biden's victory.
In the weeks leading up to the Capitol insurrection, Kline led a group of investigators and litigators working out of a northern Virginia hotel, trying to prove that unlawful activity had influenced the election.
In a Dec. 1, 2020, press conference, Kline talked about Amistad's efforts to uncover fraud, saying it had attorneys "in virtually every swing state that are working on our behalf."
Trump's legal team was making similar efforts, and that team included Jenna Ellis, a former Thomas More Society attorney. Kline told ProPublica that the Amistad Project did not coordinate with Trump's group, and the Jan. 6 committee revealed no evidence to the contrary.
But records do show Kline and the Trump camp communicated with each other. Former New York City Police Commissioner Bernard Kerik told the committee that Kline briefed Giuliani on an allegation about a postal truck carrying completed ballots across state lines, a claim that was later debunked by postal inspectors working with the FBI.
"Amistad shared the results of its investigations and analysis with numerous organizations who requested it, including the media," Kline told ProPublica.
Kline pushed hard on the idea that state legislatures could ask Congress to delay the electoral certification to allow for time to investigate whether laws were faithfully followed.
The Amistad Project produced an eight-page report titled "Set in Stone?" in which it argued that the "only Electoral College deadline specifically required by the Constitution is noon on January 20," which is Inauguration Day. The memo stated that all other deadlines — including the Jan. 6 date for certifying election results — were established long ago in federal law for ease of travel and are "largely not relevant to a time when electors do not have to ride horses to Washington, D.C. to vote."
"For the sake of American democracy and to strengthen our fraying social fabric, it is preferable to address the fraud issues before determining who is the next President. The investigations will be rigorous and continue whether or not the Electoral College vote is held December 14," the report states.
In late November 2020 in Michigan, which Biden won, Amistad attorney Ian Northon petitioned the state Supreme Court to take control of all ballots to allow for a "constitutionally sound audit of lawful votes" and give the state Legislature time "to finish its constitutionally-mandated work to pick Michigan's electors."
The state's high court refused. Northon then tried to help a set of unauthorized Republican electors enter the Michigan state Capitol on Dec. 14, 2020, to sign documents purporting to certify Trump the winner. They were blocked by police.
Talking to reporters that day, Northon said: "I'm representing a charity called the Amistad Project, it's a 501(c)(3), and it's affiliated with another charity called the Thomas More Society out of Chicago. We filed several preelection lawsuits on election integrity."
But Kline and Northon told ProPublica that Northon was not, in fact, working for Amistad at that moment. Northon said that he was called to the state Capitol by several lawmakers who were clients and were locked out of the building. They had previously joined an Amistad suit he handled. "I tried to help them talk to the police," he said in an emailed response. "That does not mean I was acting on behalf of Amistad, I wasn't."
On Jan. 2, 2021, Kline hosted a conference call with 300 state legislators in an "attempt to disseminate purported evidence of election fraud," according to a subpoena issued to him by the Jan. 6 committee.
The briefing included Giuliani; John Eastman, the attorney behind the theory that Vice President Mike Pence could reject the Electoral College results; White House trade adviser Peter Navarro; economist John Lott; and Trump, who reportedly told the lawmakers they were more important than the courts and had the power to change the results.
That evening, Kline sent an email to participants on the call encouraging them to sign on to a joint letter to Vice President Mike Pence urging him to postpone the counting of the electoral vote. The letter asked for at least 10 days.
Jan. 6 committee records show Kline asked those willing to sign the letter to reply to a woman who worked for a communications firm founded by Mark Serrano, a paid consultant to Trump's 2020 campaign. Serrano had touted legal efforts supported by Thomas More on Bannon's podcast, in December 2020, when he talked about a lawsuit in Washington, D.C., regarding "the ecosystem that caused this fraud on a massive level to take place."
Bannon applauded that action. The judge, however, was not as pleased.
U.S. District Judge James E. Boasberg later fumed that Kaardal, the Thomas More Society attorney, filed in the wrong court and failed to even serve the complaint to his adversaries in the suit. The judge also expressed shock at the scope of the request — to have numerous state and federal election laws declared unconstitutional and an injunction issued that would prevent Pence and Congress from ratifying the electoral votes in key battleground states.
In denying the request, Boasberg ruled that it relied on "a fundamental and obvious misreading of the Constitution."
"It would be risible were its target not so grave: the undermining of a democratic election for President of the United States."
"It Was a Big Scam"
In its final report, the Jan. 6 committee did not cite the Thomas More Society or the Amistad Project by name. But it lumped Kline in the same bucket as Giuliani, Powell, Eastman and Trump attorney Cleta Mitchell — saying that in response to Congressional subpoenas, none offered any proof of widespread fraud.
"Not one of them provided evidence raising genuine questions about the election outcome," the report states. "In short, it was a big scam."
Though subpoenaed, Kline did not testify before the committee, a congressional source confirmed. The committee, which had a Democratic majority, was disbanded this year as Republicans reclaimed control of the House.
Kline told ProPublica that he gave the committee over 12 gigabytes of data, including 107,563 pages of documents, in response to the subpoena. "I do not believe the committee reviewed these materials, as they declined to schedule an interview with me, where I was happy to discuss the materials," he said in an email.
He added that he agrees with the committee's assessment that there was not sufficient proof of fraud to overturn the election. "That generally is the case, but that doesn't mean there's not evidence that requires further investigation and effort and I believe there is."
The society and Kline no longer have a formal contract. The society's election integrity initiative is now headed by its Executive Vice President Thomas Olp.
In January of last year, Brejcha wrote that his group will continue to work with and support Amistad but touted "decisive new initiatives."
"Rest assured," he added, "we mean to press this cause of election integrity to the hilt, as is our trademark."
Going forward, the team plans to work on various election fronts, including preventing ineligible people from voting, according to the memo the society provided to ProPublica. The memo expressed concerns that noncitizens and other people who don't have the right to vote might sway a close election, even though there is no evidence that demonstrates widespread voter fraud in modern elections. In Wisconsin, the Thomas More Society is also challenging the ease of obtaining absentee military ballots.
Kline, meanwhile, is aligned with the American Voters' Alliance, a nonprofit led by his daughter, Jacqueline Timmer. It is pushing "model legislation" to states that would radically alter how elections are handled.
The 23-page blueprint calls on legislatures to set up bipartisan standing committees that would issue a report recommending whether to certify election results. These panels would have the power to investigate elections, determine whether laws were broken, force local officials to fund forensic audits "by disappointed candidates," stay election results when appropriate and even place localities into receivership to ensure elections are run properly.
Kline told ProPublica that U.S. elections are "among the least transparent and accountable in the world."
"So far," he said, "the proper steps have not been taken."