Just after midnight on Sept. 13, Kristian "Murda" Murphy was watching TV at home in Boca Raton, Florida, when his phone began buzzing.
"Murda u always outside we gon see you," read a message from an account he didn't recognize.
Murphy is a music manager, producer and entrepreneur who has worked with high-profile rapper Tekashi 6ix9ine, among other artists. Hours before the threats began, 6ix9ine posted a message to his more than 20 million followers on Instagram that mocked the recent death of rapper PnB Rock. Taking exception to the post, people began blowing up Murphy's phone.
"I'm sitting home by myself literally watching TV, all of a sudden I see these texts started coming in and I'm like, 'What the fuck?'" said Murphy, in a gravelly voice that retains the accents of his native Yonkers, New York. In addition to threatening bodily harm, the anonymous messengers told Murphy they were coming for one of his most valuable assets — the @murdamurphy Instagram account. It had more than 300,000 followers and brought in thousands of dollars a month thanks to people and companies who paid Murphy to share sponsored posts.
"WE PACKING ACCOUNTS SOON 🤣🤣" read a message from a person who identified himself as OBNBrandon.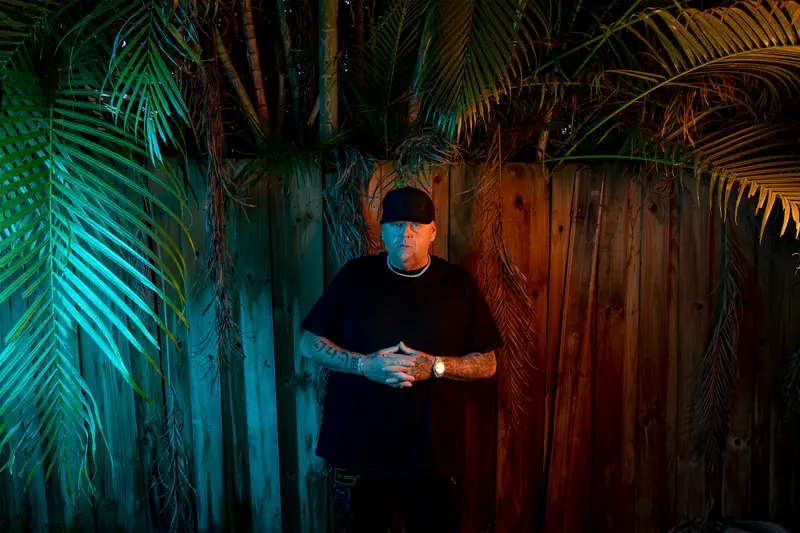 Murphy didn't know it, but he was in the crosshairs of one of the most prolific and notorious members of a booming underground community of Instagram scammers and hackers who shut down profiles on the social network and then demand payment to reactivate them. While they also target TikTok and other platforms, takedown-for-hire scammers like OBN are proliferating on Instagram, exploiting the app's slow and often ineffective customer support services and its easily manipulated account reporting systems. These Instascammers often target people whose accounts are vulnerable because their content verges on nudity and pornography, which Instagram and its parent company, Meta, prohibit.
A ProPublica investigation found that OBN, who also goes by OBNbrandon and Brandon, has prompted Meta to ban an array of influencers and entertainment figures. In an article he wrote for factz.com last year, OBN dubbed himself the "log-out king" because "I have deleted multiple celebrities + influencers on Meta & Instagram."
"I made about $300k just off banning and unbanning pages," he wrote.
OBN exploits weaknesses in Meta's customer service. By allowing anyone to report an account for violating the company's standards, Meta gives enormous leverage to people who are able to trick it into banning someone who relies on Instagram for income. Meta uses a mix of automated systems and human review to evaluate reports. Banners like OBN test and trade tips on how to trigger the system to falsely suspend accounts. In some cases OBN hacks into accounts to post offensive content. In others, he creates duplicate accounts in his targets' names, then reports the original accounts as imposters so they'll be barred for violating Meta's ban on account impersonation. In addition, OBN has posed as a Meta employee to persuade at least one target to pay him to restore her account.
Models, businesspeople, marketers and adult performers across the United States told ProPublica that OBN had ruined their businesses and lives with spurious complaints, even causing one woman to consider suicide. More than half a dozen people with over 45 million total followers on Instagram told ProPublica they lost their accounts temporarily or permanently shortly after OBN threatened to report them. They say Meta failed to help them and to take OBN and other account manipulators seriously. One person who said she was victimized by OBN has an ongoing civil suit against Meta for lost income, while others sent the company legal letters demanding payment.
"Once you're put on Brandon's radar, whether someone's paying him or not, he has this personal investment in making sure that your life is miserable and that he'll try and get as much money out of you as he possibly can," said Kay Jenkins, a Miami real estate agent and model. Her main Instagram account with roughly 100,000 followers has been repeatedly deactivated since 2021.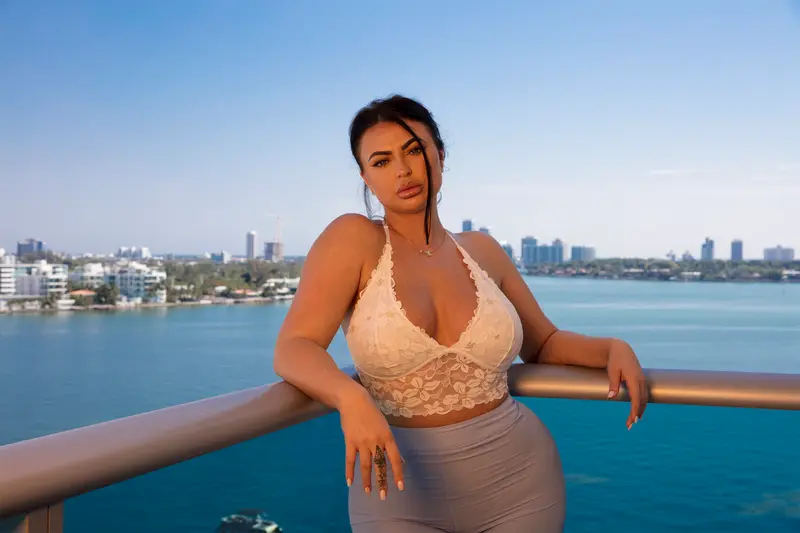 A Meta spokesperson acknowledged that OBN has had short-term success in getting accounts removed by abusing systems intended to help enforce community standards. But the company has addressed those situations and taken down dozens of accounts linked to OBN, the spokesperson said. Most often, the spokesperson said, OBN scammed people by falsely claiming to be able to ban and restore accounts.
"We know the impact these scams can have on people which is why we continue investing to protect our users, including updating our support systems and keeping the scammers out," said the spokesperson, who asked not to be identified due to security concerns. "This remains a highly adversarial space, with scammers constantly trying to evade detection by social media platforms."
The story of how OBN has manipulated Meta's systems is a cautionary tale for social media platforms. While the company is often criticized for being slow to take down misleading or offensive material, OBN was able to make a lucrative living by finding the pressure points that prompt Meta to act quickly based on false reports.
Murphy said that's exactly what happened to him. Until OBN came along, he was earning between $15,000 and $20,000 a month from his Instagram account. It was filled with pictures of him with rappers and well-known figures from the Miami nightlife. Murphy, a stocky man with short blond hair and permanent five o'clock shadow, typically posed in black clothes, aviator sunglasses and thick diamond chains, with one or both of his middle fingers extended at the camera. He charged aspiring entrepreneurs between $2,000 and $5,000 per story to be featured in a post on his verified account.
"People pay me all the time to post promos for music, crypto," he said. "I can make five, 10 grand by accident if I needed to. … The money's crazy."
Murphy had never heard of OBN until that September morning. He went to bed shortly after 3 a.m. and woke up to discover his Instagram account was disabled.
"That's the first time I've ever had my account taken, ever, in my life. My heart dropped," he said.
He was initially successful in getting Meta to reactivate it. But it's been offline since December. Meta declined to comment on Murphy's experience.
"I make money with that account, so it's not fair to me that this guy has more power than Meta — it's like a multibillion-billion-billion-dollar company," Murphy said. "And they can't do nothing about it."
---
Online, OBN portrays himself as something of a gangster. Videos and photos he's posted indicate he drives a white Lamborghini and wears expensive watches.
His main marketing vehicle for his services is the messaging app Telegram, where he has run a channel called @teamobn since August 2021. He posts about accounts he says he got banned, unbanned or verified. He touts software he uses to file false reports that allege an account violated Meta's community guidelines, triggering a takedown.
He describes various strategies he uses to get accounts banned. For example, he says he can get a legitimate account suspended for violating Meta's rule against impersonation by taking a verified Instagram account and changing its display name, profile photo and content to mirror his target's. Then he sends Meta a report claiming that the legitimate account is impersonating the verified account.
Jilted lovers, jealous friends and business rivals use his services. OBN wrote that he also targets people for his own amusement, because they insulted a friend or client, or because they offer rival services. After banning an account, he frequently offers to reactivate it for a fee as high as $5,000, kicking off a cycle of bans and reactivations that continues until the victim runs out of money or stops paying.
Several notable people in the often-intertwined worlds of hip-hop, Miami nightlife, OnlyFans models and online influencers, including Celina Powell and Myron Gaines, have endorsed OBN. Powell is an online influencer who claims to have had sexual relationships with prominent rappers and has amassed more than 3 million followers on Instagram. Gaines co-hosts the "Fresh & Fit" podcast, a YouTube channel with more than 1 million subscribers that bills itself as providing "the TRUTH to Females, Fitness, and Finances." Gaines, whose legal name is Amrou A. Fudl, was temporarily banned from TikTok for misogynistic comments.
On Oct. 21, 2021, Gaines paused the broadcast to offer a plug. "​Shouts out to our boy Brandon. For y'all that don't know or follow me on Instagram on @unplugfit, I got my shit banned and then I'm back up now and my boy @obn.here was the one that got it back," Gaines said, as an image of OBN's Instagram account flashed on the screen. "So if you've got issues with Instagram, you get banned, whatever it is, this is the guy that you want to fucking contact." Gaines didn't respond to requests for comment. After ProPublica contacted Gaines, the video of the "Fresh & Fit" episode that featured his OBN shoutout was set to private, removing it from public view.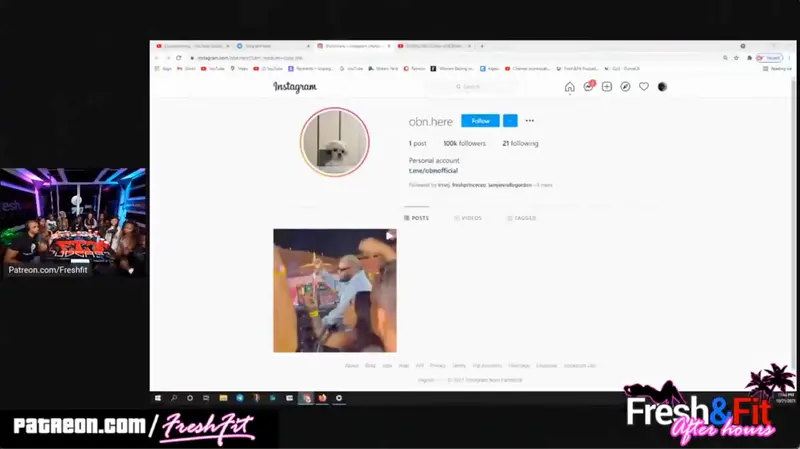 Those who said they were targeted by OBN include Adam22, the host of the popular hip-hop podcast "No Jumper," who has 1.6 million Instagram followers, and Tommy Rodriguez, a Florida businessman with 1 million followers. OBN has said that he was responsible for banning Asian Doll, a rapper with 4.2 million followers; she did not respond to requests for comment. Meta declined to comment on all three cases.
OBN often targets women who rely on Instagram to draw people to their pages on OnlyFans, where they charge subscribers to view sexually explicit content.
"This is how I feed myself and my family," said Danii Banks, an OnlyFans model with close to 8 million Instagram followers. She said she lost $300,000 in income when OBN induced Instagram to take down her account. He extorted thousands of dollars from her to restore her account, but it remained down, she said.
"It's like someone lighting a fire on your business and just walking away."
Meta declined to comment on Banks.
Banks lives in the Las Vegas area, as does OBN, according to posts, emails and public records. Banks reported him to the Las Vegas Metropolitan Police Department and the FBI for defrauding her, but she hasn't heard back, she said. OBN, meanwhile, appears to have pursued a job with the Las Vegas police while mocking attempts by Meta and law enforcement to investigate him.
Last summer, he posted an email from the LVMPD's Office of Human Resources that said the recipient, whose name was redacted, had met the requirements to continue the application process for becoming a police cadet. It said a written exam would be held; the date was also redacted.
"Wish me luck boys," OBN wrote in his Telegram channel.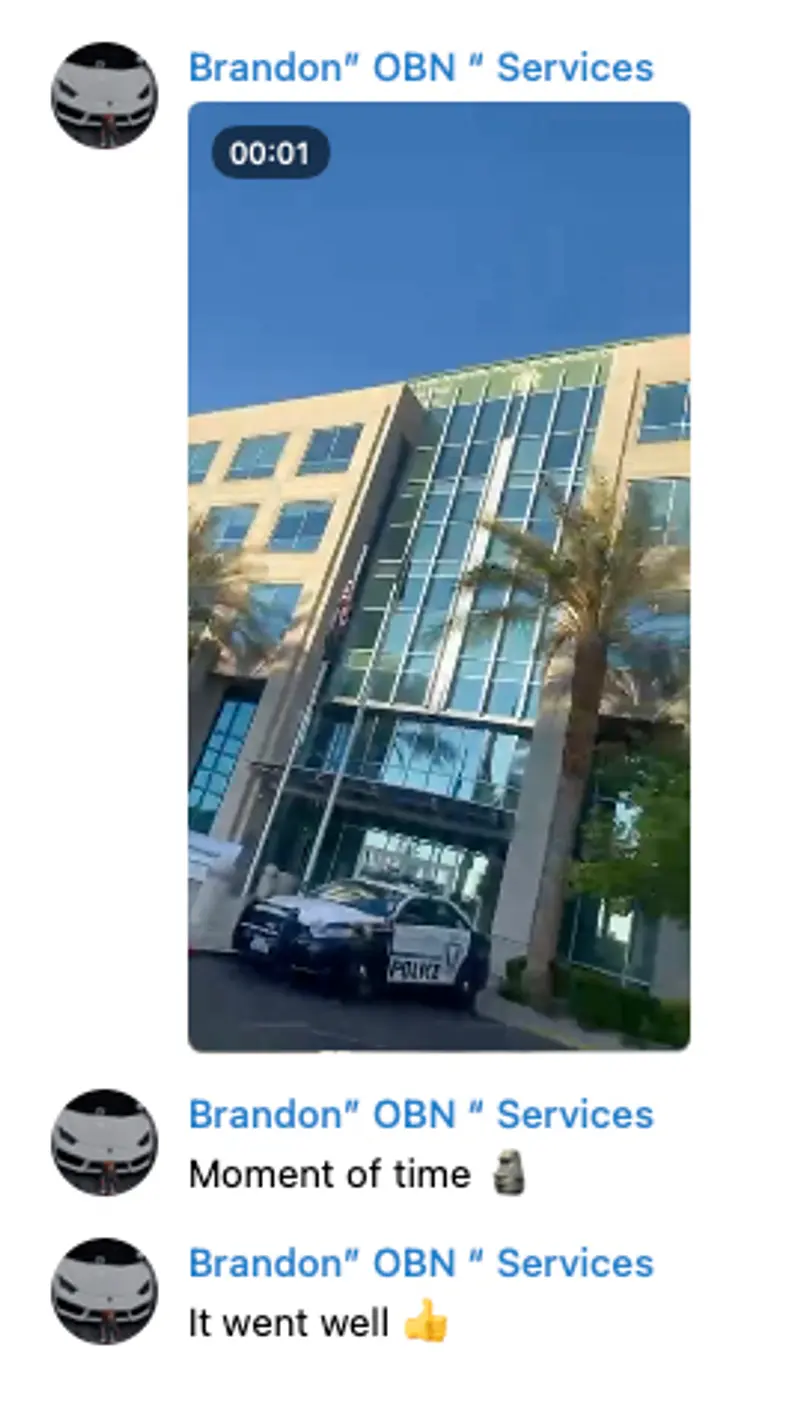 The next day, he shared a video shot in the LVMPD parking lot. "It went well," he wrote and added a thumbs-up emoji.
Roughly a month later, OBN joked about an email from Meta telling him that it had complied with a request from an unnamed law enforcement agency for data regarding one of his accounts.
"Bro instagram or meta at this point is beyond cringe lmao," he wrote on Telegram, using the popular acronym for "laughing my ass off."
---
Despite his frequent activity on Telegram and Instagram, and the shoutouts from major podcasts and influencers, OBN's true identity — and even whether the account is run by one person or more than one — has remained a mystery.
ProPublica's investigation led to one person who either is OBN or is closely linked to him: 20-year-old Edwin Reyes-Martinez, who lives with his mother in an apartment complex roughly 13 miles north of the Las Vegas strip.
Numerous clues connected Reyes-Martinez to OBN. Victims said OBN told them to send money to a bank account in the name of Edwin Reyes, or via an email address, [email protected], that included Reyes-Martinez's initials. That address also matched a partially redacted email, [email protected], that's listed in the Las Vegas police letter OBN posted on Telegram.
A similar string of letters and numbers appears in a Twitter username, @ermtz030. That account bears Reyes-Martinez's name and photo and features videos filmed inside a white Lamborghini. Although the videos don't show the driver's face, he is wearing a gold ring that resembles one worn by Reyes-Martinez in photos from his Facebook account. Another Facebook photo showed Reyes-Martinez posing in front of a white Lamborghini similar to the one featured in OBN's Telegram profile.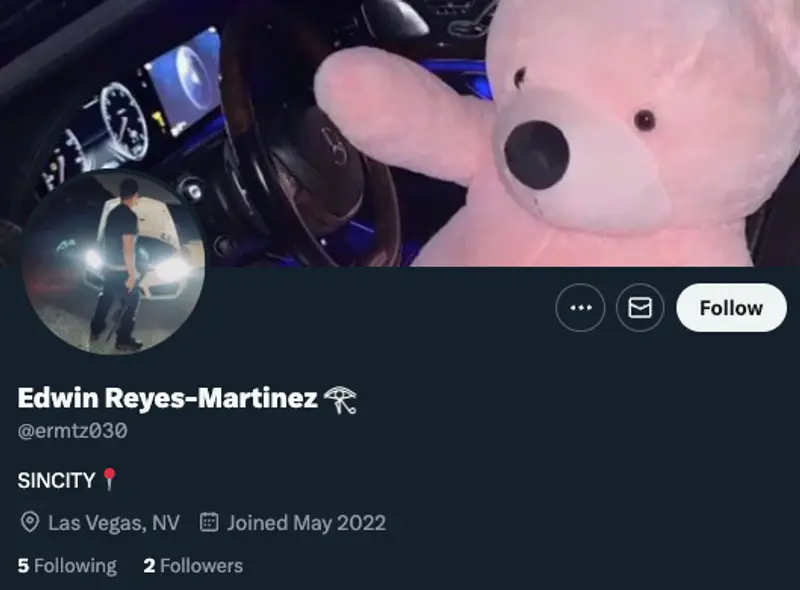 Visited at his home in early February, Reyes-Martinez was dressed in a baggy, orange long-sleeve shirt, brown pants and brown slippers. A pair of gold and diamond studs sparkled in his ears. At first, he denied knowing who OBN is or having anything to do with him.
After being told that his own bank account had accepted more than $10,000 in payments intended for OBN in just the past few months, he changed his story. He said that someone named Brandon asked him to funnel money through his bank account to unknown recipients.
"There's an individual that asked me if I can receive a payment," he said. "I have no idea what that payment is for. I received them as a favor for the person."
He pulled out his phone and showed an Instagram account called @madetoomuchmoney that he said belongs to the Brandon who contacted him. He said he didn't know where the money went or what Brandon's last name is. "I know a lot of Brandons."
He said he works full time in a warehouse. "You see my hands? These are hard work hands," he said, holding them out. "If I was OBN, I wouldn't be working."
ProPublica also submitted a request to the Las Vegas police for records related to any application by Reyes-Martinez to the department's cadet program. The department declined, citing a Nevada law that allows it to withhold personnel records.
After the meeting in his apartment, Reyes-Martinez did not respond to follow-up questions. Meta sent him a cease-and-desist letter on March 17, about two weeks after ProPublica contacted the company for comment on OBN's activities and on the evidence connecting Reyes-Martinez to OBN. A spokesperson said Meta had banned him from its platforms but declined to share the letter.
---
Account banning is just one of several lucrative schemes that prey on Instagram, which is uniquely important for celebrities, entrepreneurs, influencers and anyone seeking clout and status. Last year, a ProPublica investigation exposed a million-dollar operation that saw people pay $25,000 or more to fraudulently obtain verified accounts.
The verification badge, a blue tick added next to an account's name, is applied to accounts that Instagram determines are authentic, unique, complete and notable. Verified accounts can charge more for sponsored posts, are given prominence by Instagram's algorithms, and are seen as more difficult for people like OBN to take down. The ProPublica story prompted Meta to remove verification badges from hundreds of accounts.
OBN has said that he can take down verified accounts. "If you want someone smoked we talk 4 figures or nothing," he wrote in his Telegram channel. In a separate post, he offered to create verified accounts for a $15,000 fee.
Meta has acknowledged that it needs to invest more in customer support. In February, founder Mark Zuckerberg announced that Meta would offer people the ability to pay for account verification and enhanced support, including "​​access to a real person for common account issues." The Meta spokesperson said the company has invested in new account security and recovery measures, including a tool to help users who've been hacked. It's also giving more users an opportunity to complain to a human agent rather than a bot.
The 1996 federal Communications Decency Act generally exempts platforms from legal liability related to the behavior of their users. However, the Federal Trade Commission has required several online platforms to bolster their security.
"If somebody is able to get into the account, the FTC doesn't treat that company as a victim. They treat them as part of the problem," said Eric Goldman, a professor and co-director of the High Tech Law Institute at the Santa Clara School of Law.
Meta has been under a consent decree with the FTC since 2012 because of allegations that the company, then known as Facebook, violated its privacy promises to users.
Some OBN victims have tried to hold Meta accountable. In late 2021, Tiara Johnson, a former adult performer who had more than 2.8 million Instagram followers when she lost her account, filed a breach of contract suit against Meta, which is pending in federal court. She said the company wrongly removed her account. Her suit includes screenshots of a conversation with OBN in which he says someone paid him $3,000 to ban her account. She then paid him the same amount to get it back, but he didn't get it reactivated.
In February, Meta moved to dismiss the case, saying it has no obligation to provide an Instagram account to Johnson. The court is scheduled to consider the motion in June.
---
OBN can't deactivate accounts by himself; he needs Meta to do it, either by triggering its automated systems or by getting a worker to take action. He has often boasted of bribing workers at Instagram and Meta, which recently acknowledged firing or disciplining workers who took bribes to access user accounts. ProPublica could not identify any Meta workers who accepted bribes from OBN.
But OBN did appear to have advance knowledge of a cease-and-desist letter sent on behalf of Meta to online marketer Joey Hickson.
Hickson built a business running large social media accounts like @break and @lmao, and he had four Instagram accounts with tens of millions of followers. He said he paid OBN for services such as helping people get an Instagram username they wanted or obtaining verified accounts.
After initially cooperating, OBN stopped delivering, according to Hickson. Then OBN started threatening to take Hickson's accounts down. Last Sept. 22, OBN taunted Hickson on Instagram. "Enjoy your c&d," he wrote, referring to the cease-and-desist letter sent by a law firm representing Meta.
Hickson immediately checked his email and saw that he had received just such a letter from Perkins Coie, a law firm that said it was writing on behalf of Meta. The letter said an investigation found that he and his company were "abusing Instagram" by offering account reactivation and verification services and by selling fake engagement such as likes and followers. It was banning Hickson and taking down his accounts.
OBN "knew before I did," Hickson said.
OBN posted a message in his Telegram channel to celebrate that Hickson's personal Instagram account, @joey, had been deactivated. He accused Hickson of stealing $20,000 from him and said, "enjoy the c&d my brother."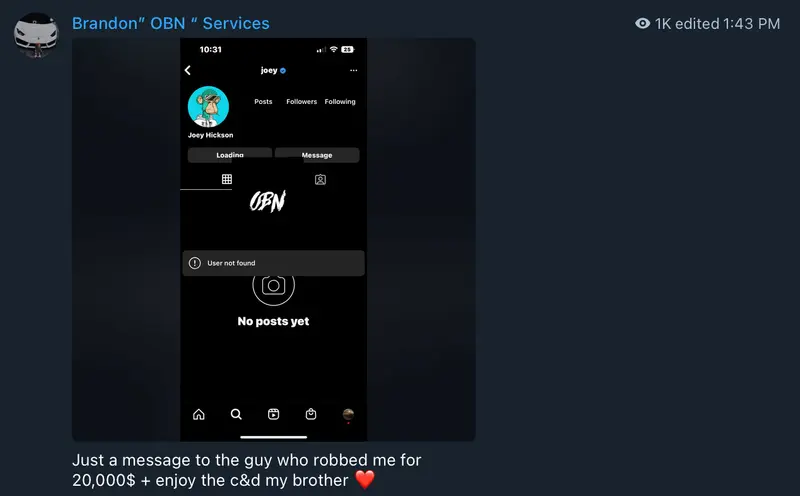 OBN then tried to convince Hickson to pay him $15,000 to reverse the ban. He said he could get Meta and its law firm to withdraw the sanction because he was responsible for it. He said another hacker had created several Instagram accounts with fabricated accusations against Hickson and then sent the complaints to a Perkins Coie attorney. Referring to the lawyer as "my people," he said he'd tell her that the accounts were "falsely made" to frame Hickson.
"Buddy I'm the one who did it who do you think she [the lawyer] gon listen to lmao I bring her clients everyday," OBN wrote.
OBN asked Hickson to pay him through an intermediary: Dan Folger, a former photographer for rap star Wiz Khalifa who has over 300,000 Instagram followers and a Telegram channel where he sells Instagram services such as account reactivation. OBN has posted screenshots in his Telegram channel that show crypto payments from Folger to OBN. OBN has also shared video security footage, presumably supplied by Folger, of a ProPublica reporter visiting Folger's Nevada home. In a Telegram chat, Folger denied working with OBN. He did not respond to detailed questions sent via his attorney.
Hickson rejected OBN's offer, saying he wasn't aware of anyone who had gotten a cease-and-desist retracted. He denies that he broke Meta's rules. "I've spent a decade of my life building what I built only to have someone come in and tarnish that. I'm just trying to get my accounts back and my life back."
Meta said Hickson's accounts were appropriately taken down for violating Instagram's terms of service. Perkins Coie and the attorney mentioned by OBN did not respond to requests for comment.
---
Before the bans and the victims, before the white Lambo, OBN was just a teenager with a PlayStation. "We used to just play games online," Syenrai said in a telephone interview. Syenrai is the internet handle of a young man who was once prominent in the Instagram banning community. He requested that his real name not be used. Syenrai knew OBN as Brandon when they met online around 2018. They have never met face-to-face. He said he believes that Reyes-Martinez is at least partially responsible for the online activities carried out under the OBN handle, but that more than one person may be involved.
Syenrai said that Brandon earned money by selling a how-to guide to scamming. "The guides were easily found online for free, but OBN sold them for $45 a pop," he said.
Brandon used the OBN moniker specifically for scamming, Syenrai said. Asked what the acronym stands for, Syenrai said he was told it was "only bands" — a reference to the paper band that holds a stack of bills together — followed by the version of the N-word that ends in "a."
Everything changed for Brandon and Syenrai in the middle of 2020. A mutual friend named Abu "learned how to ban and showed it to me and Brandon," Syenrai said. Syenrai caught on so well that he earned a measure of fame in 2021 by "memorializing" the account of Instagram head Adam Mosseri. When an account owner dies, Instagram can enable a memorial setting that locks the account and informs viewers that the person is dead. Mosseri's memorializing only lasted an hour, but it embarrassed the company.
"It was a wild transition for us guys, from playing games to taking down celeb pages," Syenrai said.
That kind of high-profile takedown is a way for a banner to gain clout, a flexing of skills to showcase Instagram's vulnerability and make fellow banners jealous — like OBN, who also took credit for memorializing Mosseri.
It was also a quick route to a stern warning.
Syenrai received a cease-and-desist notice from Meta in November 2021. He said he stopped banning and working with OBN.
---
Kay Jenkins' Instagram popularity helped her earn between $15,000 and $20,000 a month from sponsorships and OnlyFans subscriptions. But after she moved to Miami from her native Utah in March 2021, both her main Instagram account and her secondary accounts for her real estate and personal coaching businesses were repeatedly suspended. Months later, she learned by chance what had happened. In November 2021, she was a guest on "Fresh & Fit," along with Celina Powell. Powell, who rose to fame by claiming to have slept with rappers and discussing the alleged affairs on hip-hop podcasts such as "No Jumper," had recently given a shoutout to OBN.
"I'm telling you right now if you need any Instagram services, you need your account back, whatever the fuck you need, you have to go to my boy @obn.here," Powell had said in an Instagram video that OBN shared in his channel.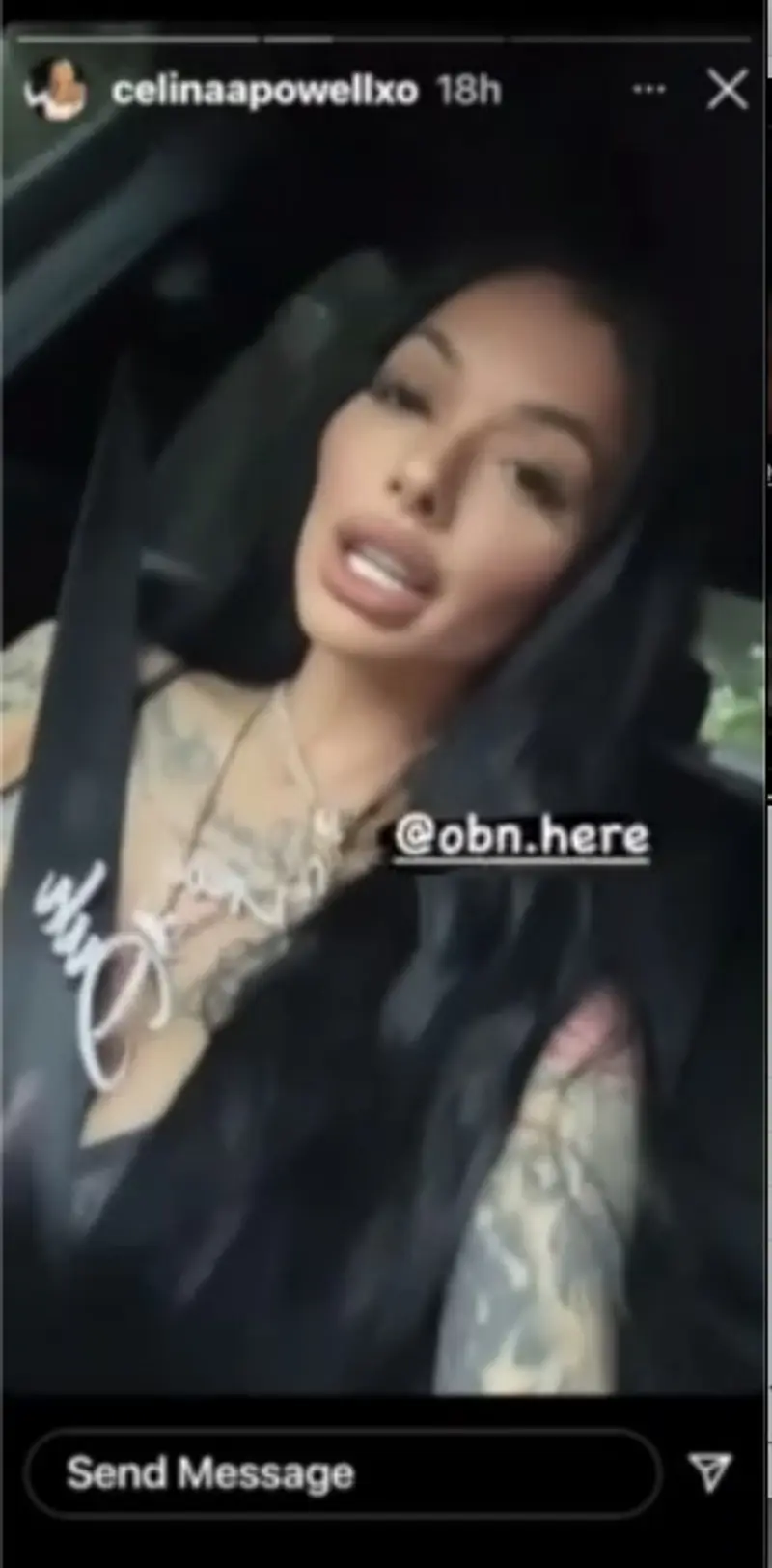 After the broadcast, Powell and Jenkins rode the elevator from the studio up to Jenkins' apartment. Powell called someone she referred to as Brandon and started talking about banning accounts.
"Who is this guy?" Jenkins asked her. "Can he bring my account back?"
"Yeah, he can bring it back if I tell him to," Powell said. "Because he's the one who shut it down."
Powell explained that she had OBN ban Jenkins. Powell was upset after seeing a video of her then-boyfriend dancing with Jenkins at a Miami club, Jenkins said.
Jenkins hid her anger. "I was so hopeful that like, OK, if she's the source that brought it down, she's probably my only hope to fucking get it back," Jenkins said.
Powell agreed to get OBN to restore Jenkins' accounts. And soon they were reactivated. On Dec. 5, less than a week after the "Fresh & Fit" appearance, Powell posted another shoutout for OBN.
Still furious at Powell, Jenkins ended their friendship. Her main account promptly went down again.
Jenkins finished 2021 with her main Instagram account suspended and no indication from Meta about if or when it might come back.
"I had the worst Christmas of my life, I contemplated slitting my wrists, I didn't feel like living anymore," Jenkins said.
Powell was imprisoned in June 2022 for violating parole on a 2015 conviction for driving a getaway car in a theft. Powell, who was recently released, declined to comment. Around the time of Powell's re-arrest, Jenkins' Instagram account was restored. But the reprieve was short-lived. On Sept. 23, OBN messaged Jenkins. He offered to get her account verified for a fee. She declined and told him not to contact her again.
"Dumb ass b!tch," read a private Instagram message sent to her the next day from an account linked to OBN. "I'm going to ruin you."
Two days later, Meta suspended Jenkins' account.
---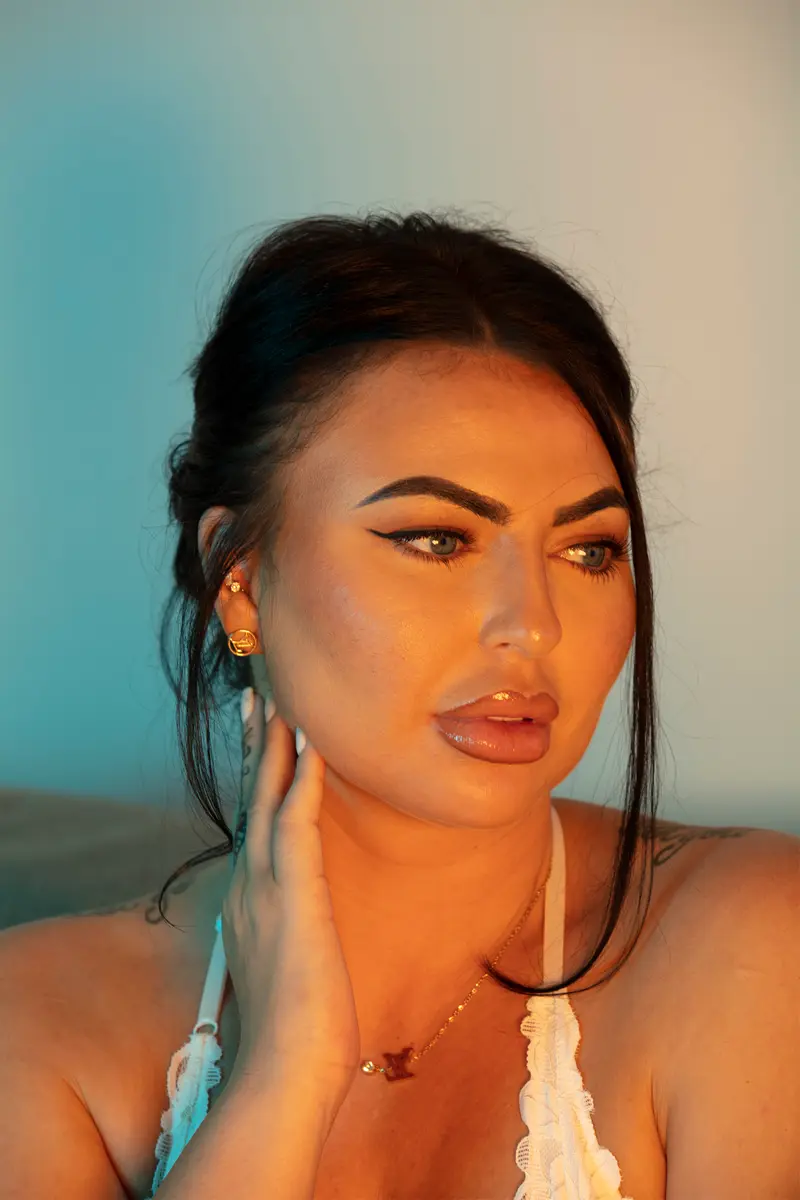 Jenkins decided the only way to protect her account and income was to make peace with OBN. It proved to be an expensive decision.
OBN assured Jenkins that he would be happy to work with her. He told her that he had a senior-level Instagram contact in Europe who could help unban and verify her account. He shared a screenshot of a conversation with the contact but, in an apparent oversight, failed to fully redact the name, according to Jenkins.
Seeing no alternative, Jenkins paid OBN $5,000, receipts show. Her account briefly came back online but was soon taken down by Meta. Then OBN blocked her on Telegram and deleted their conversation, according to Jenkins. She decided she had one more option: go directly to OBN's high-level connection at Instagram. She found the employee's Telegram account, which had the same username, photo and bio as his verified Instagram account. She messaged the account to say that she'd been working with OBN but he failed to deliver the services promised.
The response was sympathetic: "We made insane money no clue what went wrong." They struck an agreement to reactivate and verify Jenkins' account for $4,000. She sent the money, and her account was unlocked on Nov. 18, but it was suspended again four days later; the contact demanded another $4,000 to fix it. Again, Jenkins sent the money.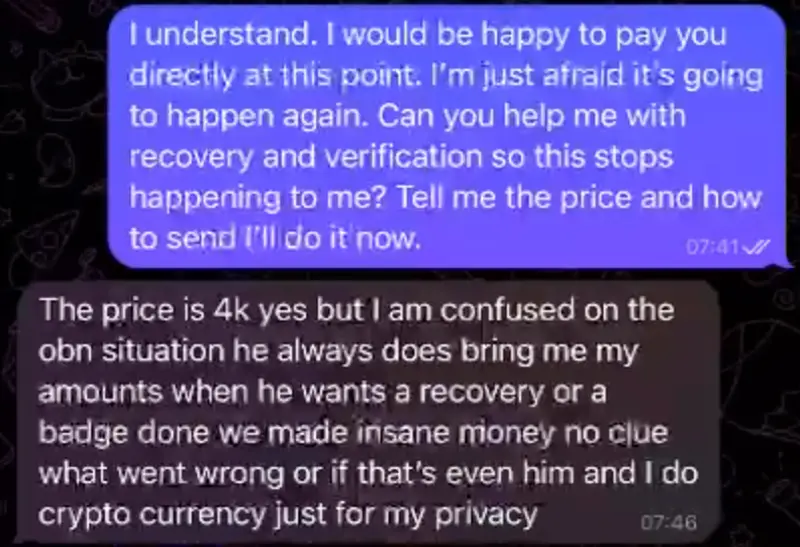 On the morning of Nov. 24, she woke up and immediately checked Instagram to see if her account was back. It wasn't. And she had a new Telegram message from OBN.
"Haha ur talking to my rep such a slut 🤣 he won't help you for shit anymore I'll make sure of that," OBN wrote.
Jenkins' account never came back. She hired a lawyer and sent Meta a demand letter for $25,000 in damages for the repeated loss of her main Instagram account. Meta hasn't replied. In reality, Jenkins was paying OBN all along. In an elaborate scam, he had posed on Telegram as the Meta employee. The cryptocurrency wallet to which Jenkins sent payments matched a wallet that OBN has used for other transactions.
ProPublica also traced the IP address of the server that the alleged Meta employee used to access the internet. It wasn't in Europe. It was used by a cellphone in Las Vegas.
Meta acknowledged that its employee was impersonated. As a result, the employee and his family have faced threats and harassment for years. The employee reported the account to Telegram. After being contacted by ProPublica, Telegram removed the account, which a spokesperson described as "fraudulent."
---
Following Reyes-Martinez's conversation with a ProPublica reporter in his North Las Vegas apartment, the @madetoomuchmoney Instagram account he said belonged to "Brandon" was deactivated. OBN blocked the reporter from his Twitter account and Telegram channel and announced he would no longer offer account banning as a service.
"I'm done with banning if you mention anything about bans I'll block you," OBN wrote to his followers.
But he wanted people to know he was still in business.
"Only doing instagram claims & verification, and C&Ds only for high paying nothing less let's work 🙏."