New Mexico committed to reforming its child welfare system, but it's leaving some of its most troubled foster teens without the help they need.
This story contains depictions of mental illness and self-harm and images of law enforcement restraining minors.
Near the pumps of a gas station in Las Cruces, New Mexico, a teenager in foster care sat in the back of a squad car, sobbing and gasping for air. Her hands were cuffed and her legs were bound in a "wrap restraint" to prevent her from thrashing about. A protective foam helmet covered her head.
The police had been called to find her after she ran away from a nearby youth homeless shelter, where she had been placed by the state child welfare agency.
It was at least the 16th time in six months that staff at shelters had called 911 about the girl, including five calls for suicide attempts or threats. This time, police caught up with her and another runaway foster child at the gas station.
After officers put the 16-year-old in the back of a police SUV, she became agitated and started kicking and hitting the vehicle. Officers expressed frustration about having to deal with yet another child in the custody of the state Children, Youth and Families Department.
"I don't understand why they do that, why they bring high-risk kids here, and they can't even handle them?" said Officer Lucy Milks, recorded by her body camera.
The girl pushed and scratched Milks when she tried to handcuff her. That's when officers brought out the wrap restraint. Three of them held the girl on the pavement and bound her legs, her white sneakers poking out from under the dark fabric and reflective strips.
Officers tried to figure out what to do next. "This happens all the time," one of the nine officers who responded to the call said to another. "It's so frustrating."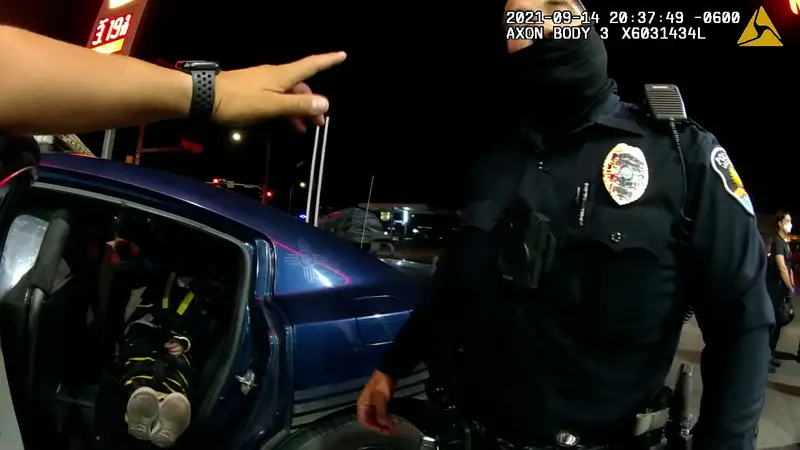 More than 1,100 times from January 2019 through June 2022, someone at a shelter housing foster kids in New Mexico called emergency dispatchers for help with runaways, violent outbursts, disorderly conduct or mental health crises.
Many of the kids placed in these shelters by CYFD have severe mental health or behavioral problems, including PTSD and depression, but shelters don't provide psychiatric services. Kids break down, get into fights, destroy property, threaten staff or run away. Sometimes they say they want to kill themselves or try to.
In these moments of crisis, it's police and paramedics, not mental health professionals, who intervene.
Searchlight New Mexico and ProPublica set out to understand what happens when shelters call 911. We obtained nearly 6,000 pages of dispatch logs, dozens of call recordings and more than 120 incident reports. In addition, we reviewed 26 hours of body camera videos for 16 incidents involving foster teens who appeared repeatedly in emergency calls.
Videos show police arriving to find broken windows and doors, sobbing teens and rattled staffers. Officers know little about the kids and have trouble getting guidance from CYFD. They're often bewildered about what to do.
"We're trying to figure out why, like — what we're doing here," a Bernalillo County sheriff's deputy told his supervisor after responding to a call at a shelter outside Albuquerque in October 2021. "We're a little confused."
Searchlight and ProPublica contacted every law enforcement agency involved in incidents in this story; they didn't respond, declined to comment or didn't take issue with our findings.
Experts say encounters like these can damage a child's mental health for years. Virtually every foster child is dealing with extraordinary psychological damage, and many have had run-ins with police, said Tim Gardner, legal director of Disability Rights New Mexico. Dealing with law enforcement when they're in crisis, he said, "just further traumatizes them."
Kids like this are not supposed to be in shelters. Three years ago, the state promised to stop housing kids in shelters, offices and other places that don't provide the mental health care that they need — except in "extraordinary circumstances" when needed to protect the child. CYFD has delivered on just a portion of those promises.
In the meantime, the referrals keep coming.
"We've had countless conversations with the department to say, hey, these are not kids that should be in shelter," said Jennica Bustamante, a manager at My Friend's Place, the facility in Las Cruces that the 16-year-old ran away from. "These are not kids that we can properly care for, that we can safely care for."
Emily Martin, CYFD Protective Services Division chief, said the department exhausts every other option before placing a child at a shelter; the number of placements, according to figures provided by Martin, has dropped by about 40% since 2019. Since last fall, the department has licensed two more specialized group homes, which they say offer expanded mental health services.
Currently, she said, some 50 foster youth are cycling in and out of shelters in New Mexico. That's a small fraction of all children in custody of CYFD's protective services office.
In the gas station parking lot, a police officer asked the 16-year-old what she was doing in southern New Mexico when she was from Albuquerque, roughly 200 miles away. "There's nobody that would take me in," the teenager replied.
Officers took the girl to a hospital for a medical evaluation because they had used force on her. She was escorted through the emergency room in handcuffs. That night, she was back at the shelter.
Five days later, officers were called to find her again.
Crisis. Call. Repeat.
When foster kids run away, shelters call 911.
When kids break down or express suicidal thoughts, shelters call 911.
When kids hurt or threaten others, shelters call 911.
Shelter managers say they often have little choice. They are required to notify police about runaways so kids can be located or entered in a missing persons database. And kids in crisis often need to be taken to a hospital for a psychiatric evaluation.
Of the more than 1,100 calls regarding shelter residents, more than 460 were for physical violence, disorderly conduct or mental health crises. That includes more than 70 calls for suicidal youth. At least 650 calls were for runaways.
These records didn't always say whether a shelter resident was in CYFD custody, but managers of shelters involved in the vast majority of calls said most of their residents are foster kids. All of the body camera videos reviewed by Searchlight and ProPublica involved foster kids, according to police records.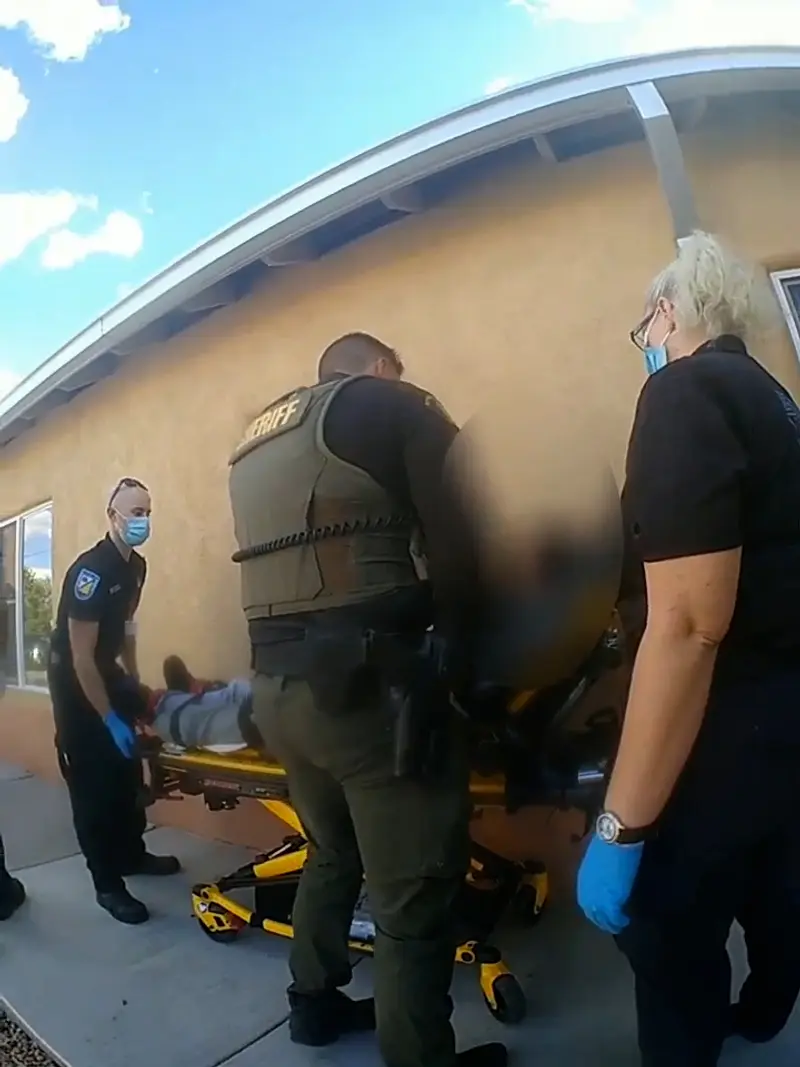 After police get involved, CYFD often moves the kids to another shelter. And the cycle repeats. The girl at the gas station was one of at least 24 foster kids who were the subject of calls from three or more shelters in the period analyzed by the news outlets.
In 2021, a Bernalillo County sheriff's deputy arrived at the Amistad Crisis Shelter in Albuquerque's South Valley after that same girl tried to strangle herself. She was quietly telling another deputy that she was depressed.
"You look familiar. Have I talked to you before?" Deputy Adrienne Seay asked the girl, their conversation recorded on her body camera.
Seay realized she had — four months before, when she had responded to a call at Amistad after the girl had cut herself and made suicidal threats. In that short time span, the girl had bounced around among at least four shelters throughout New Mexico and had been the subject of at least eight calls to police, dispatch records show.
This time, EMTs took the girl to a hospital for a psychiatric evaluation. She asked a deputy to fetch her stuffed animal first.
Deputies responded to calls at Amistad for residents in crisis more than once a week, on average, over three and a half years, according to dispatch records. Every deputy in the Bernalillo County Sheriff's Office, the largest in New Mexico, has responded to calls at the youth shelter, said Undersheriff Aaron Williamson.
Sometimes law enforcement must stay with kids for hours, unable to respond to other calls, as they wait for a CYFD employee to show up or tell them what to do, according to videos and interviews with law enforcement.
"So now we're waiting. We're waiting for somebody to show up that can make a decision about this kid's care," Bernalillo County Sheriff's Office Lt. Amy Dudewicz said in an interview. "It is a frustration. And it is a huge concern for those of us that are answering those calls, like, is this the best response that we have to offer?"
CYFD gives staff three hours to respond in such cases, department spokesperson Rob Johnson said in an email. Staff are almost always working on something else and could be hours away. "That's why the department routinely sends a nearby case manager, even if that person might not know anything about that young person," he said.
Even CYFD staff themselves sometimes call 911 seeking help.
Over the course of 2020 and 2021, dozens of 911 calls were made from the agency's Pine Tree office, a complex in Albuquerque where foster kids sleep when CYFD can't find any other place for them. At least 14 calls were for violent behavior, runaways or mental health crises.
CYFD told Searchlight and ProPublica that was during the heart of the pandemic, when shelters were limited in how many kids each could accept. But they acknowledged that kids continue to sleep at the office.
One of those calls involved the same 16-year-old girl. In October 2021 she broke a window at the office building. CYFD staff called police and urged officers to arrest her, saying they planned to press charges.
"It's not safe for staff or any of our youth right now to have her there in the state of mind she's in," Leticia Salinas, a CYFD regional manager, told state police officer Kevin Smith.
But the girl's actions didn't warrant juvenile detention, Smith replied. "It's a nonviolent crime. They're not going to book her," he said.
Staff escorted her back inside for the night. She ran away the next day, and state police were called again.
Sweeping Up the Pieces
When police arrive, they see the fallout from placing foster kids with serious mental health problems in facilities that aren't equipped to deal with them. Staffers at those facilities say they don't always know foster kids' backgrounds and sometimes have to handle volatile or violent incidents. Officers' body cameras record it all.
Managers of every shelter that housed foster kids during the period analyzed by Searchlight and ProPublica said they had taken in kids without being informed of their mental health conditions or histories of aggressive or suicidal behavior. If staff had been informed, they could've taken steps to safeguard residents, they said.
CYFD's Johnson disputed that contention. "That's not what has been expressed to us by the shelters," he told the news outlets. "​​We know that the shelters struggle sometimes, but they have the option to decline admission."
He said shelters receive a screening form that includes information about prior arrests and any history of substance use, aggression, self-harm, suicide or psychosis. Shelter managers say it's often not complete.
In August 2020, CYFD placed a 15-year-old at Youth Shelters & Family Services in Santa Fe shortly after he was charged with battery of a police officer and stealing a car. A shelter manager told police that CYFD didn't disclose that the boy had a juvenile probation officer until a few days after he was placed there.
About two weeks into his stay, the boy smashed several windows and threatened to kill a staff member while wielding a broken piece of door frame, according to a police report. Employees frantically dialed 911. Police located the boy in a field, his fists bleeding from punching out windows, and charged him with aggravated assault and criminal damage to property.
When police responded, Jennifer Reese, a shelter manager, told Officer Mariah Gonzales about the boy's history, their conversation recorded by Gonzales' body camera. Reese declined to comment for this story, saying she was bound by a confidentiality agreement.
"Is this a common thing you guys experience, with no one communicating with each other?" Gonzales asked as Reese swept up glass from the broken office door.
Reese said it was. "If we had known what the deal was, then we could have maybe prevented this," she said. "But we had no idea."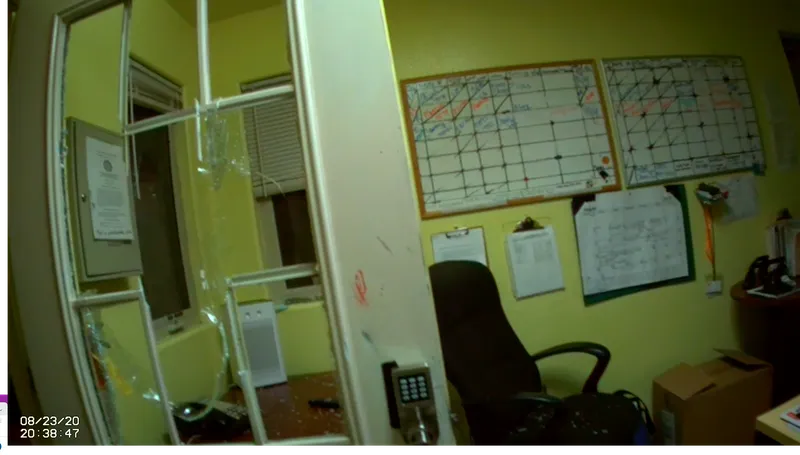 Reese recounted how CYFD had placed a girl at the shelter about a month earlier without her medications and without informing staff of her medical history. Several days later, she was found in the backyard trying to cut her wrists.
CYFD later tried to place her in the same shelter but still didn't have her medications. Reese told Gonzales the shelter wouldn't accept her — "not because we don't want to help her, but we can't help her."
CYFD should have taken care of her meds, Reese said: "She's a little kid. I mean, it's bad enough when it's a grownup, but a little kid? Do your job."
"Yeah, it's frustrating," Gonzales replied.
Johnson, the CYFD spokesperson, said caseworkers must hand a foster child's medication to a shelter employee. "Why wouldn't a youth have meds?" Maybe the prescription hasn't been filled, he said. "Maybe the youth had meds at a foster-home placement and didn't bring them. Maybe they've been on the run."
After taking photos of the damage, Gonzales told Reese to let her know if she needed anything else.
"Hopefully I won't see you guys for a long time," Reese replied.
Santa Fe police would be called to the shelter 44 more times for incidents involving residents in the next 17 months.
"A Survival Response"
Experts, shelter staff and even police agree: Cops aren't the best people to deal with these kids. The mere presence of police can be triggering to a youth in crisis. Sometimes kids fight back and get into more trouble.
In September 2021, police and EMTs responded to a shelter in Hobbs after a foster teenager destroyed property and allegedly hit a staffer. She struggled and made suicidal statements as officers tried to restrain her, drawing their stun guns three times in the process. The girl was forced onto a gurney so she could be taken for a psychiatric evaluation, screaming as she was loaded into an ambulance.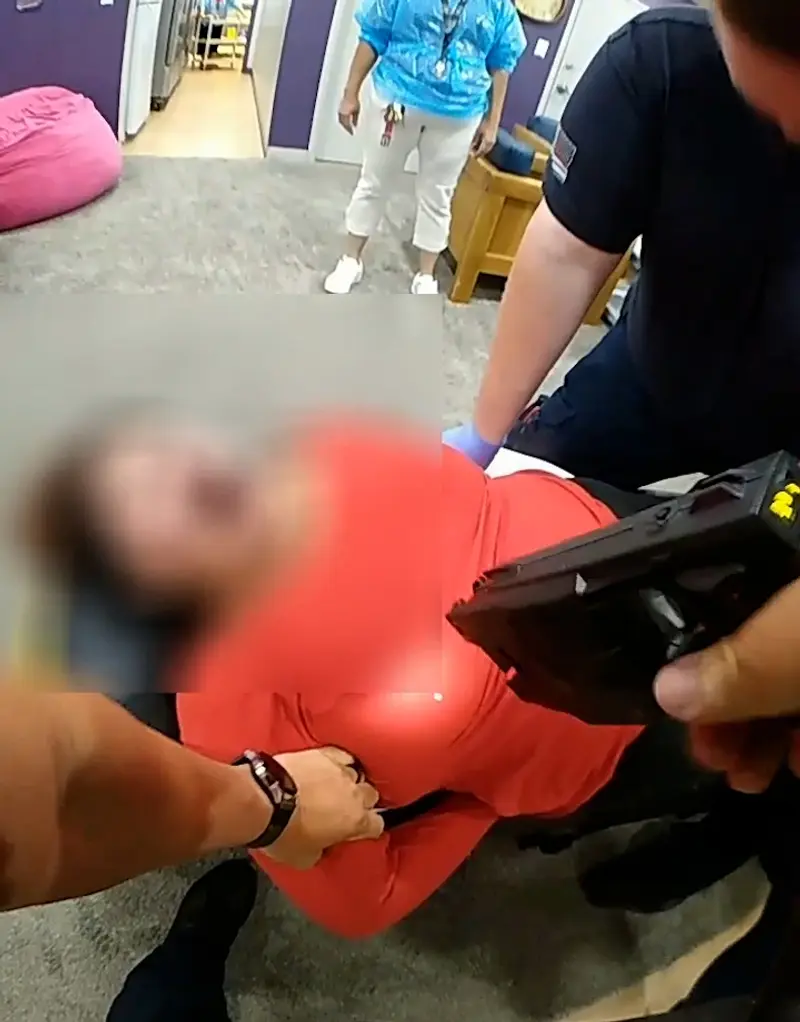 The next month near Albuquerque, after a teenager threatened shelter staff, an on-call CYFD employee unfamiliar with his case said the boy should go to a hospital for a psychiatric evaluation, according to police records and body camera video. When the kid tried to run, deputies handcuffed him and EMTs sedated him. Then CYFD changed course, telling emergency responders not to take the boy to the hospital. By then, he was already on a gurney.
When a police officer chased down a 17-year-old runaway in Taos at about the same time, the girl turned around and punched him in the face. It was at least her sixth runaway incident in the previous three months, according to dispatch logs.
"I'm sorry I attacked you, but I did not feel safe," she told the officer at the station. "I've been getting hurt so many times, and that's why I'm running away, because I don't want to get hurt no more."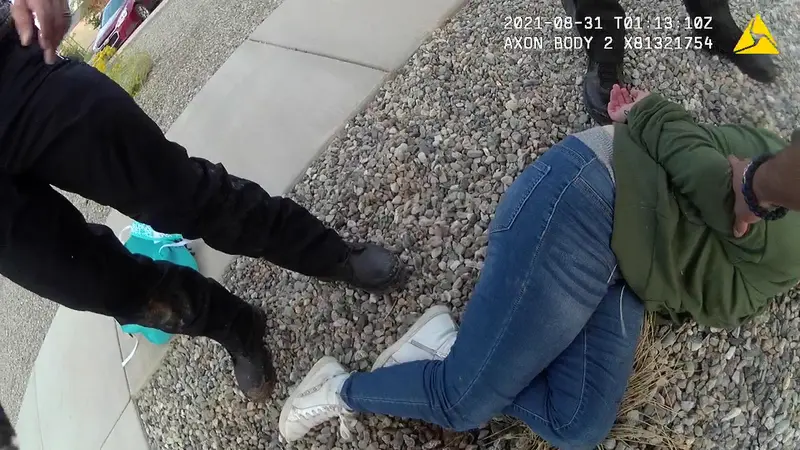 Children older than 14 have the right to refuse placements, and it's not a crime to run away, said Martin at CYFD. But when they do, police have to be called, in part because CYFD needs to determine the children aren't in danger. "I'm worried about them" when they're on the run, Martin said. "I want them to be safe."
Scenes like the ones captured by body cameras are "extremely predictable," said George Davis, CYFD's former chief psychiatrist and a leader in efforts to change how the department deals with foster kids.
These kids can have extreme mood swings, Davis said, "because of the trauma they've already been through." Putting them in a shelter, rather than a foster home where they can access appropriate mental health care, is almost certainly going to cause an emergency, he said.
"Reacting to police this way is a survival response for them," he said.
In many of the videos viewed by Searchlight and ProPublica, police officers try to defuse the situation, even attempting to counsel teenagers. Sometimes they sit with a child in crisis for an hour or more, talking to them as they wait for the child to be transferred to another shelter or sent for a psychiatric evaluation.
In November 2020, a teenage girl in foster care threatened to kill herself at the DreamTree Project shelter in Taos. A team of officers stayed with her on the front porch and tried for over an hour to talk her down.
"I've been here at DreamTree for two months. I can't do this anymore!" she cried to the officers. "I just want the pain to end."
"You're 15 years old, you're a young lady. You have your whole future ahead of you," Officer Gilbert Martinez said. "You don't want to give up. I have kids. They're already older, but if I ever heard my daughter say, 'That was it,' I would be devastated."
Roughly an hour later, two CYFD employees arrived.
"She needs to go to the hospital," one said to the other. Then they would try to find the girl a bed at another shelter. "You gotta start calling and looking around."