Politicians haven't stopped deleting some of their most cringeworthy tweets, but Politwoops, our project that has tracked and archived more than half a million deleted tweets from candidates and elected officials since 2012, is no longer able to track them.
Since Elon Musk took over Twitter, the platform has disabled the function we used to track deletions — and the new method that Twitter says should identify them appears to be broken. We have been unable to find anyone who can help us, and with Twitter surprising developers by announcing a move to a paid model for gathering tweet data, it's no longer clear that Twitter is a stable platform on which to maintain this work. It seems fitting to give Politwoops a sendoff, a farewell to not exactly a friend but an odd part of our national political discourse for a decade.
Originally built by the Sunlight Foundation, Politwoops always had a tenuous existence. Born in 2012, it received its first eulogy just three years later after Twitter pulled the plug, only to come back just in time for the 2016 presidential election. (Now-House Speaker Kevin McCarthy welcomed it back, then deleted that tweet.) When Sunlight closed up shop, ProPublica took over the app, which is when I started to maintain it.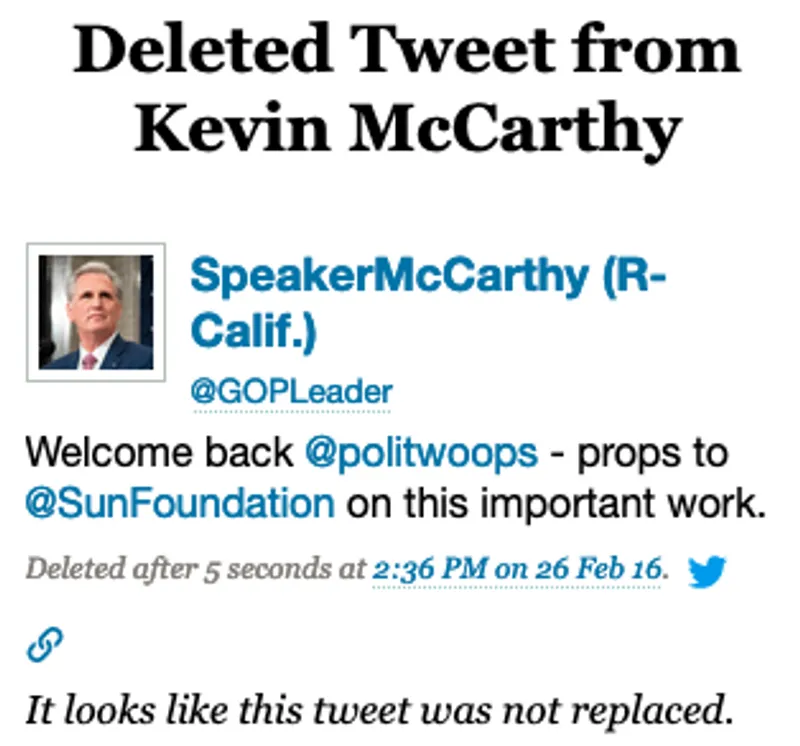 Politwoops was built on the idea that what elected officials and candidates said on Twitter mattered, at least a little. Like most users of Twitter, politicians usually tweet pretty mundane stuff: celebrations of victories mixed with jeers for opponents, some local flavor and attempts to jump into trending conversations. Most of the deletions are for mistakes any Twitter user could make: typos, forgotten or incorrect images, bad URLs. The occasional seems-like-a-toddler-grabbed-the-phone posts. Truly forgettable stuff.
But for those politicians who really embraced Twitter as a place where they could be themselves, the deletions sometimes spoke volumes. Some deleted posts are hard to forget, like one from then-President Donald Trump in the early evening of Jan. 6, 2021, not long after a mob invaded the U.S. Capitol and assaulted police officers in an attempt to stop Congress from certifying Joe Biden's victory in the 2020 presidential election:
Trump had perhaps the most-watched Twitter account during my time running Politwoops. While he was in office, Trump's tweets got a ton of attention, but they seldom were a departure from other things he said in public. I would often get emails from reporters asking whether he had, in fact, deleted some alleged tweet they had seen, and mostly he had not; other accounts would post images of fake tweets that never appeared on his timeline. Politwoops became an integral resource for checking whether viral (and often poorly photoshopped) tweets were fake.
All the while, other politicians were posting — and deleting — interesting, newsworthy and bizarre things on the platform. Running Politwoops for the past six years has, strangely enough, made many elected officials seem more human to me. They, and not Trump, are what I'll remember most about the site.
Sometimes deleted messages appear to be offhand remarks that politicians have instantly thought better of: When political scientist Larry Sabato wrote, "You have to admit, Biden is on fire," referring to then-Vice President Joe Biden's debate performance against Republican Paul Ryan in October 2012, Texas Republican Sen. John Cornyn retweeted it. And then deleted it 11 seconds later.
Other examples of this genre include Kentucky Republican Rep. Thomas Massie's deletion of this somewhat cryptic tweet about men and war a minute after posting it, while New York Democratic congressional candidate Nate McMurray did the same for this hot take about The Buffalo News in October 2020.
In other cases, it was harder to tell why a tweet was deleted. Iowa Sen. Chuck Grassley, famous for his use of abbreviations and sparsely worded posts, is a known booster of the University of Northern Iowa, his alma mater. In November 2021 he posted that UNI was trying to recruit a local volleyball player. Fourteen hours later, he deleted the tweet. That athlete did, in fact, sign with UNI a year later.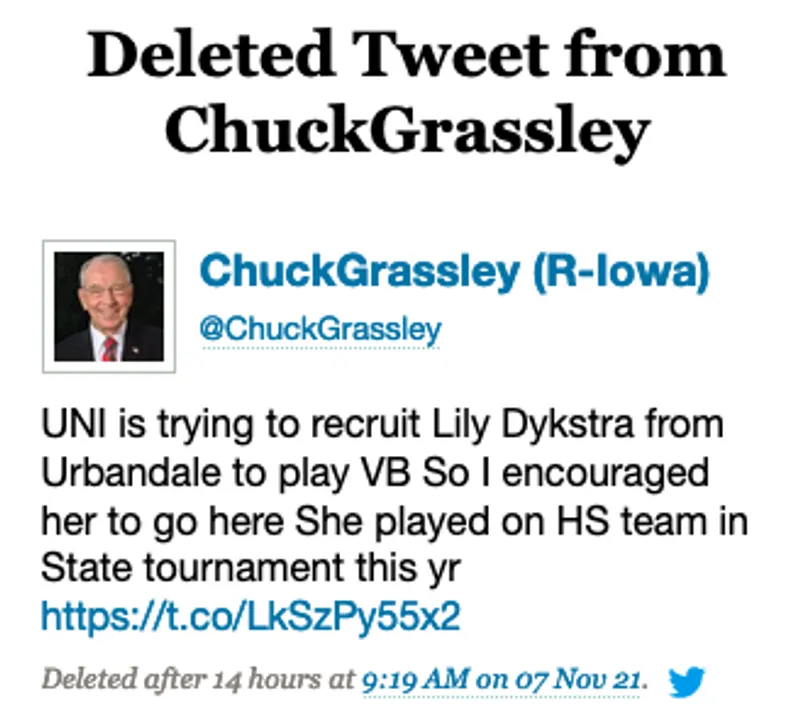 As Twitter grew in popularity among politicians, its use became more professional, with staffers posting news and pictures. That led to some interesting conversations as staffers who had access to multiple accounts, including their own personal ones, sometimes clicked the wrong button. I've gotten more than one email or phone call asking if a tweet posted by mistake to the wrong account and then deleted could be removed entirely from Politiwoops. (Answer: We don't do that.)
In December 2020, I got an email from someone who worked on the campaign of then-Rep. Sean Patrick Maloney, D-N.Y. The congressman had posted and deleted a tweet that showed up on Politwoops, and would we consider removing it? It's very rare that we would do that — that's the whole point of the site — but when I brought up the deleted tweet I saw why he was asking: Maloney had mistakenly sent a public tweet that should have been a direct message, because it included his personal cell phone number. After some conversation, we decided to redact the number.
After the 2016 election, when Twitter became an important part of fundraising for political campaigns, I started to notice a very strange pattern: some accounts, especially long-shot candidates running against high-profile incumbents, dramatically increased the number of their deletions. A good example of this was Kim Mangone, a California Democrat then running against McCarthy for a House seat. Mangone's deletions consist mostly of her own retweets, which seems like a weird thing to do until you discover that Twitter prevents users from reposting identical tweets or retweets over and over in a short time span. The only way around that restriction is to delete the earlier post and then repost it.
Perhaps the most interesting political deleter is Sen. Brian Schatz, a Hawaii Democrat active on the platform. Like many of his colleagues, Schatz deleted typos and some retweets of others' posts. But he often posted an informal message — almost always without a link or mentioning other accounts — that gave you a glimpse into his actual thinking. Here's an example where Schatz could have tagged some of the pundits he was criticizing, but didn't. And another one in that vein. Or this one with early COVID advice on mask-wearing. Sometimes he'd even acknowledge the deletions, or provide an explanation for doing it. Most politicians do not do this.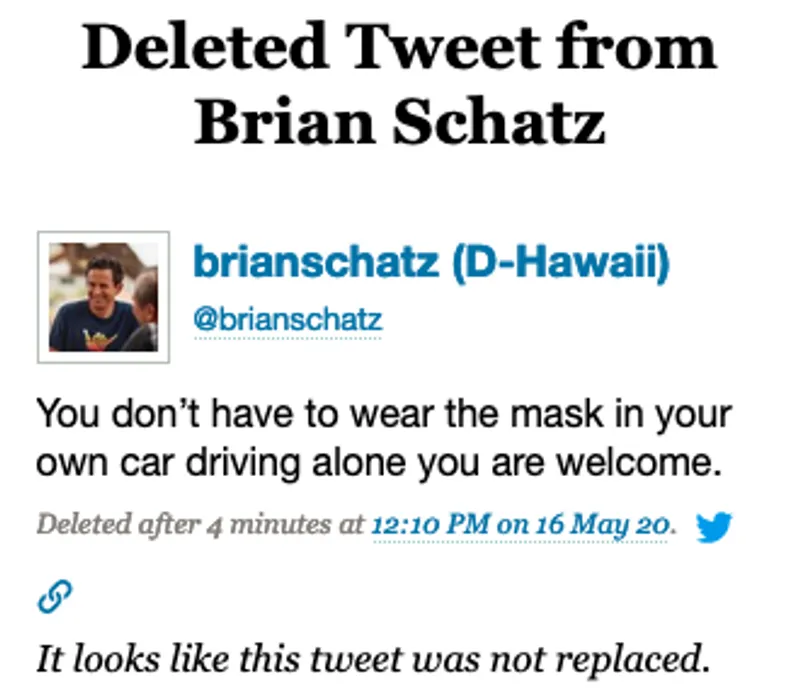 Other senators are famous for their folksier tweets — Grassley excels at this — and there are some lawmakers who can be equally blunt on the platform. But I'd like to believe that I learned something about how Schatz thinks that would be hard for me to know otherwise, given that we've never met.
That's one of the things I'll miss most about running Politwoops: getting a glimpse behind the carefully crafted images that politicians present to the public. ProPublica would be happy to continue running this service, so if anyone at Twitter wants to help out, please get in touch. That includes you, Elon. [email protected]
Correction
March 1, 2023: This story originally misidentified who sent a profane tweet, later deleted, from Rep. Chuy Garcia's account. After publication, a Garcia spokesperson said the tweet was sent by a staffer who was dismissed the next day, not by the representative himself. The text referring to that tweet has been removed.