ProPublica is a nonprofit newsroom that investigates abuses of power. This story was originally published in Dispatches, a weekly newsletter that spotlights wrongdoing around the country and journalism from our newsroom.
Recently, my co-reporter Laura Beil and I published an investigation into the way in which Columbia University allowed a sexual predator to operate within its walls for more than 20 years. We examined the case of Robert Hadden, a former OB-GYN, and found that Columbia had allowed him to continue practicing, despite multiple patient complaints. The university also undermined the criminal investigation into Hadden.
Hadden's crimes were first covered in the local New York press in 2013 and made national headlines as the criminal and civil cases against him made their way through the courts. But Columbia's role was never thoroughly examined. Laura and I wanted to understand what the university knew about his behavior, when, and whether it had missed opportunities to protect patients.
Following publication of our story, the new university president, Minouche Shafik, and the CEO of the Columbia University Irving Medical Center, Katrina Armstrong, issued an apology to the survivors. But so far, the university has not formally notified Hadden's patients about the reason for his departure or his criminal convictions. Columbia has still not commissioned an independent investigation into what happened under its roof.
As with much investigative reporting, documents proved crucial in helping us understand what went wrong. Police and prosecutors' reports informed us about patients' experiences, and they helped us establish timelines. Letters filed in court created a record of communication between Columbia and Hadden, as well as the university and its patients. Some of these documents are public (if you know where to look) and some of them we obtained from sources. Together with dozens of interviews and nearly two years of research, they helped us reconstruct decades of abuse and ignored warnings.
I want to tell you more about the documents themselves and how we got them:
1. The Police Report

One of the patients Hadden assaulted was Laurie Kanyok. In interviews, she told us what had happened to her in late June 2012, including the fact that she reported Hadden to the police immediately after the assault. The police arrested him that afternoon.
We were able to get an unredacted copy of the report made after her complaint by submitting a public records request to the New York City Police Department, along with a notarized affidavit she provided giving permission for it to give the records to us.
This document was important because it confirmed what Kanyok had told us about the timeline of events. But it also revealed that there were administrators within the OB/GYN department who immediately knew of Hadden's arrest. One showed up to the office once she learned the police were present. We reached out to those administrators to see if they would talk to us. (They either declined or never answered our requests.)
2. The "Dear Bob" Letter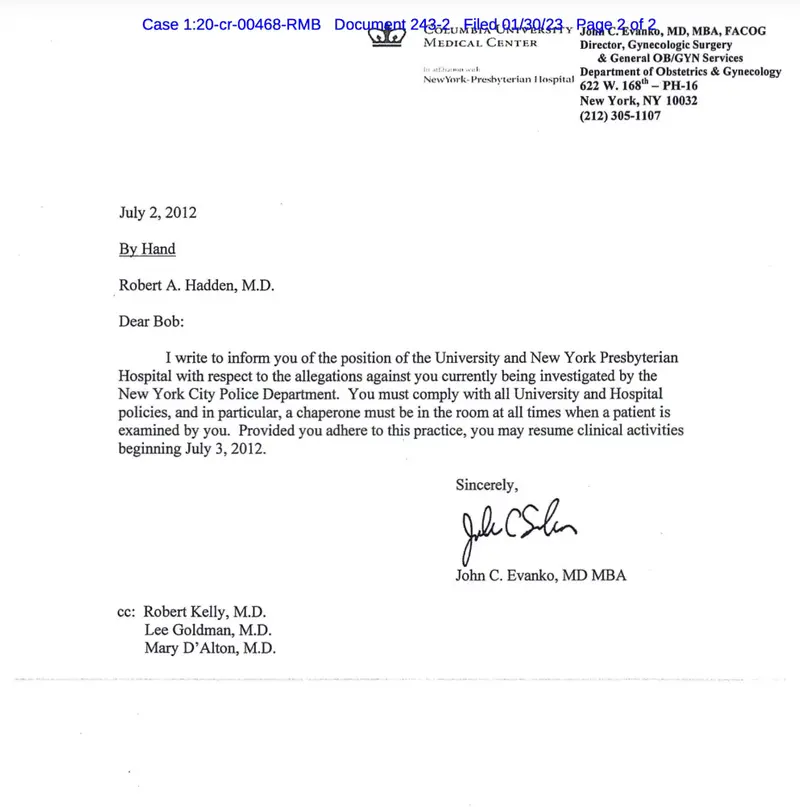 We were aware that Hadden had been allowed to continue practicing following his arrest because several women said he had assaulted them after that date. What we didn't know is how quickly he had been allowed back.
Hadden was indicted by the U.S. Department of Justice in 2020, but the criminal case against him didn't go to trial until January of this year. Before and throughout the trial, Laura and I religiously checked Pacer, an online database that provides public access to documents filed in federal court cases. Late one Sunday night, I got a call from Laura who had just spotted something important: an excerpt from what we now call "The 'Dear Bob' Letter."
A document filed by prosecutors referenced the letter, which was addressed to Hadden and sent on July 2, 2012. It said that, despite the allegations against him that were being investigated by the police, if Hadden complied with university and hospital policies — specifically that a chaperone be in the room — he was allowed to "resume clinical activities."
We realized that he had been allowed to go back to work almost immediately. We discussed whether we might be able to get the full letter via a public records request, but before we submitted one, we got lucky: Prosecutors shared it in another filing. And this time, we learned, it had been signed by Hadden's supervisor and three high-level administrators had been cc'd. This was evidence that even more people knew of the arrest.
In a statement, Columbia said, "we are profoundly sorry for the pain that Robert Hadden's patients suffered as a result of his abhorrent misconduct. We also deeply regret, based on what we know today, that Hadden saw patients for several weeks following his voided arrest in 2012."
3. The "Dear Valued Patient" Letter

Hadden stopped practicing in August 2012. In April 2013, Columbia sent a letter to Hadden's former patients to inform them that he had left the practice. Conspicuously absent in the letter? The reason. We got a copy early on from the attorney who has filed many of the civil cases against the university.
The letter is significant because this was an opportunity for Columbia to inform patients why Hadden had left. More than 10 years after his arrest, Columbia has yet to notify Hadden's former patients that he has been convicted of sexual abuse.
Some of those patients have called on legislators to push for the passage of the Adult Survivors Act, a New York law that opened a temporary window for victims of abuse to file civil suits against their abusers, even when a statute of limitations has expired. The window will close on Nov. 23.
According to federal prosecutors, 245 patients have alleged abuse, but we estimate that Hadden likely saw tens of thousands of patients during his career, so the number could be much higher. Because Columbia refuses to notify them, those patients remain unaware that he has been convicted of the abuse charges he faced.
4. The Post-It Note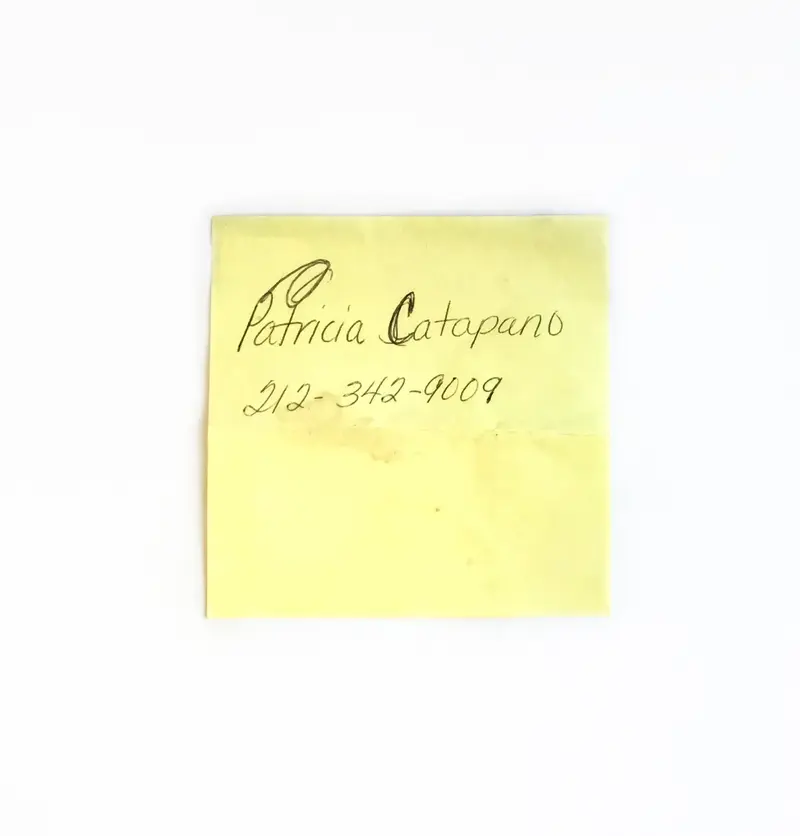 In 2014, patient Sandy Abramowicz told another Columbia OB-GYN that Hadden had abused her. The doctor left the room and returned with a Post-it note that had the name and phone number of Patricia Catapano, who at the time was deputy general counsel of the university.
We later learned that Columbia had failed to alert the Manhattan District Attorney's Office to new patients who had come forward while the DA's office was investigating. The Post-it note served as tangible proof that the university was referring patients to its own general counsel's office and not the DA during that time.
We were surprised — and relieved — to know that Abramowicz had kept the note for all these years. It was evidence of the way Columbia was responding to patients who were coming forward.
Abramowicz never called the number. During an interview, she told us: "The fact that she said, 'This is where they're referring former patients of Dr. Hadden' told me I'm not the only one. And Columbia knows that I'm not the only one. And then the thing that hits me is — if she represents Columbia and I'm Sandy, whose interests is she representing here?"
We reached out to Catapano, but she said she had no interest in responding to the inquiry.
5. The DA Report

We knew that the Manhattan District Attorney's Office had opened a criminal investigation into Columbia in 2020. We repeatedly asked the DA's office about the status of the investigation, but we got no answers, only that the investigation was ongoing.
Eventually, we got hold of documents that were directly related to the criminal investigation. It was like finding the Holy Grail.
The documents proved invaluable: They listed patient complaints that we didn't know about, said that Columbia had failed to share those complaints during the DA's investigation into Hadden, despite subpoenas, and said that Columbia had failed to place record-retention holds. Administrators had also failed to establish guidelines for documenting additional patient complaints.
These documents were our clearest record that Columbia had undermined prosecutors in the Hadden case. In an interview, Cy Vance, who was the district attorney at the time, told us that if Columbia had fully cooperated with the investigation, it could have made a difference in his office's decision to accept a plea deal for Hadden in 2016. In a statement, Columbia told us that it continues to cooperate fully with the U.S. attorney for the Southern District of New York and the Manhattan district attorney.
Do you have information about Columbia that we should know? Visit propublica.org/tips to get in touch securely.