The costs of natural disasters are skyrocketing. America's systems for preparing for them and helping victims are falling short.
This article was produced in partnership with Verite and WWL-TV along with The Times-Picayune | The Advocate, which was part of ProPublica's Local Reporting Network in 2022. Sign up for Dispatches to get stories like this one as soon as they are published.
Lisa Ruiz was at her home in Eden Isle, Louisiana, a community of about 8,000 nestled on the eastern shore of Lake Pontchartrain, when her mother called.
"You need to turn on the news!" her mother said that afternoon in early February. "The governor just announced the state is forgiving all the Road Home lawsuits."
Ruiz's heart skipped. Maybe she would get her money back.
Three years earlier, the state had sued Ruiz, saying she had misused a $30,000 grant meant to elevate her home to protect it from future flooding after Hurricane Katrina. The grant came as part of Road Home, the largest disaster recovery program in the country's history. Like others, Ruiz said she had been told by Road Home representatives that she could use the money for repairs, and she did.
When the state came after her, Ruiz was afraid she could lose her house, so she withdrew $31,000 from her retirement account and sent it as repayment.
It wasn't an easy decision, she said. That money was supposed to go toward the care of her severely autistic son after she dies. But rather than hiring an attorney to fight the suit or ignoring the demand and facing the possibility of a lien being placed on her home, she decided paying back the grant was the right thing to do.
"Everything I do, working 12-hour shifts for the past 15 years, is to put money into that account for my son because he's going to require 24-hour care after I'm gone," said Ruiz, a nurse for three decades, as tears streamed down her face. But, she added, "I'm an honest person. If it's a debt I owe, I'm going to pay it."
Then, in February, she got the call from her mother and thought for a moment that the state would fully reimburse her.
That hope was quickly dashed. Under threat of being sued, 425 people had made partial or full payments — totaling $6.8 million — to the state. But while thousands more would now be freed from legal peril, no longer required to pay what the state said they owed, officials said those hundreds who had already paid would not get refunds.
Ruiz was outraged.
"It's not fair for people who were trying to do the right thing when there was no benefit for doing the right thing," she said.
Years of Mismanagement
Louisiana Gov. John Bel Edwards' Feb. 16 announcement that the state was no longer pursuing about 5,000 lawsuits against homeowners who allegedly misused recovery grants after hurricanes Katrina and Rita officially ended the 17-year odyssey of Road Home.
Of those lawsuits, about 3,500 specifically targeted families who received grants to elevate their homes to safe levels but failed to do so.
The program had been beset with problems from the start. An investigation by The Times-Picayune | The Advocate, WWL-TV and ProPublica last year found that the $30,000 grants provided to homeowners like Ruiz were not enough to elevate a house, which was a requirement of the grant. At the time, it cost at least three times that amount to put a home onto raised footings, something the state acknowledged later.
The state also failed to double-check whether people were eligible to receive the grants, or that their homes needed to be elevated, before sending out the money. When some of those homeowners contacted the state to say they didn't need or want to elevate their homes, they were told by Road Home representatives they could use the funds for repairs, so that's what they did, according to court records and the news outlets' investigation.
Ruiz said she was quoted as much as $160,000 to elevate her home, which was more than she could afford. But Road Home representatives, she said, told her she could instead use the elevation grant to finish rebuilding.
"We were in a heck of a shape. So it was very easy to take those words and say, 'OK, wonderful. This is a blessing.' So that's what we did," she said.
At least five appeals court rulings support homeowners' contention that they were told they could use the grants for repairs. But state officials said homeowners have been unable to identify who told them they could use the money for repairs.
Years of mismanagement of the recovery program left Louisiana on the hook to the U.S. Department of Housing and Urban Development, which funded Road Home, for nearly $300 million in misspent grants, about $103 million of that for the elevation grants alone. Under pressure from the federal government to recoup that money, the state sued thousands of storm victims.
The suits drew criticism from residents, housing advocates and elected officials, and the state and HUD spent years trying to negotiate a way out of them. The biggest question was how much the state would have to repay to satisfy its debt to the federal government. Only then could it close out the Road Home program and drop the lawsuits.
"It's been a miserable thing for the state of Louisiana to pursue these individuals, because we knew the vast majority of them were never going to pay," Edwards said in February.
The deal that the state and HUD eventually brokered allowed the state to repay just $32.5 million in misused funds and release homeowners from "unpaid judgments and payment plans," according to a HUD spokesperson.
To pay off the $32.5 million, Louisiana is using two separate pots of money: $12 million from a settlement with ICF Emergency Management Services, the third-party contractor the state sued for mismanaging the recovery program; and an anticipated $20.5 million appropriation by the state legislature in the current session.
Ruiz questioned why the state can't appropriate additional funds to reimburse her and others, but state Commissioner of Administration Jay Dardenne said doing so would likely run afoul of the state constitution, which explicitly prohibits public money being "loaned, pledged or donated to or for any person."
State Rep. Jerome Zeringue, R-Houma, chairman of the House Committee on Appropriations, echoed Dardenne's sentiments. The legislature could seek an opinion from the attorney general approving the appropriation of additional money, but there is a good chance such an opinion would be challenged and overturned by the courts, he said.
Asked whether the legislature is even considering such a move, Zeringue said, "It hasn't been brought up until you asked about it."
As part of the deal reached with the federal government, the state will also forgo receiving $37 million in unused Road Home funds from HUD. That money, however, can't be used to reimburse those who already paid back their grants, a HUD spokesperson told the news organizations.
John Lovett, a professor at the Loyola University New Orleans College of Law, called the state's argument "weak" and a "perversion" of the state constitutional clause's true intent, which is to prevent the use of public funds for influence peddling and cronyism: "The state collected this money it really shouldn't have collected in the first place."
He said restoring funds to the 425 residents who paid back money under threat of being sued is "a kind of reparation that seems appropriate to me." If the legislature were to authorize compensation, "that would be a perfectly legitimate use of state funds," Lovett said.
Dardenne said that by dropping the lawsuits, the state was not admitting they were illegitimate or that the money was wrongfully collected. He pointed to numerous cases in which the courts ruled in the state's favor and against homeowners as proof the suits were on solid legal ground. "If the premise had been faulty, then all the lawsuits would have been thrown out," he said.
Nonetheless, Louisiana is certainly not short on money, entering the legislative session with a $1.5 billion surplus, Lovett said. At his February press conference about the suits, Edwards acknowledged this. "Thank goodness we have excess money in the state of Louisiana today, which we didn't have when I became governor," he said.
New Orleans attorney Chris Szeto, who represented more than 300 families sued over their Road Home grants, said reimbursing homeowners who already repaid grants is exactly what the state should do.
"You can't say to one group of people, 'We don't think you should have to pay this money back anymore.' And to this other group, 'All that money you paid? That's too bad. We're not giving it back,'" Szeto said. "It's disgraceful. It's morally wrong. And it shows a lack of concern for the average citizen."
Szeto has not ruled out filing legal challenges on behalf of his clients the state refuses to reimburse. "We're looking at all possible solutions," he said.
Last May, just weeks after the news outlets reported on the lawsuits, the state announced that it was pausing collections. By that point it had received about $5 million. But it failed to notify homeowners who had ongoing monthly payment plans. So the checks continued to pour in, and Shows, Cali & Walsh — a law firm representing the state — continued to cash them, generating an additional $1.8 million, about a quarter of the total repaid by residents under threat of suit by the state.
The state has paid Shows, Cali & Walsh $11.1 million since 2009 to litigate claims of fraud and waste for all Road Home programs, including the elevation lawsuits.
"I Followed the Rules"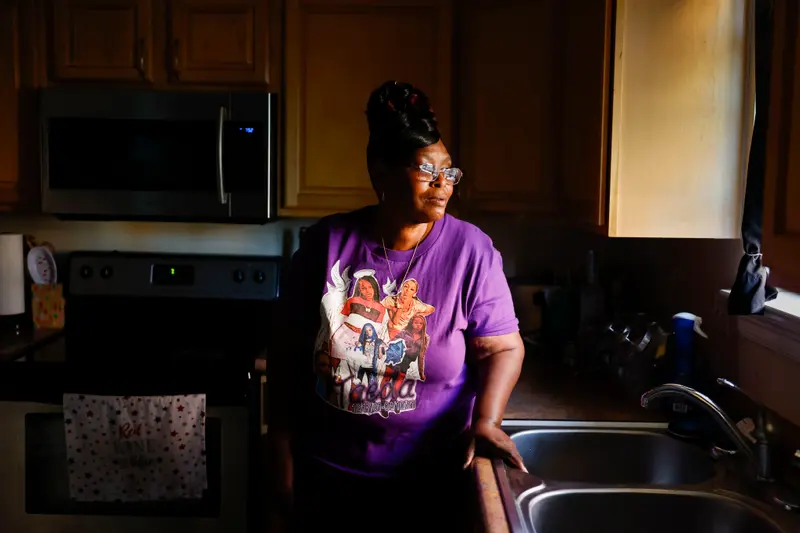 Judy Baptiste started sending the state $400 a month in March 2018to pay down about $23,000 the state claimed she owed for misspending her elevation grant. It wasn't easy, she said. Her sole source of income — Social Security payments — was less than $1,100 a month. After paying the state, she said, she rarely had enough left over for food or utilities and had to rely on friends and family to help her financially.
Still, she didn't feel as if she had a choice.
"They just kept sending me letters in the mail, telling me that if I didn't pay them that they would put a lien on my house," she said of Shows, Cali & Walsh, which did not respond to a request for comment.
Even after the state paused its collection, Baptiste, who lives in Seabrook, a lakefront subdivision of New Orleans East, continued to make her regular payments, ultimately sending the state $3,083.38 after the announcement was made.
"I followed the rules. I was never late paying them on time, every month," Baptiste said. "They never called and told me, 'Ms. Baptiste, you have to stop paying.' They just were taking the money."
Angie and Kevin Tillman, who live in the Gentilly neighborhood in New Orleans, agreed to a plan that required them to make monthly payments of $250 for five years plus a balloon payment of about $15,000 at the end. She later learned the state had paused its collection efforts back in May, but afterwards still cashed four of their checks, totaling $1,000.
Her husband called the state's actions "reprehensible."
"The state held us hostage financially, and they would have continued to take our money and not said a mumbling word," he said.
When asked why the state continued to accept monthly payments from homeowners after the state paused its collection efforts, Dardenne said those payment plans were court-ordered, so the state had no choice. "Those were legal judgments that had been rendered," he said. "And so, we determined that we couldn't stop what was in place. But we stopped everything going forward."
But that wasn't the case with either the Tillmans or Baptiste. The state never filed suit against them. Their payment plans were out-of-court agreements signed by notaries that said nothing about the state being required to accept the payments.
Lovett, the law professor, called the state's argument that it couldn't stop collecting monthly payments "very strange." Any debt collector can choose to forgive a debt, he said.
"I think the argument about their inability to stop collecting, even on a court judgment, is just a technicality, is putting form over substance," Lovett said. "There was no reason they should have continued to collect once they knew it was wrong because they stopped trying to pursue other people."
Sitting in her one-story ranch-style home that was left submerged in 3 feet of water by Katrina, Angie Tillman questioned whether she and her husband made the right choice to stay in New Orleans after the storm.
"New Orleans is our home. We returned with a commitment to rebuild. We invested in our community. And then you come back and nickel-and-dime us?" Angie said. "It's disheartening."