The sheriff of Louisiana's Jefferson Parish answers only to voters. In this conservative suburb, that translates to nearly unchecked power.
UPDATE, Sept. 8, 2023: The Louisiana Supreme Court ruled in favor of Attorney General Jeff Landry on Friday, declaring unconstitutional a recently passed Louisiana law that empowers district attorneys to revisit and reduce excessive sentences. The ruling reverses that of a district court that had rejected Landry's challenge and reinstates the life sentence of William Lee, who was convicted of second-degree murder. It was not immediately clear how the ruling would affect Markus Lanieux's case.
This article was produced for Verite News by Richard A. Webster, who covered Jefferson Parish as part of ProPublica's Local Reporting Network in 2021-22. Sign up for Dispatches to get stories like this one as soon as they are published.
Markus Lanieux thought his prayers had been answered when, in the summer of 2021, his attorney informed him that she had struck a tentative deal with the Jefferson Parish District Attorney's Office that would secure his freedom after 12 years in prison.
The 46-year-old son of a sugarcane farmer had been dreaming of this day since he stood in court in stunned silence as the judge sentenced him to life without parole for a crime that ordinarily carried a maximum sentence of two years.
Lanieux, who had been arrested for aggravated flight from an officer, was prosecuted under Louisiana's controversial habitual offender law, sometimes known as a "three strikes and you're out" rule. The statute allows district attorneys to significantly enhance sentences, often by decades, for people with previous felony convictions.
The goal is to protect the public from unrepentant, violent criminals, but critics contend prosecutors have abused the law by targeting Black men. Louisiana's population is 33% Black, but 79% of those convicted in the state as habitual offenders are Black, according to a report last year from the Public Welfare Foundation, a nonprofit based in Washington, D.C.
Lanieux, who is Black, didn't fit the profile of a violent repeat offender. He had been convicted for two drug possession felonies in the late 1990s, for which he received probation. But those, combined with the flight charge, were enough for prosecutors to apply the habitual offender statute.
"I ain't never thought a two-year sentence would turn into life," said Lanieux, who sat for 10 Zoom interviews with Verite News and ProPublica over six months from the Elayn Hunt Correctional Center in St. Gabriel. "They just throw you away for any little thing."
As Lanieux started to serve his sentence in 2009, the world outside was beginning to change. Swayed by evidence that mass incarceration was costly and failed to improve public safety, Louisiana passed a series of laws in 2017 designed to reform its criminal justice system.
Four years later, the state Legislature approved another reform bill, one that empowers prosecutors to revisit and reduce sentences that are considered excessive by today's standards. After it passed, an attorney for Lanieux entered into negotiations with the DA's office to reduce his sentence and allow him, one day, to walk out of prison.
Lanieux thought his nightmare was finally over. The first thing he wanted to do when he got out, he said, was visit the grave of his mother, who died of COVID-19 at the height of the pandemic.
That's when Louisiana's attorney general, Jeff Landry, who is considered the front-runner in this fall's gubernatorial election, stepped in, filing a legal challenge to the law.
It is seen as part of a growing backlash across the country against prosecutors who have pushed for an end to mass incarceration. Former President Donald Trump, who has endorsed Landry, vowed to go after "Marxist" district attorneys who he said have allowed U.S. cities to be turned into "hellholes." Florida governor and presidential hopeful Ron DeSantis echoed his political rival, boasting in August of his efforts to remove local prosecutors he accused of failing to uphold the law.
Landry, a former police officer and sheriff's deputy and an Army veteran who served in Operation Desert Storm, has blasted the 2017 reforms as a "disaster."
"We have incompetent mayors, and these woke district attorneys want to play a dangerous game of catch and release with criminals," Landry said last year. "As governor we are just not going to put up with that."
Landry's office did not respond to requests for comment.
Landry's case is now before the Louisiana Supreme Court, with a decision expected in the coming months. Even if he loses, defense attorneys fear that his very public opposition to the law, and the likelihood he will win the governorship, will have a chilling effect on resentencing efforts going forward. Many prosecutors across the state have already dropped discussions with defense attorneys and their clients to reduce excessive sentences while Landry's case is pending, said attorney Nick Trenticosta, who defended the resentencing law before the Supreme Court.
This includes the Jefferson Parish District Attorney's Office. Shortly after Landry filed his challenge, the DA abandoned all plea deal negotiations, leaving Lanieux, once again, facing a life behind bars.
Learning to Be a "Ghost Child"
Lanieux always loved to drive. His dream, he said, was to one day become a cross-country truck driver.
"To get on the road and go," he said during a recent video interview from prison.
On the night of Nov. 11, 2008, Lanieux took three hits of ecstasy as he got behind the wheel of his maroon Buick Regal. He was 31 and had spent the majority of his life surrounded by drugs, both using and dealing.
As he cruised through the neighborhoods of Kenner, the largest city in Jefferson Parish, at about 12:30 a.m., he rolled through a stop sign at an intersection in a thinly populated stretch of warehouses that dead-ends at a railroad track. That happened to be where Officer Gregory Smith was positioned. Smith turned on his lights and sirens and pulled up behind the Buick, but Lanieux refused to stop, according to the police report.
Instead, he took off his seat belt and hit the gas.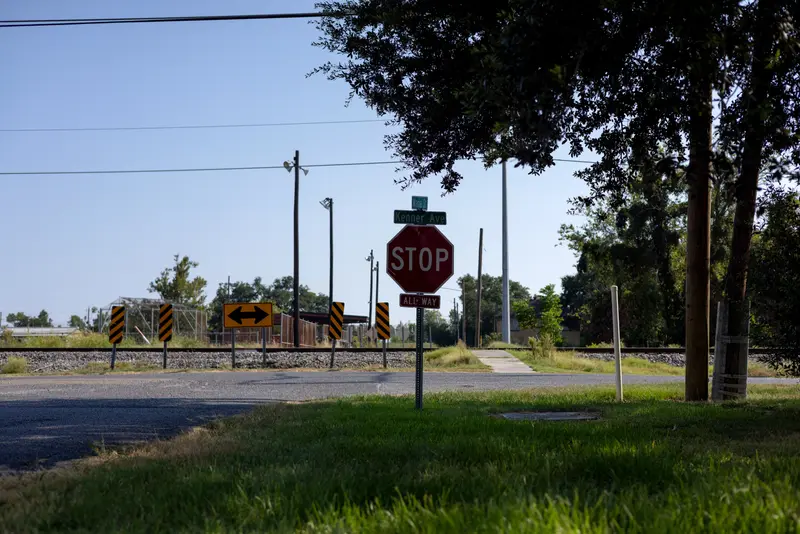 He weaved through the streets of the residential community, exceeding 95 mph at times as he attempted to lose Smith over the course of the 1.5-mile chase. In his trial testimony, Smith said he became nervous as Lanieux approached an apartment complex where people were known to gather outside late into the night. But Lanieux slowed down as he passed the building, took a right, then hit a dead end.
At that point, he jumped out of the car and tried to escape on foot, but he tripped and Smith arrested him. Lanieux was booked into the Jefferson Parish jail and charged with, among other offenses, aggravated flight from an officer in which human life is endangered, which is a felony and considered a crime of violence in Louisiana. This would prove significant: Given Lanieux's prior convictions, a crime of violence on his rap sheet allowed prosecutors to secure a life sentence against him as a third-time habitual offender.
Lanieux has repeatedly expressed remorse for his actions that night. "I'm so glad I didn't hurt nobody running from the police," he said in one interview earlier this year. "I wouldn't have been able to live with myself if I killed somebody."
Despite allegations by the district attorney's office that Lanieux is a violent person, he insisted he is not, a claim his family and friends supported in 10 affidavits provided for the court. They described Lanieux as a kind, quiet person, the glue that held a troubled family together despite his struggles with a significant learning disability.
"He was the one calming us down when we were fighting, telling us to remember that we are a family," said his sister Cherlyn Lanieux. "Markus took on a lot of responsibility as a young kid."
When Lanieux was small, the family lived on the former site of the Myrtle Grove Plantation in Plaquemine, a rural town of fewer than 6,000 people just south of Baton Rouge. Their father, Gordon, worked in the sugarcane fields while their mother, Mary, raised the 12 children, six boys and six girls.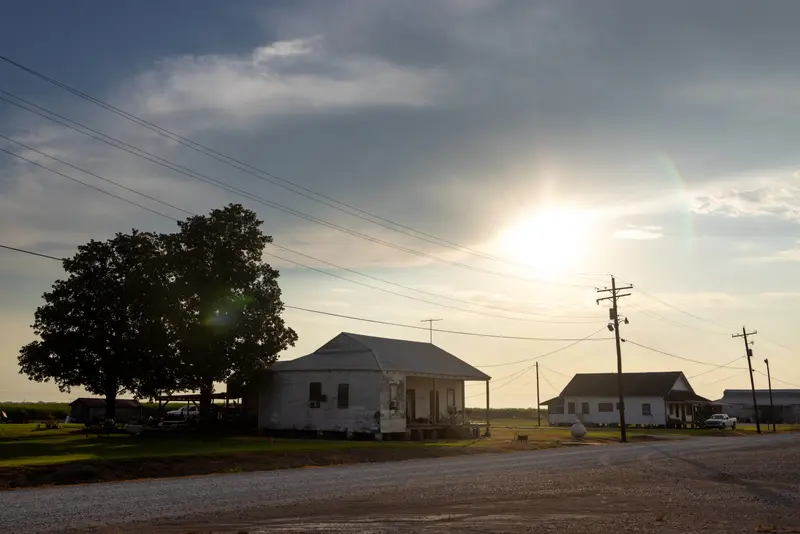 Lanieux doesn't remember much about that period, but his older siblings have painted a dark portrait of their family life.
His brother Marvin said it wasn't uncommon to come home from school to find the electricity and water shut off and their furniture tossed on the sidewalk for failure to pay rent. Their father, he said, would often spend whatever money he made on alcohol and drugs. And when he was high or drunk, he'd turn mean, Marvin said. Gordon, who has passed away, would discipline the children using extension cords and beat their mother nearly every day, leaving her face battered and bones broken. (Multiple family members and friends shared similar accounts.)
Marvin draws a straight line from the trauma of those early years to the siblings' struggles with mental health and addiction issues, and subsequent stints in prison.
"A lot of us aren't doing too good in our heads," Marvin said from his home on the west bank of the Mississippi River, just across from central New Orleans.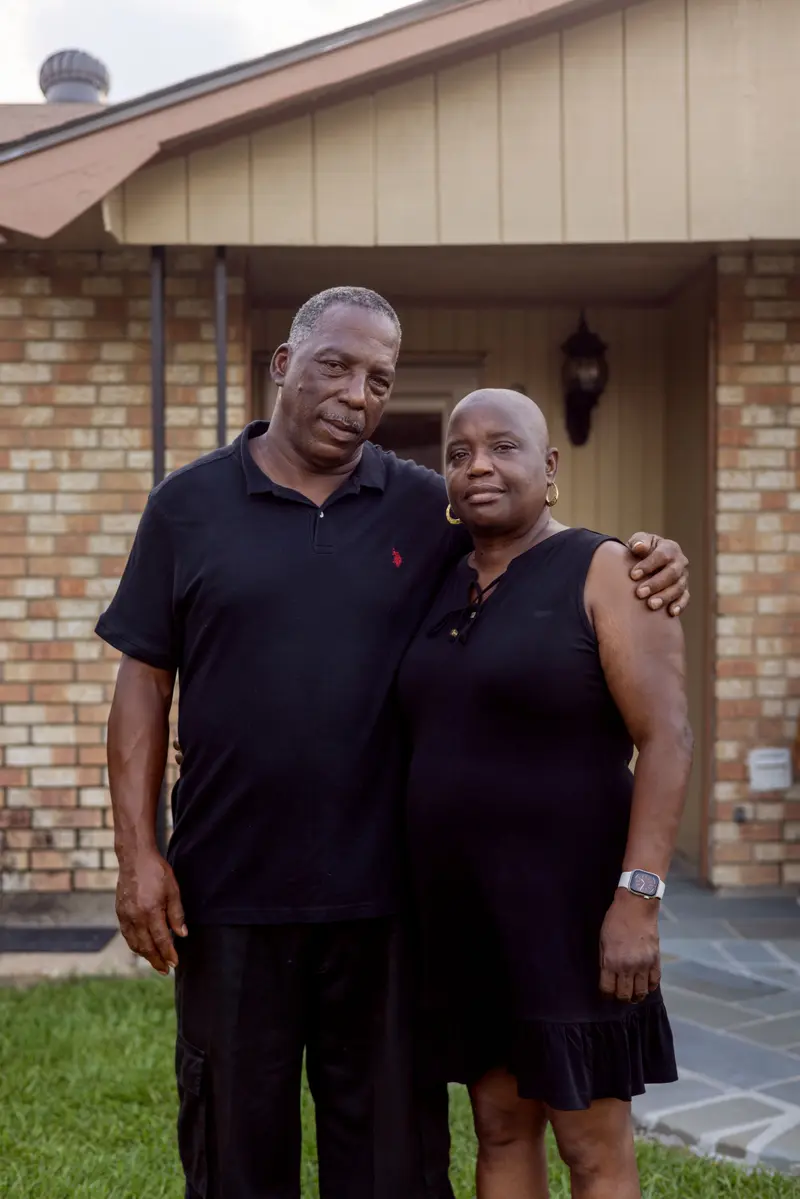 To survive, Marvin, like the other children, learned how to be a "ghost child," he said, so quiet and unassuming he wouldn't draw the attention of their father. Eventually, the abuse became so extreme that their mother left, packing up the children and moving to the Lower 9th Ward in New Orleans.
The peace and stability she long sought, however, never came. One by one, her children were sucked into the streets of their new home. At 12, Markus Lanieux dropped out of school. By 14 he was smoking marijuana, and by 16 he was using and selling cocaine to help support their family.
"I know I was doing wrong selling drugs … but I was trying to make it the best way I know how," he said. "If I can take that back, man, I'd love to stay in school. But it was hard growing up."
In September of 1996, Lanieux was arrested for the first time as an adult, at the age of 19. He pleaded guilty to possession with intent to distribute crack cocaine in New Orleans and was given three years' probation.
Four months later, he was arrested again on the same charge in Jefferson Parish. This time, the police didn't find him either in possession of drugs or attempting to sell them, according to a report from the Kenner Police Department. Instead, his cousin was found selling crack out of a trailer rented by Lanieux, who wasn't home at the time.
But since Lanieux's name was on the lease, he was charged with possession with intent to distribute 16.2 grams of crack cocaine. Lanieux said he pleaded guilty only because he couldn't afford bail or a lawyer and wanted to get out of jail. And since he was again given three years' probation, he thought everything was going to be OK.
Eleven years later, those two charges would set the table for a life sentence.
An Impossible Offer
As Lanieux sat in the Jefferson Parish jail awaiting trial, he called his family to let them know he had been arrested. The family had gotten calls like this from him and his siblings before. He told them not to worry or try to bail him out. All he did was run from the cops, he said. He'd serve a few years and be home before they knew it.
The district attorney's office, however, had other ideas. Prosecutors intended to use his two prior drug possession convictions as leverage to secure a guilty plea, said Lanieux's attorney Amy Myers, who took him on as a client in 2021. This was not unusual, as Jefferson Parish was known for its strict and unyielding approach to public safety.
Just a few years prior to Lanieux's arrest, the district attorney's office attracted national attention when several of its prosecutors wore ties to court emblazoned with images of nooses and the Grim Reaper, and for putting more people on death row than any other parish. To celebrate each lethal injection, assistant district attorneys handed out "plaques decorated with hypodermic needles," according to a New York TImes story.
The use of the habitual offender statute has also been common practice in Jefferson Parish. As of 2021, Jefferson Parish represented 9.4% of the state population but accounted for 23% of Louisiana prisoners serving sentences as habitual offenders, second only to New Orleans, according to the Public Welfare Foundation report from last year.
The DA's case file on Lanieux, which might have provided insight into the office's thinking and strategy at the time, has been destroyed in accordance with its records retention policy. But the district attorney's office did provide a statement in which it explained that prosecutors approached Lanieux's court-appointed trial attorney, Calvin Fleming, with an offer: If his client pleaded guilty, they would try him as a two-time habitual offender and seek between 10 and 15 years. Myers said that offer also came with an implied threat: If he rejected the offer, they could charge him as a third-time offender, which came with a mandatory sentence of life without parole.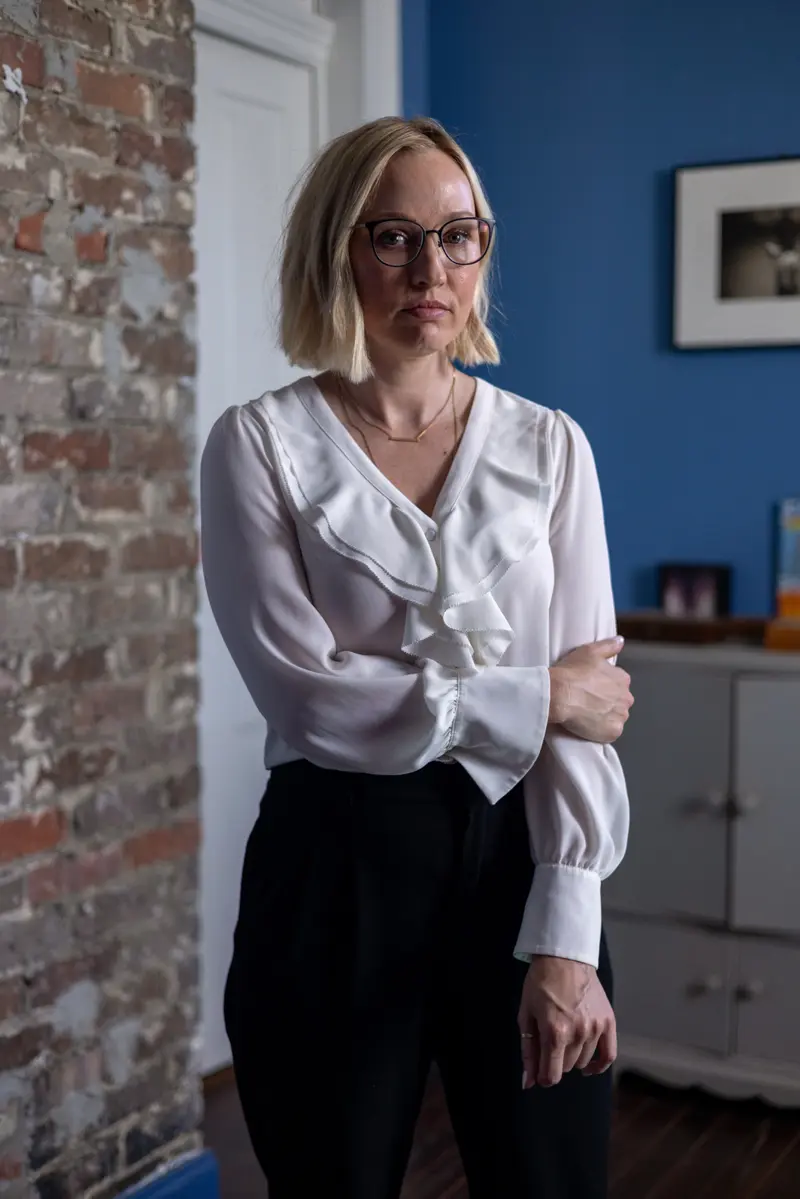 Lanieux said he didn't know any of this at the time.
"I ain't know nothing about the law," Lanieux said. "The lawyer wouldn't really guide me the right way." (In a motion he later filed seeking to have his sentence vacated, he claimed Fleming failed to effectively communicate the DA's plea offer during the critical stages of the proceedings, and then allowed it to expire. Lanieux failed to meet a filing deadline for the motion, which was then denied by a district court judge.)
All Lanieux understood, he said, was that the DA wanted him to plead guilty and serve 15 years for a crime that carried a maximum sentence of two. Not only didn't the proposal make sense, Lanieux said, it was an offer he couldn't accept. His mother was severely ill, struggling with cancer, among other diseases. He feared if he took the 15 years, she would die before his release. That wasn't a risk he was willing to take.
Unlike the vast majority of defendants who are offered similar deals, Lanieux rejected the DA's offer and took his chances at trial.
Efforts to contact Fleming by phone and email and through social media were unsuccessful.
At first, the gamble appeared to pay off. A jury found Lanieux guilty, after which the court sentenced him to two years. He was satisfied with the sentence and prepared to serve his time. But that third conviction allowed prosecutors to apply the habitual offender rule, and they immediately announced their intention to do so. Two months into his sentence, Lanieux said, he was taken from his cell at the Lasalle Correctional Center, four hours away in northern Louisiana, and shipped back to the 24th Judicial District Court in Jefferson Parish where he was originally sentenced.
The July 10 hearing took no more than 30 minutes, Lanieux said. His attorney didn't call any of his family members to speak to his character, the impact of his troubled childhood or his struggles with addiction, which might have persuaded the judge to lessen his sentence.
Before Lanieux could grasp what was happening, the court tossed out the original two-year sentence and gave him life without parole.
The district attorney's office, in its emailed statement, contradicted the family's assertion that Lanieux was not violent. In fact, the statement said, it was his "violent criminal history" that factored into its decision to "file a triple bill that resulted in his receiving life in prison."
The same year Lanieux was arrested for running from the police, he was picked up on an aggravated-battery charge after being accused of beating a man with a baseball bat. Lanieux denied any involvement and described the victim, who has since passed away, as a close friend. The DA did not pursue that case, a decision prosecutors said they made because they had already secured a life sentence against Lanieux.
The other offenses alluded to by the DA included two misdemeanor simple-battery citations in 2000, one of which was dismissed and the other Lanieux pleaded guilty to, and an arrest three years later for aggravated battery and second-degree kidnapping. The alleged victim in each case was Sheletha LeBranch, the mother of Lanieux's two children.
LeBranch said she doesn't remember either simple-battery incident. As for the third, in which prosecutors claim Lanieux hit her with a car and then drove off with their child and "a child she had with another man," she said it never happened, that Lanieux didn't hit her or attempt to kidnap the children. Further, she told the DA she didn't want to press charges.
The district attorney didn't charge Lanieux with kidnapping and eventually dropped the aggravated-battery charge.
In November 2021, LeBranch provided an affidavit to Lanieux's attorney, which was also given to the DA, in which she described Lanieux as a "good man and a good father. Markus helped everybody. He is the heart of the family."
When asked in a recent interview if she wants Lanieux released from prison, LeBranch said, "Most definitely."
"It Felt Like a Done Deal"
Lanieux spent most of the next 13 years at the Louisiana State Penitentiary, otherwise known as Angola, where the vast majority of lifers serve their time. He worked in the fields of the old slave plantation, picking tomatoes and okra and shucking corn as guards on horseback watched over him. The first time he was thrown into segregation, he said, was for eating a strawberry without permission.
The Department of Corrections said its records indicate that Lanieux was written up for disciplinary infractions on 10 occasions during his 14 years of incarceration, but none that refer to "eating a strawberry without permission."
The prison, infamous for its wanton violence, lived up to that reputation, Lanieux said. He said he saw stabbings nearly every week, and drugs, including methamphetamine, were everywhere. All it would take was one look at the wrong guy on the wrong drug, and your life could be over, Lanieux said.
Lanieux said he tried to keep to himself as much as possible, like he and his siblings did as children. Slowly, he recalled, he adapted to the rhythm of life within the facility. The years crawled by until, eventually, time came to a standstill.
But during the first decade of his incarceration, the tough-on-crime approach of the 1980s and '90s that resulted in his life sentence was falling out of favor.
In 2017, the Louisiana Legislature passed a package of 10 prison reform bills. In part it hoped to rein in costs: Incarcerating a person in Louisiana under the age of 50, for example, costs at least $24,615 per year, according to the Department of Corrections. For people over 50, the annual cost triples.
And in part those reforms were addressing the general consensus that the state's approach to incarceration was not working. Along with Massachusetts, Louisiana has the highest percentage of people in its prisons serving life without the possibility of parole: 14%, according to a 2021 report by the Sentencing Project. Of those, 73% in Louisiana are Black, compared with the national average of 57%.
Gov. John Bel Edwards, a Democrat, said at the time that he was signing the bills "because a broken justice system leads to more crime, not less. Today we begin building the system we want rather than continue to settle for the system we have."
If Lanieux had been convicted under the new rules, the most he could be sentenced to is four years, Myers said. None of these reforms, however, were made retroactive. So he continued to languish in prison.
Lanieux's sister in-law Jeanine Domino was feeling desperate. With nowhere to turn, she wrote to Edwards, pleading with him to grant Lanieux a pardon. She told the governor she was worried about Lanieux's daughter Markesha and son Markus Jr. growing up without a father, and also about his mother, whose health was declining.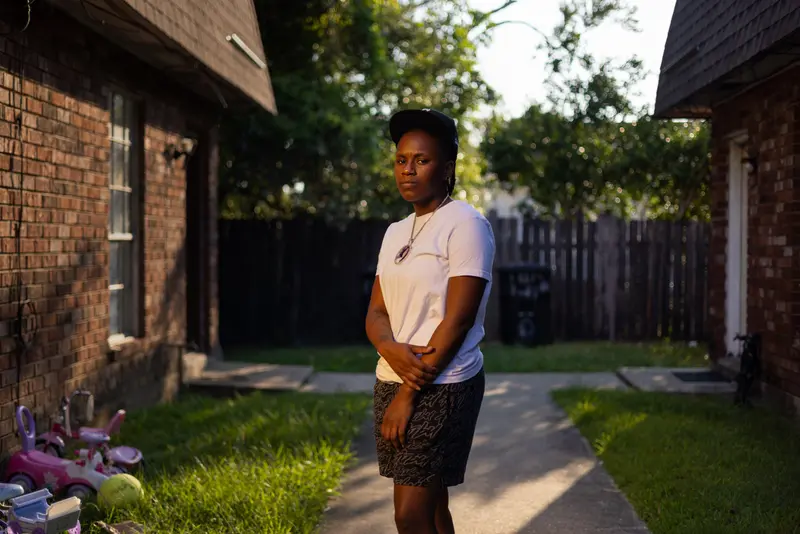 "Even though no one but GOD can determine her life span, my desire is that he is released to spend some quality time with her," Domino wrote.
It was a futile effort. Under state law, under most circumstances, prisoners sentenced to life have to serve at least 15 years before they can be considered for a reduction of their sentence. Lanieux had only been in prison for 11 years.
Edwards didn't respond to the letter. About two months later, Lanieux's mother died from COVID-19. Her death, he said, was the lowest point of his time in prison.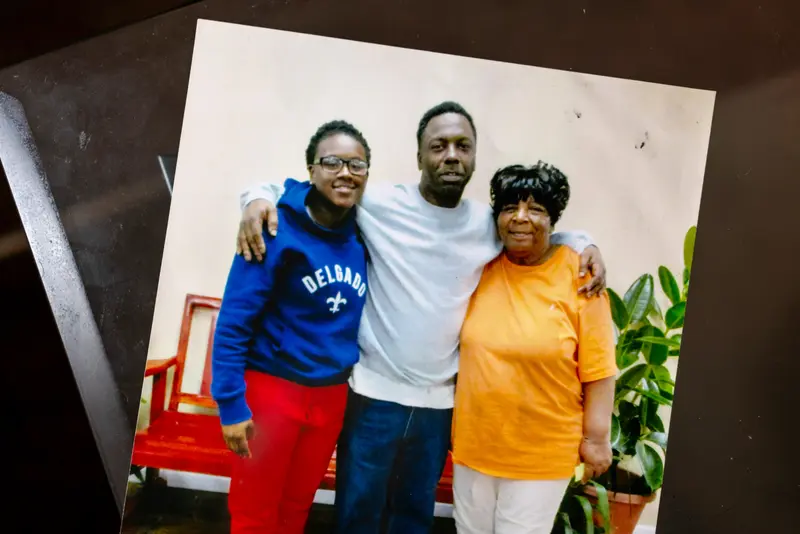 "I still break down from losing my moma," Lanieux wrote to Myers recently. "I have never thought about sucide before. But it has been tImes when I have ask my father to take me away from the world and all the struggle I have been thru."
Around the country, though, new reforms have targeted habitual offender statutes — reforms that could help people like Lanieux. California passed the first of these prosecutor-initiated resentencing laws in 2019, followed by Washington, Oregon, Illinois and Minnesota.
According to For the People, an Oakland, California-based criminal justice reform group that has led the charge in promoting these laws, some 800 people across the country have had their sentences reduced since states began adopting them.
In Louisiana, the Innocence Project New Orleans and the Jefferson Parish District Attorney's Office also proposed a resentencing law for the state. Jee Park, executive director of the Innocence Project New Orleans, said the group worked hand in hand with Steve Wimberly, who at the time headed the DA's conviction integrity unit. She recalled him saying that mistakes might have been made in some of these old cases by judges, prosecutors or witnesses, and it was up to them to rectify those mistakes when appropriate.
Wimberly, who has since retired, declined to comment on Lanieux's case or the resentencing law, which lawmakers unanimously passed in May 2021. The reform even had the support of the Louisiana District Attorneys Association, a powerful lobbying group that typically pushes back against any legislation seen as soft on crime. It too declined to comment.
Less than a month after the law was enacted, Myers called Wimberly, asking if the district attorney might consider a reduction in Lanieux's sentence. They met on Aug. 26, 2021, and talked for almost two hours, discussing Lanieux's troubled upbringing and the fact that when he rejected the plea offer, he hadn't understood the consequences of a guilty verdict at trial.
Myers also put his continued confinement in stark financial terms.
"If Mr. Lanieux lives to be just 60 years old, releasing him now could save the state more than $393,849.60," she remembered saying. Lanieux was 44 at the time.
But mostly, she focused on the extreme nature of his sentence given the crimes for which he was convicted.
Myers said she came out of the meeting thinking there was a real possibility that Lanieux's sentence would be reduced. Over the course of their negotiations, which lasted 10 months, Myers said Wimberly told her Lanieux's case was at the "top of their list."
"He thought the outcome was a harsh one and he saw Markus' life sentence as deserving of reconsideration," Myers said.
On Jan. 19, 2022, Myers drafted a proposed plea deal and sent it to Wimberly, who said he would take it to DA Paul Connick to discuss the possibility of a new sentence.
"I was absolutely hopeful, and at that time, it didn't even feel like hope, it felt like a done deal," she said.
Facing a "Really Dark Period"
It wasn't. Lanieux's deal would soon fall apart due to an eight-page legal filing in a different case in another parish, where Louisiana's attorney general, preparing to run for governor on a public safety platform, saw an opportunity to push back against the state's new sentencing reforms.
In October 2021, prosecutors in St. Tammany Parish — about an hour away from the Jefferson Parish courthouse — had worked out an agreement under the resentencing law with William Lee, who was convicted of second-degree murder and sentenced to life for the 2003 death of Audra Bland. At trial, Lee claimed that Bland died from a fall while drunk. By 2022, he had new evidence that could bolster that claim: An analysis of her brain showed evidence that Bland had multiple sclerosis.
St. Tammany prosecutors were ready to give Lee a deal. Warren Montgomery, the district attorney for St. Tammany and Washington parishes, agreed to reduce Lee's conviction to manslaughter and his life sentence to 35 years. Montgomery cited the new law.
But in March 2022, Landry intervened in the case. In his motion to vacate, Landry claimed the resentencing law encroached on and subverted the clemency powers of the governor.
As a result, Landry contends, the new law is unconstitutional and must be struck down.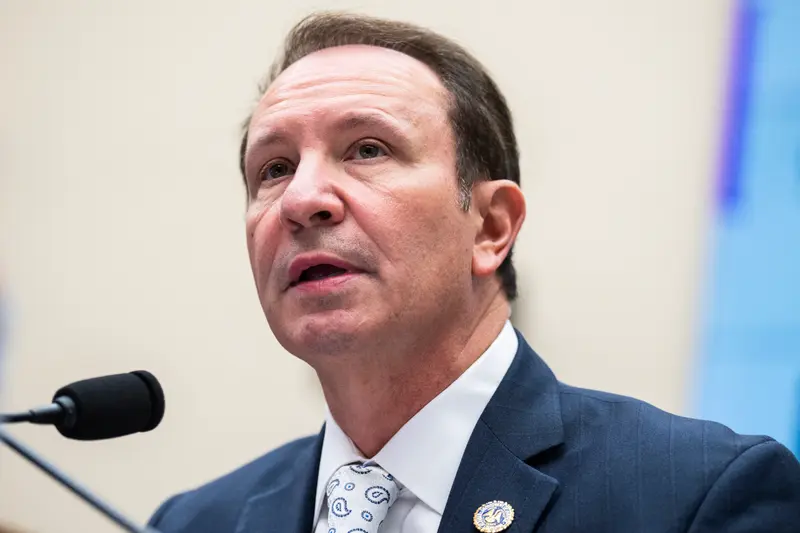 And with that, the Jefferson Parish DA dropped negotiations to reduce Lanieux's sentence, telling Myers that the office wouldn't take any further action as long as the attorney general's challenge was pending.
"I think a lot of people would look at this and think he has certainly paid his debt," said John Maki, director of the Task Force on Long Sentences for the Council on Criminal Justice, a bipartisan working group based in Washington, D.C. "A case like this is precisely what is leading states across the country to rethink these long sentences."
In an emailed statement, the district attorney's office said that "no decisions were made" regarding a potential reduction in Lanieux's sentence and that it would continue to review such requests on a case-by-case basis if Landry's challenge is rejected.
Emily Maw, chief of the Civil Rights Division with the Orleans Parish District Attorney, said the fate of people such as Lanieux should not be intertwined with the fate of Louisiana's new resentencing law. For generations, prosecutors throughout Louisiana have revisited and reduced sentences with the knowledge of the victims and approval of the courts. Orleans Parish District Attorney Jason Williams has done so in more than 300 cases by, in part, having the defendant plead to a lesser offense or removing the habitual offender enhancement altogether.
The new law simply formalized an age-old practice, she said, which should continue regardless of the Supreme Court's ruling.
Landry's challenge to the resentencing law was rejected last year by a district judge, who found that it did not violate the separation of powers. Landry appealed his decision to the Louisiana Supreme Court, which heard oral arguments in May and is expected to issue a ruling this fall.
There were others serving long sentences also affected by Landry's challenge. Colin Reingold and Erica Navalance with the Promise of Justice Initiative were also in preliminary negotiations with Wimberly to reduce the sentence of their client, a diagnosed schizophrenic who had been arrested in 2005 for stealing an empty wallet and a watch. The man, Marvin Robinson, was found guilty of simple burglary and sentenced to 11 years. Because he had two priors — armed robbery in 1985 and first-degree robbery in 1996 — he was resentenced as a third-time habitual offender and given life without parole.
Like Lanieux, Robinson was represented at trial by Fleming, whom he also accused of providing ineffective assistance of counsel. Lower courts denied the claim, which is now being appealed to the Louisiana Supreme Court.
Five years into Robinson's sentence, his only son died. He was allowed to attend the funeral in handcuffs and shackles. Since Robinson was unable to lift his hands, Navalance said, family members had to wipe the tears from his eyes.
Upon Landry's challenge, the Jefferson Parish District Attorney's Office ended discussions to reduce Robinson's sentence as well, his attorneys said. The DA said those discussions "concluded independent of the AG's challenge."
"I've been lulled into this idea that Louisiana is turning the corner on second chances," said Marcus Kondkar, associate professor and chair of the department of sociology at Loyola University, who has produced extensive studies on those serving life terms. "But I think we may be about to enter a really dark period with the departure of Gov. Edwards from office."
"I've Lost a Lot"
After the Jefferson Parish District Attorney's Office dropped negotiations to reduce Lanieux's sentence in the summer of 2022, his life began to unravel even more.
In September of that same year, his sister Lakeisha died at the age of 39 from unknown causes. Two months later, his brother Reginald, who is serving a 10-year sentence, was placed on suicide watch at Elayn Hunt Correctional Center, just a few miles from Plaquemine, where he grew up.
Terrified of losing yet another sibling, Lanieux requested and was granted a transfer from Angola to Hunt. "He's the baby boy. I'm trying to help him get by," he said of his brother.
Lanieux learned in February that Reginald had attempted to kill himself. Another inmate told him he had "cut himself all up." It was all too much to take. The death of his mother more than two years earlier, followed by his sister, and now his brother's attempted suicide, on top of a life sentence that seemed unlikely to change.
In a moment of weakness, Lanieux said, he grabbed for the only escape he could find, ending years of sobriety. A prison guard found him in his cell "rocking back and forth, and falling out of his bed not able to speak," according to his disciplinary report. When the guards attempted to restrain Lanieux, they said, he kicked and hit them.
Lanieux was sentenced to 90 days in segregation. The conditions he described were harsh. He said he went without a blanket, bath towel or deodorant for weeks. He also said he was only allowed out of his cell for a few minutes a day to take a shower and had access to the phone sporadically. At one point, he said, his toilet clogged and raw sewage filled his cell. The prison staff didn't give him bleach or anything to clean it up.
Worse, he said, was that the other inmates had figured out how to get out of their handcuffs, increasing the threat of violence.
"I ain't never thought this place would be like this," he said in an interview. "If anything happened to me, I want y'all to know."
The Department of Corrections said there is "nothing in his disciplinary report" that indicates that staff removed blankets, towels or deodorant. It also said the report doesn't indicate "any issue with plumbing. However, if a toilet malfunctions and overflows, it is immediately cleaned up."
Throughout the 10 interviews with Verite News and ProPublica, Lanieux was courteous and calm, never raising his voice or becoming outwardly angry when discussing his case. He smiled and laughed often.
There were times, though — such as when he flashed back to that moment in court when the judge announced his life sentence — that despair took over. During these moments, his voice fell to just above a whisper, his speech slowed to a drawl, and he would often trail off before finishing his thought.
"I've lost a lot," he said. "Not being able to see my kids growing up. I missed their whole life."
After serving 76 days in the prison's disciplinary wing, including 58 in segregation, Lanieux was placed back into the general population. When he sat for the last interview on Aug. 17, he appeared tired and depressed.
"Something gotta be done," he said. "Something gotta be done."
After about an hour, a prison guard knocked on the door to let Lanieux know it was time to go back to his cell.
"Time go by fast," he said softly. "Time to go."
He stood up, said thank you, and then the feed went dark.