As powerful railroad companies race to maximize profits through efficiency, safety is left behind.
Within 48 hours of an investigation about children having to crawl under parked trains to get to school in an Indiana suburb, residents packed a public meeting to demand solutions, the Federal Railroad Administration issued a safety advisory, a bipartisan group of Indiana lawmakers sent a letter to the U.S. Department of Transportation pleading for change and Norfolk Southern's CEO, Alan Shaw, got involved.
The investigation, a partnership between ProPublica and InvestigateTV, detailed the challenges communities face when they are besieged by trains that can block railroad crossings for hours or even days. The piece featured videos and photos of children climbing over and crawling under trains operated by Norfolk Southern; the images were rebroadcast by news outlets across America and beyond. Hundreds of readers reached out to ProPublica about their own experiences with blocked crossings, caused by trains from various companies.
Officials in the working-class commuter city of Hammond previously told ProPublica that Norfolk Southern had not been helpful in the years the company's trains blocked its intersections. "To them, I am nobody," Mayor Thomas McDermott Jr. had said. But the day after the story was published, he got a call from Shaw, who told him he was shocked by the situation in Hammond and wanted to help fix it. "I don't want to divulge too much about what we talked about, but if it works out the way I hope it does, it will be spectacular," the mayor said.
A company spokesperson previously attributed the blocked crossings problem to the city's location near the busy train hub of Chicago and to the fact that it sits between two major rail intersections that must remain open; moving a train forward or backward to clear Hammond streets would cut off the paths for other trains, which could belong to other companies. While McDermott declined to provide details about the 15-minute Thursday call, he said he hopes to have good news over the next month or two. "I've been screaming from the rooftops for a long time," he said, "and it took that article to get people's attention."
On the same day last week, the railroad administration issued a safety advisory on blocked crossings, its second in a month coming in the immediate wake of ProPublica's investigative stories on the rails.
After an investigation into the dangers of long trains on April 3, the agency issued an advisory on April 6 cautioning that railroads must "exercise due diligence" when building trains to ensure, among other considerations, that their weight is evenly distributed.
ProPublica's story featured a 2017 derailment in Hyndman, Pennsylvania, that nearly blew up the community and forced an evacuation. The train was assembled with empty cars up front and the bulk of its weight bearing down on the rest as it made a steep, winding descent into the community. The force knocked a rail car off the tracks on a curve and caused more than 30 others to derail.
"FRA has noticed a rising trend in recent incidents," the agency stated in its advisory, "where train build and makeup have been identified as a potential cause or contributing factor." The agency described six "significant incidents" in the past two years; three involved the release of hazardous materials. The agency listed six recommendations for companies to follow, including updating their train makeup policies, procedures and guidelines; making sure crews are appropriately trained; establishing a system to monitor and assess train makeup, with a focus on identifying and addressing risks; and enhancing investigation procedures to address train makeup as a potential contribution to the cause of an incident.
"Personnel should be encouraged and empowered to adhere to train makeup policies, procedures, and guidelines, even if it delays a train," the agency said in its recommendations. Federal investigators said that CSX, which ran the train that derailed in Hyndman, allowed its workers to ignore best practices for assembling trains if they were pressed for time. The company said it has since reformed its train makeup policy.
After ProPublica's April 26 investigation on blocked railroad crossings in collaboration with InvestigateTV, the railroad administration issued another safety advisory on April 27, doubling down on its warnings about long trains and raising the problem highlighted by the story. "Blocked crossings near schools are especially critical safety hazards due to the potential for children to cut through the idling trains," the advisory said.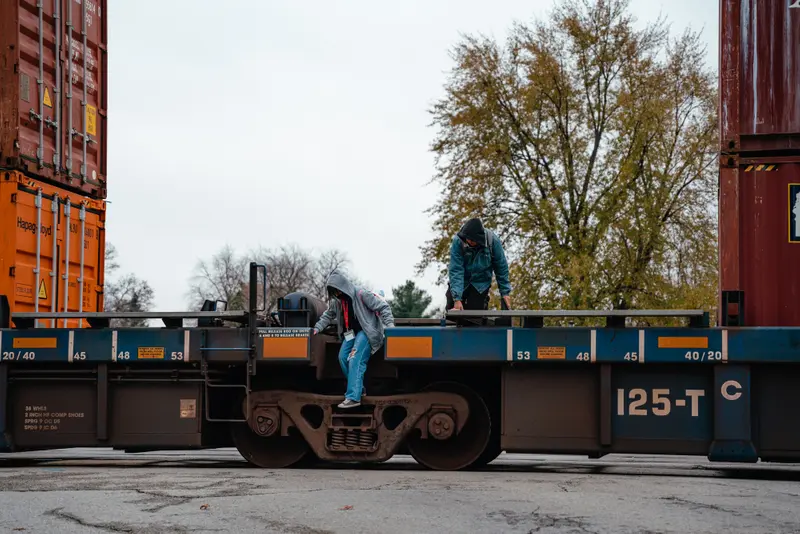 The agency asked railroads to identify crossings that could be affected by longer trains and to work with communities and first responders to prevent, or at least minimize, the impacts. "These actions could include: identifying alternative routes for critical emergency response needs, establishing and maintaining clear lines of communication between the railroad and local authorities, or developing protocols for resolving concerns surrounding emergency response and blocked crossings," the advisory said.
A railroad administration spokesperson said the agency had been working on the April 27 safety advisory prior to ProPublica's April 3 story on long trains. ProPublica began asking the agency questions about the impact of long trains in May 2022.
The advisories are significant for a number of reasons, said Grady Cothen, a former railroad administration attorney who has written a widely cited white paper on the challenges of operating longer trains. While they cannot compel companies into action, they serve as a paper trail that a safety officer at a railroad can point to when advocating that it operate more carefully, he said. They also connect the dots in a way that raises public awareness and validates community concerns.
Federal and state officials have expressed a strong desire for the railroad administration to have more power. On Thursday, 10 Indiana lawmakers, including eight Democrats and two Republicans, sent a letter urging U.S. Department of Transportation Secretary Pete Buttigieg to tell the railroad companies that children's lives should matter more than profits.
"Our children should not have to risk their lives just to make it to school in the morning," the letter said. "Our educators already have a full plate — now we expect them to stand watch, crossing their fingers that their students will make it home alive."
The lawmakers want the railroad administration to have the authority to compel rail companies to keep crossings clear. That power would come from Congress. Currently, the agency can't so much as fine a railroad for blocking a crossing, let alone make it move the train. U.S. Rep. Sylvia Garcia, D-Texas, introduced a bill in March that would prohibit companies from blocking crossings for more than 10 minutes and allow the agency to fine repeat offenders. The bill has not gotten bipartisan traction.
Two additional rail safety bills, both bipartisan, are also working their way through the House of Representatives. The bills call for measures such as increasing fines for safety violations, requiring companies to provide advanced notice to first responders for trains carrying hazardous materials and reducing blocked crossings. The top democrat on the House Transportation and Infrastructure Committee told ProPublica he supports both measures.
"Communities in my district and across the country have had first responders unable to respond to emergencies in time because increasingly long freight trains are blocking roadway access," Rep. Rick Larsen, D-Wash., said in a statement. "We need a rail safety hearing and then a prompt vote on the bipartisan rail safety bills introduced in the House and the Senate."
Wednesday's meeting in Hammond was hosted by the Indiana Department of Transportation and focused on a proposed overpass, which would alleviate traffic challenges when crossings are blocked and ease access for first responders, who are regularly held up by trains. It will not help many of the children who walk to and from school, because its entrance would force pedestrians to walk at least a mile out of their way to reach it.
Just hours before the meeting that afternoon, children climbed over a 1.5-mile-long train that was blocking their paths home. Kenny Edwards, the Indiana legislative director for the International Association of Sheet Metal, Air, Rail and Transportation Workers, or SMART, told the crowd of about 150 people that he watched the scene unfold. "This doesn't have to continue," he said, generating applause as he called for railroad companies to reduce the lengths of their trains. The ones that park in Hammond can block five or six intersections at once.
Among those gathered were Carlotta Blake-King, a school board member who called the images she saw "horrendous"; middle school teacher Teresa Maciel, who wondered why the road had to move instead of the tracks; and John Ratajczak, a longtime resident who once had to hop the trains as a kid. He said the overpass is not the fix the students need. "Where they're putting it," he said, "it's not going to help."
What didn't get discussed at Wednesday's meeting is the possibility of an additional overpass in the neighborhood just for pedestrians and located in the area where children climb the trains. The city estimates it would cost somewhere between $3 million to $5 million to build and would require Hammond to acquire private property using eminent domain.
The U.S. Department of Transportation told ProPublica that a pedestrian-only project would be eligible for the department's new $3 billion grant program aimed at alleviating blocked crossings. The office said Hammond may also be eligible for the Safe Streets and Roads for All grant.
"What's especially great about [that grant] is that it's not just funding projects that are ready to go, but also helps communities put pen to paper on planning," a department spokesperson said in an email. "So even if they don't have a solution in mind, they can get funding to help them figure out what the solution could be to an existing safety issue."
McDermott said his administration will look into the grants. He said he once considered a pedestrian overpass a "pipe dream" because of the city's limited budget, but he said he feels more hopeful than ever.
"I think at the end of all this," he said, "all these factors working together are going to result in a safer passage for kids to get to school."