This article was produced for ProPublica's Local Reporting Network in partnership with the Anchorage Daily News. Sign up for Dispatches to get stories like this one as soon as they are published.
Since Anchorage Mayor Dave Bronson took office in July 2021, he and his administration have been criticized for their words and their deeds. Top officials have been fired or have resigned. Lawsuits have been filed against the city, and complaints have been filed with the office of the city's ombudsman, who told city prosecutors that employees are worried about being spied on.
Bronson was narrowly elected on a wave of support from conservative voters who opposed COVID-19 mandates and were frustrated with the city's ongoing homelessness crisis.
The previous mayor, Ethan Berkowitz, resigned less than a year earlier after a television news reporter revealed he had texted her a photo of his naked backside. Berkowitz, a Democrat who was unable to seek reelection because of term limits, acknowledged his "unacceptable personal conduct" in messaging the reporter.
Here's a timeline of some of the controversies and accusations that have hit the seat of government in Alaska's largest city since Bronson's election.
Bronson has declined all recent interview requests and has not responded to questions, citing potential litigation from his former municipal manager, who claims she was fired because of raising whistleblower concerns. Bronson's adviser Larry Baker did not respond to questions.
Another of the mayor's executives, human resources director Niki Tshibaka, resigned Monday as this story was being prepared for publication.
September 2021
Comparing Mask Mandates to the Holocaust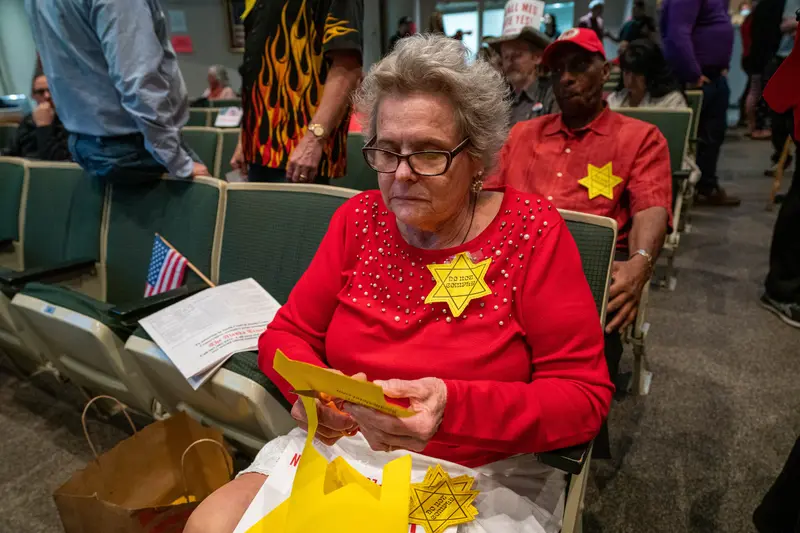 During a COVID-19 surge that prompted the state to enact crisis standards of care at hospitals, the Anchorage Assembly debated whether to pass legislation requiring masks in public spaces. Opponents of the mandate, including many Bronson supporters, wore yellow Stars of David pinned to their chests to compare mandatory mask wearing to the oppression of Jewish people in Nazi Germany.
Bronson, who pledged not to enact any COVID-19 mandates, defended the use of the stars.
"We've referenced the Star of David quite a bit here tonight, but there was a formal message that came out within Jewish culture about that and the message was, 'never again.' That's an ethos. And that's what that star really means is, 'We will not forget, this will never happen again.' And I think us borrowing that from them is actually a credit to them," Bronson said.
The next day he apologized.
October 2021
Stopping Fluoride Treatments of Water
While touring a water treatment plant, Bronson abruptly ordered workers to shut off fluoridation of Anchorage's water supply despite a city law that requires fluoride in the water. When asked about the shutoff, a Bronson spokesperson falsely said the event didn't happen before saying a few days later that it did, indeed, occur. The shutoff lasted about five hours.
The mayor's office contended that Bronson did not violate the city code because the fluoride levels in drinking water did not significantly change while it was off. Administration officials also said that the utility's manager had asked the mayor to shut it off — which the manager denied in a public statement to the Assembly and in an email to the city manager.
Fluoride has been added to city water to prevent tooth decay since the 1950s. Unsubstantiated claims about potential dangers of fluoride have circulated for decades and prompted waves of debate before the Anchorage Assembly in the 1990s. Bronson said he made the order because utility workers told him they were experiencing health issues related to the substance.
A business manager for the union representing the workers said it had received no such complaints from members.
May 2022
"I'm With Judy"
Bronson fired the director of the Anchorage Office of Equal Opportunity as she began investigating claims that the mayor's pick to run the city libraries had made racist statements and other derogatory comments.
The library's deputy director, Judy Eledge, was accused of telling an employee that, "If it weren't for the white man and his oil, the natives would still be living in caves," calling books about drag queens "filth" and saying that movements like Black Lives Matter are "killing libraries in this country."
Library employees said they felt they couldn't bring their complaints about her remarks to Bronson's director of human resources, Niki Tshibaka, as both Tshibaka and Eledge are political allies of the mayor. Tshibaka was blocked from investigating complaints from library employees after wearing an "I'm with Judy" T-shirt to a library advisory board meeting. The mayor's office and Tshibaka did not answer questions about the matter at the time. A spokesperson said only that the administration "complied" with recommendations from the city ombudsman to pull Tshibaka from involvement with library personnel complaints and hiring.
Tshibaka resigned on Monday, citing "an increasingly toxic, hostile, and demoralizing work environment."
The former Office of Equal Opportunity director, Heather MacAlpine, has filed a lawsuit accusing the mayor of wrongful firing and violation of whistleblower protections. The city answered the complaint in July, denying that Eledge made racist statements and denying that MacAlpine was fired for acting as a whistleblower.
June 2022
Moving Homeless People
At the end of June, Bronson shuttered the city's COVID-19 emergency mass homeless shelter inside a sports arena and moved homeless residents to a far-flung campground in Northeast Anchorage.
Bronson refused to call the city's sanctioned homeless campground an official part of Anchorage's homelessness response. The administration provided no food and no supportive services. Nonprofits, service providers and volunteers scrambled to meet basic needs at Centennial Park Campground.
Black bears began raiding campsites regularly. Wildlife officials shot and killed multiple bears there.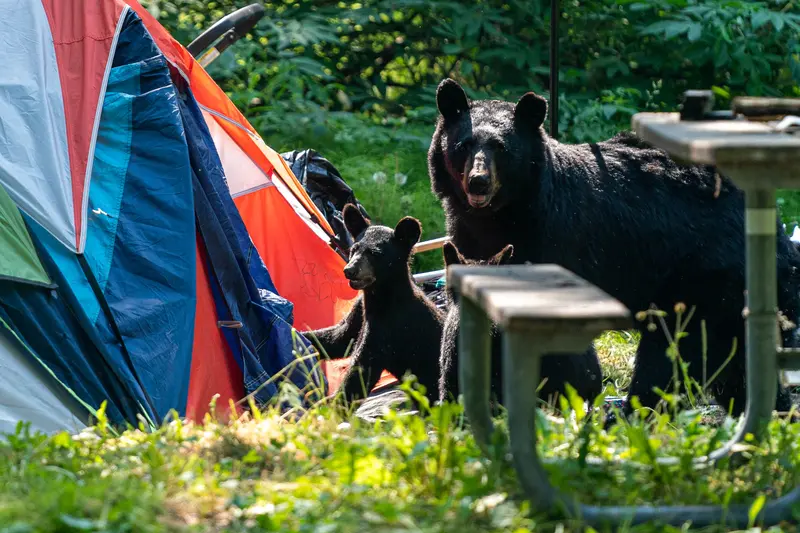 Advocates for homeless people decried the conditions as "deplorable." Some Assembly members and community leaders called the situation a "humanitarian crisis."
A city law requires Anchorage to set up emergency winter shelter once frigid temperatures arrive. So, at the end of September, the city moved people living in Centennial back into the arena.
August 2022
Health Director's False Resume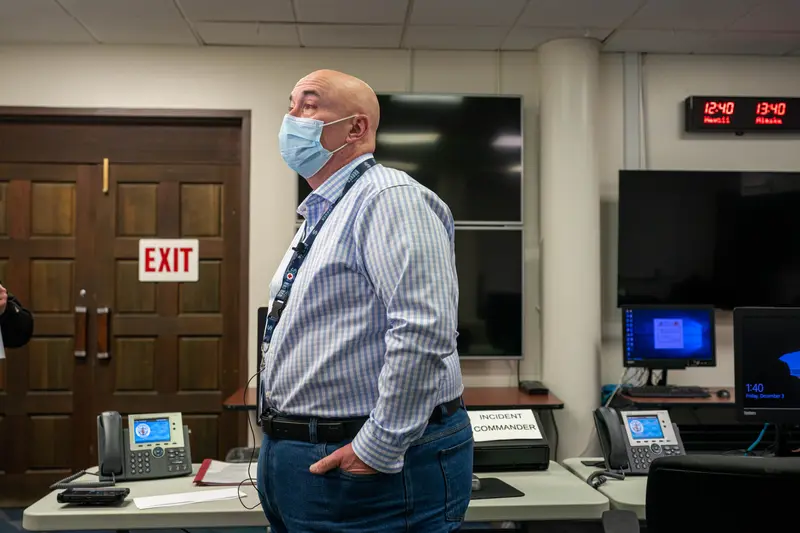 The mayor's pick to run the city Health Department suddenly quit just before Alaska Public Media revealed he had lied and exaggerated much of his resume.
Joe Gerace falsely claimed to be a physician's assistant who held two master's degrees and a high-ranking post within the Alaska National Guard.
Several people who said they had worked under Gerace, volunteered with him or worked in the Health Department had tried to tell the Bronson administration that his background didn't add up. Tshibaka, the human resources director, at one point accused the employees of "character assassination" and apologized to Gerace for "disparagement of your sterling character."
Two women raised concerns about Gerace's apparently fabricated resume during a closed-door Assembly meeting, which the mayor attended, according to Alaska Public Media. The Assembly at that meeting voted to confirm Gerace as director.
In September, Gerace acknowledged to Alaska Public Media that he "took some liberties" regarding his work history and military service.
The state filed a lawsuit against Gerace in December, claiming he owes more than $61,000 after fraudulently claiming to be a high-ranking former U.S. military officer. As a result, Gerace was assigned a high rank within the official state militia and was overpaid, the lawsuit asserts. Gerace wrote in an email on Monday to the Daily News and ProPublica that he has made a settlement offer to the state in hopes of avoiding "a costly trial for both parties."
Gerace wrote in the email that he has not formally been served with the complaint and was unable to comment further, although he added that others within the militia also were awarded ranks above their prior military service.
In his resignation letter to the mayor on Monday, Tshibaka wrote that he was "directed to vet and onboard" Gerace within a single day. He did not say who gave him that direction.
September 2022
Spending Millions on Construction Without Approval
The Bronson administration began $4.9 million in construction work on a homeless shelter and resource center project without approval from the Assembly, leaving the future of the unfinished project in question.
Former City Manager Amy Demboski, fired by Bronson in December, claimed in an 11-page letter to city leaders that the mayor and adviser Larry Baker, in knowing violation of Anchorage law, pressured a subordinate city executive to sign off on the work. Demboski alleged that Bronson expected that the subordinate would "take the fall" for the decision.
Demboski said she immediately sent the construction work contract to the Assembly for proper consideration after discovering that work had already begun.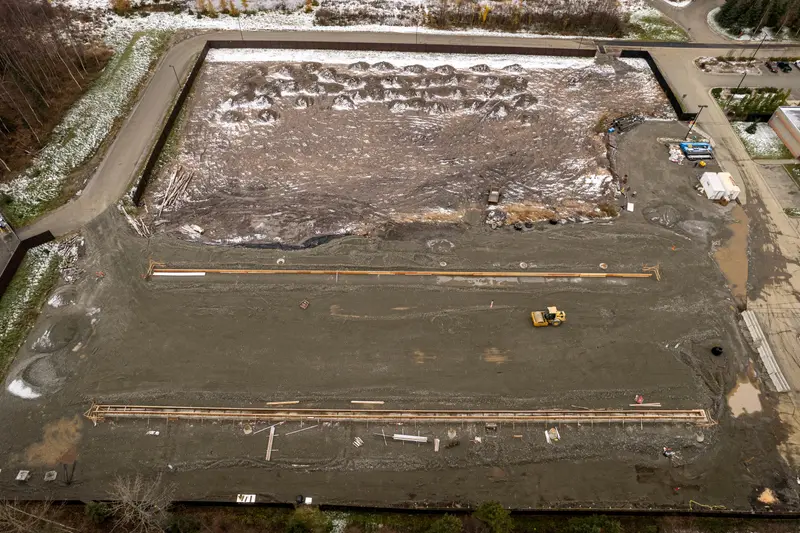 A Bronson official publicly conceded to the Assembly that the administration had made an "error" by starting construction without Assembly approval. The Assembly later voted to pull the plug on the homeless shelter.
City lawyers say Anchorage is on the hook for the millions in construction work. If the city can't pay, it will likely face a lawsuit.
February 2022-January 2023
Sexism, a Hostile Work Environment and Penis-Shaped Cookies
City Hall employees said in interviews that Purchasing Director Rachelle Alger twice brought penis-shaped cookies to distribute at City Hall.
Demboski claims that when she reported the issue to the mayor and Tshibaka, they took no apparent action. Alger did not respond to a phone message and emailed questions. Tshibaka also did not respond.
More generally, Demboski said in her letter to the city that the mayor encouraged and condoned behavior that created a hostile work environment, and that blatant sexism is tolerated in City Hall. The mayor treated women differently than men and chastised Demboski for reprimanding a man, she claimed.
"You raised your voice while showing her your hands held at different heights to indicate that because this subordinate is a man and Demboski is a woman — the male employee is 'up here' and Ms. Demboski is 'down there,'" according to her letter of complaint.
Bronson has refused to answer questions about Demboski's claims. A spokesperson for the mayor's office in a statement said that the acting city attorney advised the mayor not to discuss issues relating to "potential litigation."
December 2022-January 2023
Fear of Spying, Surveillance Cameras
According to the Anchorage ombudsman, multiple City Hall employees said they were afraid to make complaints because an executive had been talking openly about reviewing surveillance footage within the building.
The ombudsman, Darrel Hess, on Jan. 19 sent a memo to the mayor and the Assembly chairperson saying he had referred the matter to the city prosecutor, citing his belief that "there may have been a breach of duty, misconduct, or illegal activity."
"Employees have stated that they are hesitant to visit our office because they are afraid that access to our office is being monitored," Hess said in the memo.
The deputy chief of staff, Brice Wilbanks, resigned the same week. His attorneys sent a letter of their own to the city, attempting to rescind the resignation and accusing the ombudsman of acting inappropriately — even though the ombudsman never publicly accused Wilbanks by name of spying and intimidation. Wilbanks' attorneys claimed he had been denied due process. Wilbanks did not respond to requests for comment, and his attorney declined to comment.