Psychiatry's diagnostic bodies have not accepted parental alienation as a mental health disorder. But it's being leveraged in family courtrooms.
One Thursday afternoon in December, a father and two of his estranged children boarded a flight from Salt Lake City to Texas, beginning an effort to repair their fractured relationship.
A family court official had ordered them to attend a reunification camp, Turning Points for Families Texas, to repair damage that the judge said the boys' mother had inflicted by alienating them from their father.
The following morning, at the vacation rental where their therapy sessions were to be held, the counselor made an unusual request.
Jordan, the boys' father, was asked to play a recording he'd made of a 2019 domestic dispute with his ex-wife, Hollie, that led to her arrest and their divorce. (ProPublica is using only the first names of adult family members to avoid identifying the children who are minors.) Jordan would later tell the court that he never intended for his sons to hear the sounds of their mother screaming during their fight. "I never even wanted the kids to know it existed," he said of the recording.
But the Turning Points counselor, Loretta Maase, insisted. The camp claims to remedy parental alienation, a disputed psychological theory in which one parent — in this case Hollie — is accused of brainwashing a child to turn them against the other parent. They needed to hear the truth about their mother so that "the healing can begin," Maase said of the children.
What unfolded after the recording was played caused the four-day treatment session to spiral out of control.
The younger son, then 12, covered his head with a blanket, shutting out the sounds, while his older brother became violent. When the boys refused to leave their bedroom to take part in therapy, Maase ordered the door removed. Their bedding, shower items, food and clothing were also removed, according to family members who participated in the intervention.
"They would use the blankets to hide underneath so they didn't have to come out," Jordan's new wife would later testify.
The court-ordered intervention failed to reconcile the boys with their father, and beginning in January a judge convened a four-day hearing to understand why. The testimony that followed offered a rare glimpse into Turning Points' operations and methods, as well as how family courts handle complicated family dynamics.
Custody disputes are often fraught, and courts and child welfare workers have the difficult job of sorting through allegations and counter allegations to decide what's best for the children. Programs like Turning Points, in effect, allow overburdened family court judges to outsource some of that difficult decision-making: An order to participate effectively transfers to the person running the camp the power to decide if and when a parent can contact their child, regardless of the court's previous custody rulings. This transfer of power generally lasts from the time the court order is issued until the camp director determines the treatment has been successful.
Despite family courts' frequent use of Turning Points for Families, little is publicly known about the program, which was founded by New York-based social worker Linda Gottlieb, who describes the intervention as a "therapeutic vacation."
But its treatments are controversial and frequently fall short of addressing the underlying causes of broken family relationships, experts told ProPublica.
This case is the latest example of Turning Points and programs like it triggering pushback over their methods.
ProPublica reported this year on another Utah case involving siblings who barricaded themselves in their bedroom to avoid being sent to the same Texas program. A judge subsequently backed down on an order mandating that they return to their father's custody, and the children left their room. In March, a California appellate court reversed a lower court order sending two children to a similar program, saying the judge had not adequately understood or vetted the program before ordering the children to attend.
In April, Colorado lawmakers approved a bill to prohibit state courts from using reunification programs like Turning Points; lawmakers in California and Montana are considering similar bills. And a recent United Nations Human Rights Council special report recommended that court-ordered reunification camps be prohibited.
Maase, who runs Turning Points for Families Texas, told ProPublica she was not able to comment on specific cases. Questions that ProPublica sent to her were included in a motion filed last month by Jordan, asking the judge to restrain the news organization's reporting on the case. The judge denied the request, stating the court did not have jurisdiction over ProPublica.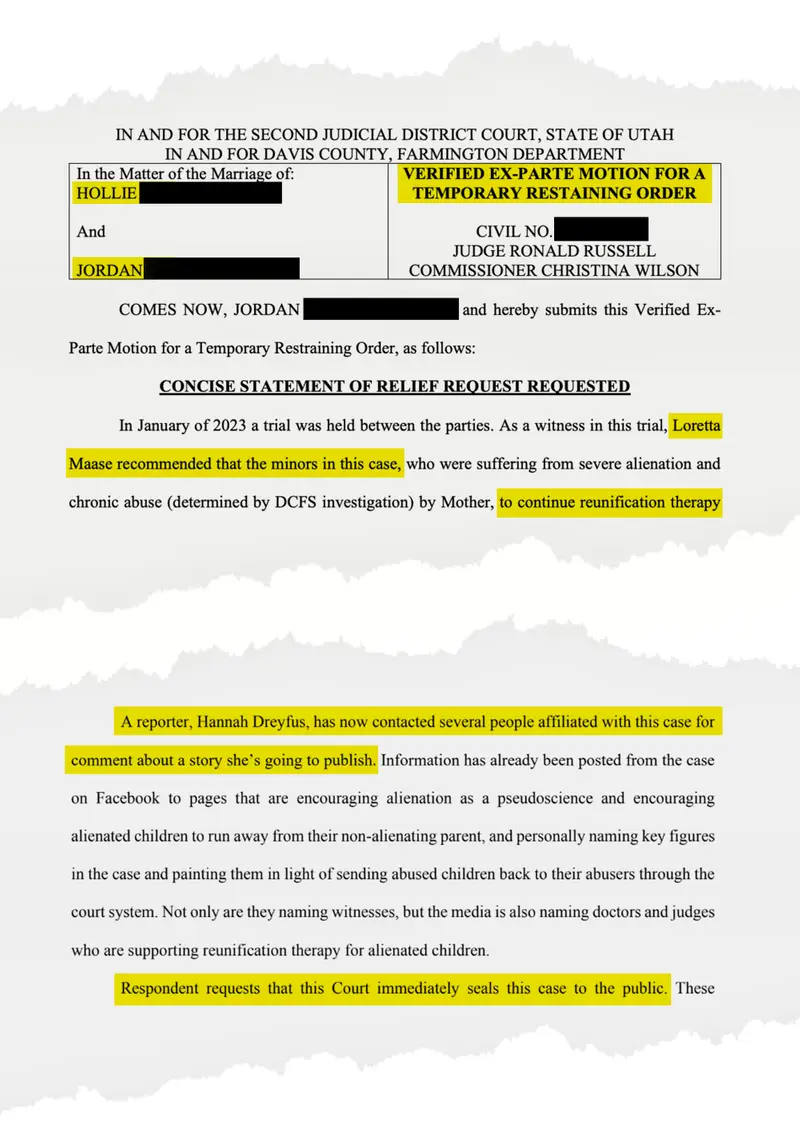 Jordan declined to speak with ProPublica, citing his children's need for privacy. "They've gone through a lot," he said.
In an interview, Hollie said she faces "an impossible choice: see my kids again or subject them to more of this."
Maase has blamed Hollie — "the alienating parent," Maase called her — for the treatment's failure, according to court documents. She did not comply with "Turning Points Protocols," specifically writing a letter of apology and another in support of the reunification efforts. The letters, both subject to Maase's approval, were to "explicitly and convincingly" disabuse the children of "their false beliefs about their father."
"I'm not signing anything Loretta Maase sends me," said Hollie, who despite having 50% custody before the Turning Points treatment began hasn't seen the boys since December. "I'm not putting my kids through more of her 'treatment.' I never consented to this, and I never will. How this is not a violation of my parental rights, I do not know."
"I Don't Know of Any Other Option"
Years before the children were sent to Turning Points, the court appointed reunification therapists to address their resistance and ill will toward their father.
Karly McGuire said during the year she counseled the family she came to believe that Jordan's parenting style was the cause of his sons' continued resistance to him, according to her testimony. Jordan disagreed, she said.
McGuire, who holds a Ph.D. in family therapy, told the court that Jordan constantly sent her videos about parental alienation. And he accused Hollie of spearheading a campaign of parental alienation against him and causing the rift between him and his sons.
After years of therapy, the boys continued to report they were being harmed by their father and violently resisted visitation with him. The 12-year-old posted a video on TikTok with a gun barrel in his mouth, and all three of Jordan and Hollie's sons declared a "suicide pact" if they were forced to live with their father, according to court documents. (The oldest of the three brothers is an adult and did not participate in the reunification program.)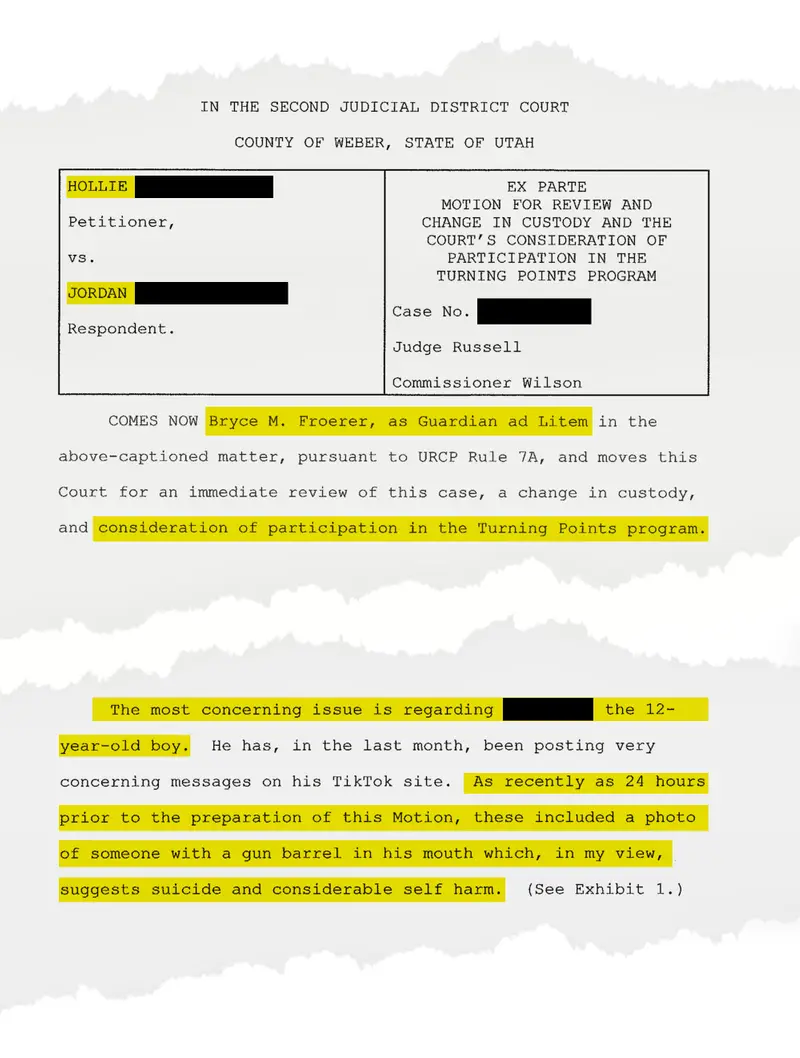 Bryce Froerer, a guardian ad litem appointed by the court to represent the boys' interests in the custody case, told the court that their refusal to visit their father and their threats of self-harm were evidence of parental alienation. He also said a more severe intervention was needed to address it, according to court documents.
The "conservative, cautious approach" advocated by McGuire wasn't working, argued Froerer, who has no psychological training, according to his office. He recommended they instead attend Turning Points and follow its practice of prohibiting the children from seeing the "alienating parent" for at least 90 days. Froerer admitted that he had "very little experience" with Turning Points, beyond speaking with Maase and reviewing some promotional materials.
"I don't know of any other option at this point besides trying this program," he told the court. "The alternative, from my perspective, Your Honor, is to linger on. And it is not my recommendation that we linger on."
Froerer declined to speak with ProPublica. After the news organization requested an interview, he petitioned the court to seal the case.
McGuire testified that she cautioned Froerer against sending the boys to an intervention like Turning Points. She had grown concerned about their increasing despondency during her sessions, which she attributed to burnout from all of the court-ordered therapy. She believed separating them from their mother, the primary caregiver for most of their lives, would further harm their mental health.
But Froerer's argument prevailed. Christina Wilson, the judicial commissioner overseeing the case, agreed that the court was running out of options. Though she also admitted knowing little about it — asking at one point "how the program works" — she ordered the boys to participate in the intervention.
"When that's done, we can come back here and talk about what happened," Froerer said. "And if things have improved, wonderful. And if things haven't improved," he paused, "I don't know."
A spokesperson for the court said Wilson was unable to comment on "any past or current cases."
A Courtroom Affliction
The family's trip to Texas was intended to repair a case of parental alienation. Advocates and critics debate whether it's a real ailment, but they agree on one thing: It is only diagnosed and treated in the family courtroom.
"Other kinds of psychological dysfunctions that show up in court tend to show up elsewhere as well, whereas parental alienation is a process that is specifically brought to court to remedy," said Demosthenes Lorandos, an attorney and parental alienation scholar who has written about a reunification program that uses methods similar to Turning Points. Lorandos defends parental alienation as a legitimate diagnosis and believes reunification camps are a safe and effective way to treat the condition. Lorandos, who also holds a doctorate in clinical psychology, said he does not know of another psychological dysfunction that only shows up in court.
Dr. David Corwin, a professor and director of pediatric forensic services at the University of Utah and a past president of the American Professional Society on the Abuse of Children, disputes that parental alienation is a legitimate disorder. It almost exclusively affects children of parents with higher socioeconomic status, he said. "True mental health disorders are more equally distributed throughout the population, regardless of socioeconomic status, class or social context."
Gottlieb told ProPublica that she created Turning Points at the request of lawyers whose clients were seeking intensive treatment for alienation. Gottlieb, who trained Maase, has expanded to meet the demand, including the Texas location and a program in California.
Maase said Jordan paid her company $12,000 for the Texas sessions. Today, the price for the four-day treatment is $15,000.
Lorandos said he charges $5,000 a day for expert testimony in parental alienation cases, and the bill for his services on a single case has reached $50,000.
"Business is booming," said Robin Deutsch, chair of the American Psychological Association's working group on high conflict family relationships involving children.
She is a critic of Turning Points and programs like it, saying their treatments don't address the complex dynamics that cause fractures within families. "The court has to put all their eggs in the parental alienation basket. And the kids will suffer because of it," Deutsch said. (Previously, Deutsch ran a reunification camp that she says differed in its approach to family fractures; she said the camp is no longer in operation.)
Outside the courtroom, the ailment that the programs claim to heal — parental alienation — has struggled to gain legitimacy. Medical and psychological professionals, including the American Psychiatric Association, have rejected it as a mental disorder. And the special report released by the United Nations Human Rights Council blasted parental alienation as a "pseudo-concept" and recommended member states prohibit its use in family courts.
The theory has also been shunned by the National Council of Juvenile and Family Court Judges for failing to meet court evidentiary standards.
Jennifer Hoult, an attorney and legal scholar, has written about why parental alienation fails to meet national standards for court admissibility. She said the theory is based on a fallacy that parents have a right to be loved. "There is no legal right to force your children to love you, respect you or even like you," she said.
Gottlieb, who spoke to ProPublica in February for another story, argues alienation typically begins when people believe children's claims of abuse. "Everyone knows children lie," Gottlieb told ProPublica. "Lying is so instinctual — children love to make up stories. Why on earth do we believe that children are reporting accurately?"
Little independent research has examined the long-term effects of reunification camps on children.
A 2021 evaluation led by Jennifer Jill Harman, an associate professor of psychology at Colorado State University who believes parental alienation is a genuine diagnosis, analyzed video recordings of Gottlieb's intervention with 15 families. Based on Gottlieb's "self-reported" success during the intervention itself, the evaluation found the program was safe and had a 96% rate of effectiveness.
According to Harman, the analysis didn't look at the treatment's long-term effectiveness. And the study was intended to "promote" the program and refute claims that its interventions "are traumatic for children and cause long-term harm," according to Harman's application to the Colorado State University Institutional Review Board for the project. Gottlieb was involved in designing and executing the evaluation of her program, records show.
Harman declined to comment. Gottlieb didn't respond to requests to comment for this story.
Jennifer Bard, an expert in human-subjects research law and a professor at the University of Cincinnati, questioned the value of this evaluation of Turning Points.
"The fact that the person who stands to profit by the findings of this study designed it should cause considerable concern," Bard said. "It's almost as if this study was put together to support a predetermined conclusion, which is not what studies are supposed to do."
Sessions Spiral Out of Control
On Dec. 1, police officers arrived at Jordan's brick-front home in Syracuse, Utah. He had called for help with a "juvenile problem." His two sons were refusing to be taken to Turning Points as the court had ordered, according to police records.
Eventually, the boys agreed to go, and the group that traveled to Texas included Jordan's new wife (the boys had not previously met her) and stepchildren, and the boys' paternal uncle and cousins, according to testimony. The boys' older brother, Xander, who is 19, opted out of the program.
Maase held full-day sessions at the family's vacation rental. (The address on the Turning Points for Families Texas website is a post office box at a strip mall in Austin.)
In discussing the program, the judge and commissioner overseeing the case referred to Maase repeatedly as a "doctor," though Maase is not a doctor and does not refer to herself as such. She is a licensed professional counselor with a master's degree in counseling and family therapy. She is not permitted to provide or advertise herself as providing psychological or medical services, according to the executive director of the Texas Behavioral Health Executive Council. Maase also operates a counseling company called ParentRise, which provides therapy to families.
Jordan testified that after the sessions began, Maase instructed him to play for the boys the recording of the July 1, 2019, domestic dispute between him and his ex-wife.
Hollie said during the dispute she lunged to grab a phone when she realized her then-husband was using it to record them. She denies being physically violent with Jordan.
The incident led to Hollie's arrest. She was charged with domestic violence in the presence of a child and disorderly conduct. She pleaded not guilty to the charges, which were later dismissed.
Maase told the court that introducing children to recordings and documents of their parents' domestic disputes is "standard procedure" at her camp in order to correct children's "false narrative" about the alienated parent — in this case Jordan.
In her report to the court, Maase wrote that throughout their time in Texas the boys showed "inadequate compliance, aggressive and violent behaviors, and overall lack of progress."
Texas police officers were called several times to respond to the 16-year-old's threats of violence toward himself and others. Though he weighed only 111 pounds, the teenager had to be physically restrained several times by family members before police arrived.
According to accounts from those who participated in the intervention, Maase instructed adult family members to physically coerce the boys to cooperate with the treatment. According to one account, Maase recorded the therapy sessions over the boys' objections and repeatedly threatened them, including telling the older boy that he would go to jail if he didn't cooperate and might never see his mother again. According to more than one account, Maase took away the boys' food during the intervention in order to compel participation.
Maase told ProPublica that these claims are "preposterous." "I advise that you turn your attention to the motives of those who would make such assertions in the first place," she wrote in an email.
Since the intervention, the children have been barred from participating in individual therapy.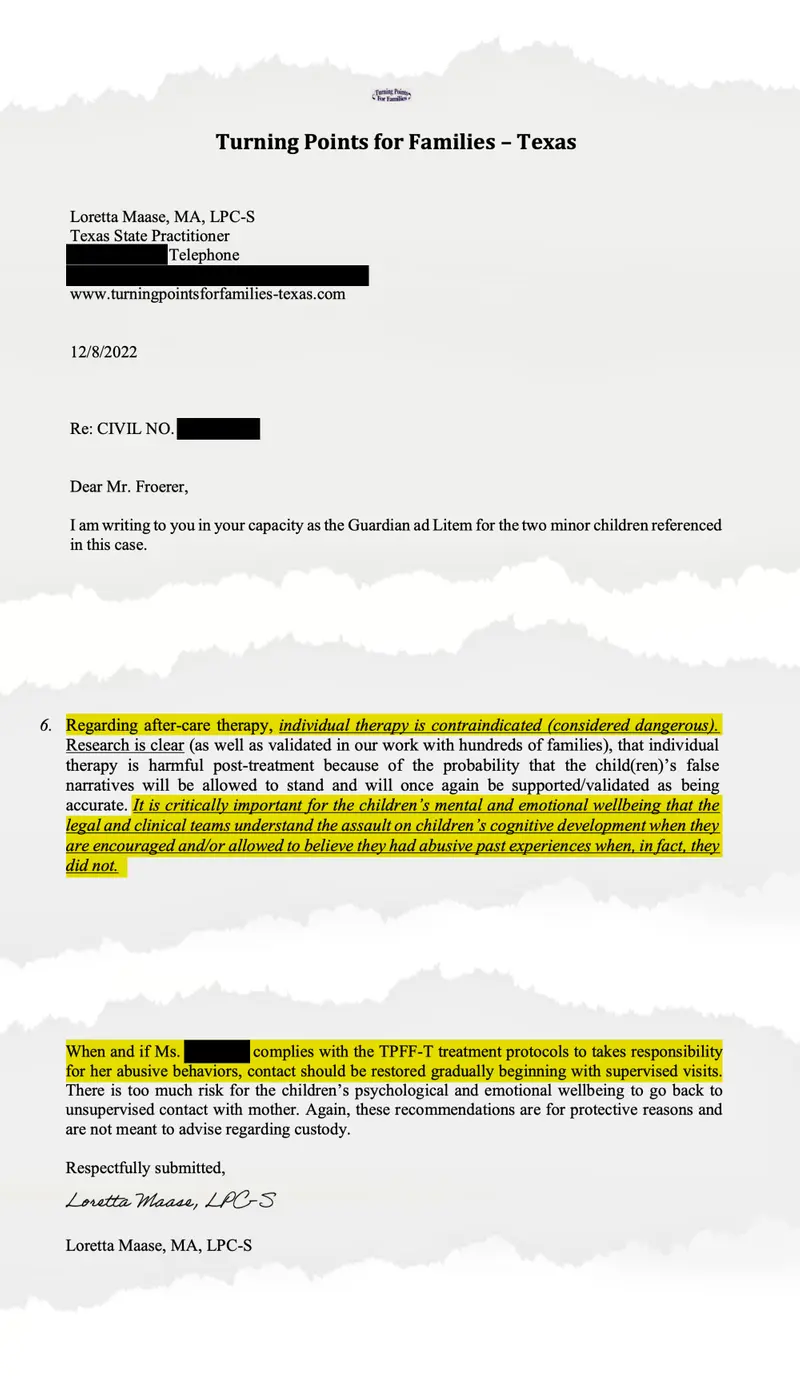 Such prohibitions are standard Turning Points protocol. Maase explained to the court that interacting with therapists who aren't part of Turning Points could be "dangerous" because they might encourage the children to believe "they had abusive past experiences when, in fact, they did not."
Separated From Their Mother
After returning from Texas, the boys remained with their father, beginning the 90-day separation from their mother and any relatives who had defended her in the dispute.
In such programs the separation can be extended by the facilitator if the children or the accused parent fail to comply with the treatment.
"Sometimes the 90-day order can turn into a forever order," Deutsch said.
On Dec. 6, the day after their return from Texas, Jordan brought the 16-year-old to a Salt Lake City emergency room out of fear he would hurt himself or others, according to court documents.
The teenager told the doctor that he had attended a "brainwashing camp" and felt "unsafe" with his father. He said that he had been physically assaulted while at the Turning Points program, according to medical records. The medical report described "faint linear marks" on his upper arms, where the patient said his father had grabbed him.
Another teenager treated years ago by Turning Points in upstate New York also alleged he was abused during his therapy sessions. According to a July 2016 police report, an officer was dispatched to the home of Gottlieb, the Turning Points founder, to investigate claims that a 16-year-old, Caleb Thomas, had been "dropped off at the therapist's residence" and "assaulted and thrown in a closet." No charges were filed.
Thomas told ProPublica that when he protested Gottlieb's attempts to record his therapy sessions, he was pinned to the floor by his father and another man. Thomas said he escaped through a window, intending to return to his mother, but was caught by police.
Lt. Craig Wood, the police officer who responded to the report, said he recalled Gottlieb showing him an order from a Delaware family court judge, placing the teen in her care. "I found it unusual that they couldn't find a doctor closer to where they lived, but she's a specialist, I guess," he said.
Gottlieb did not respond to a request for comment.
The week after Jordan took his 16-year-old son to the emergency room, he brought his 12-year-old son to the ER for "suicidal ideation with intent."
The boy also told medical staff about the "alienation camp," where he was "threatened that he would be arrested if he didn't cooperate," according to medical records. He told hospital staff that while there he had been forced to look at documents and watch video showing that "his mom was a 'bad person.'"
The 12-year-old said that at his father's house he was being "restrained daily" if he didn't do what his dad wanted, and he said he felt "mentally broken down" because of his father's threats that he would never again see his mother. The boy disclosed to medical staff that his father had sexually abused him at age 11. According to the medical report, Utah's Department of Children and Family Services is investigating the boy's claims. DCFS declined to comment.
Jordan did not respond to requests for comment about the allegation. He told hospital staff that multiple DCFS cases had been opened against him and closed because of a lack of evidence. He said he believed his ex-wife had made false claims about him to the children to further alienate them from him, according to court documents.
The child told medical staff that if he was forced to return to his father's house, he would "find a way to kill himself." He was admitted for inpatient psychiatric care.
Jordan's father, Brent, testified in the hearing earlier this year that he has long-standing concerns about his son's parenting and the effect the reunification camp has had on his grandsons.
"They don't feel safe with police officers, they don't trust you, they don't trust their father. And the reason is because they told their story of abuse and what happens is they get shoved back into the hands of their abuser every time," Brent testified. "How can you ask a child to rationalize that?"
Police have been called to Jordan's home multiple times since the family's return from Texas, according to 911 records. On Dec. 15, a juvenile court judge ordered the children to be removed from the home and placed with their mom. Police brought the 12-year-old to Hollie (the 16-year-old had already run away to his mother's home). The next day, Jordan secured an order returning the boys to his house. Police assisted with the transfer.
In February, Maase advised the court to continue prohibiting the boys from seeing their mother until Hollie "fully acknowledges the alienation and discontinues her negative behaviors." The children must first "relinquish their alienating thoughts, beliefs, attitudes, feelings and behavior" before they are allowed to see her, Maase wrote in a report to the court.
Judge Ronald G. Russell ordered the children to continue Maase's treatment.
Hollie has not been permitted to communicate with her children who are minors since December. In February, she moved from her home in Utah to dissuade the boys from running away from their father's house to see her, as they had done multiple times. If they do it again, the no-contact order will be extended, Hollie said.
The Oldest Brother
As a legal adult, the court couldn't force Xander, the oldest of the three brothers, to participate in the reunification program.
Jordan invited him to join them in Texas, texting at the end of November, "It will not be the same without you. I have a ticket ready to purchase for you to come with us. I love you and hope to be your life again."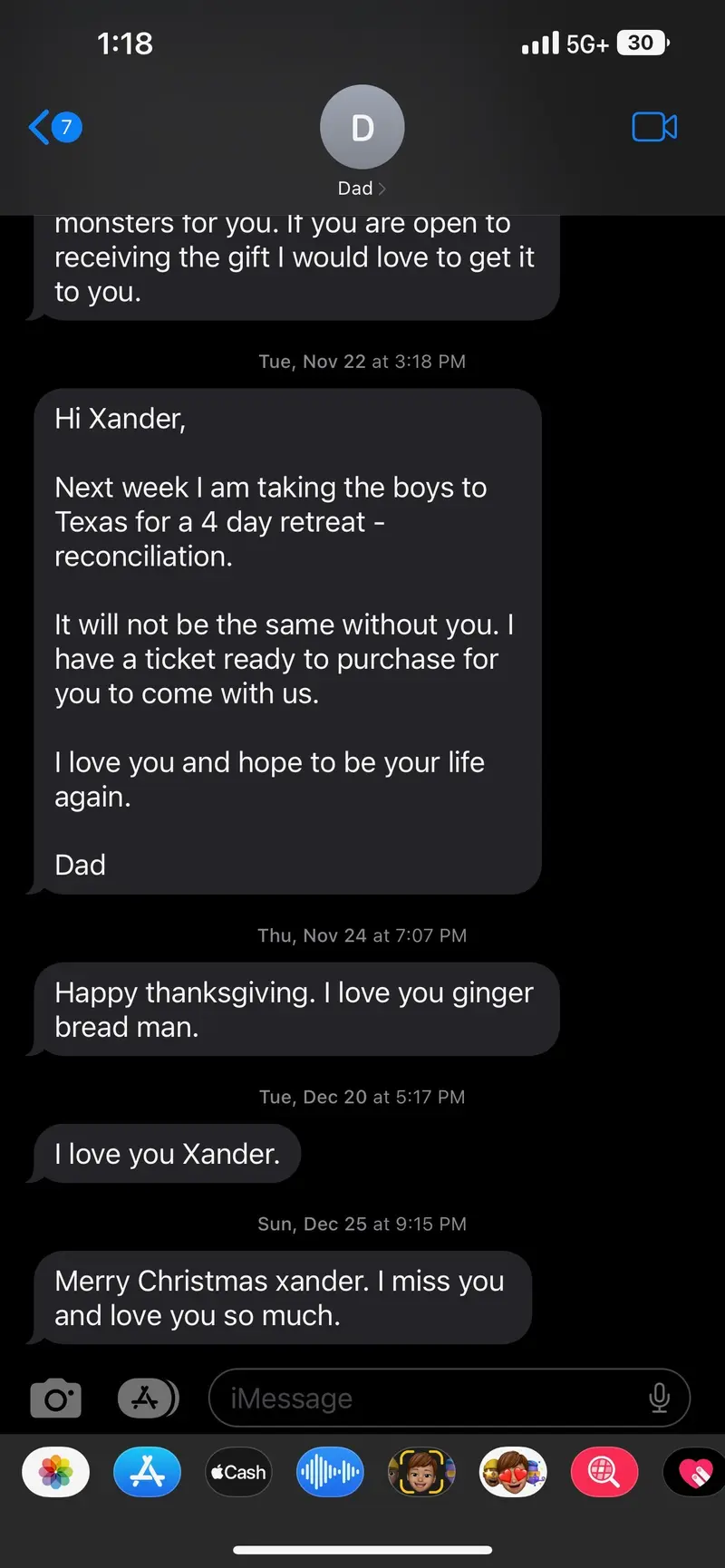 Xander never responded.
He told ProPublica that he had been through years of failed court-mandated reunification therapy and had no intention of participating in more.
Still, he has struggled with feelings of guilt for not being with his brothers as they suffered through the reunification camp.
"Maybe if I had gone, I could have protected them," he said. "I'm having trouble forgiving myself for that."
Clarification, May 18, 2023: This article was updated to clarify that the National Council of Juvenile and Family Court Judges has shunned the theory of parental alienation.