Health insurers reject millions of claims for treatment every year in America. Corporate insiders, recordings and internal emails expose the system and its harm.
When a health insurance company is deciding whether to pay for your medical treatment, the company generates a file around your claim. All the records associated with your case should be part of your file. This includes documents explaining the reasons your claim was denied.
You have a right to see this file. Federal regulations require most health insurance plans to give people an opportunity to review documents related to their claim for free. So if your insurer talks to your doctor, if a nurse takes notes, or if two people speak about it on the phone, all of those records should be available to you.
"It's a treasure trove of information," said Juliette Forstenzer Espinosa, a health lawyer and senior lecturer of health policy at George Washington University. "But most people have no idea how to get it."
Health insurers rarely advertise that people can access their claim files, Espinosa said. Where guidance exists, it is often embedded deep in denial letters. Few offer templates or even give instructions on their websites.
Patients who make it through the records request process get information that can be revelatory. Some told us they received case notes exposing how they had been funneled into programs the health insurance company deployed to cut costs. A few obtained audio recordings of phone calls showing company staff introducing errors into their cases.
And others, such as former Cigna patient Lee Mazurek, found out exactly how much companies projected saving on their cases. Mazurek had been on a treatment regimen for nearly nine years that was keeping his Crohn's disease at bay. Changing it, a Cigna employee estimated, could save more than $98,000. (Cigna spokesperson Justine Sessions said the insurer only suggests changes when clinically appropriate and that cost is never the sole determining factor. She said Cigna does not directly benefit from such savings.)
Taken together, these documents can offer a window into the opaque system of health insurance denials. Details in them have helped us report on some of the country's largest insurance companies and their attempts to cut costs at the expense of patient well-being.
We have spoken with patients, health care providers, former and current health insurance employees and health policy experts to better understand how people facing denials can request their information. We believe it is important to share with our readers what we are learning about this process. To that end, we have collected advice on requesting your claim file and answers to common questions you may have, including a template you can use to get your request started.
What's the difference between a health insurance claim file request and an appeal?
After you receive a denial, you can submit an appeal. This means you are asking the health insurance company to reconsider its decision.
When you submit a claim file request, you are asking the insurer to send you all of the records generated around your claim. Patients and lawyers said they found it helpful to submit these requests before an appeal.
Which health insurance plans can I request a claim file from? Is mine included?
You have the right to request your claim file if you:
Similar rights apply to people under Medicaid plans.
I want to get my health insurance claim file. Where do I start? Is there a form?
Visit our free Claim File Helper tool, where you can generate a PDF of your request letter.
Here's a template of a claim file request that you can fill out on your own. It is adapted from one created by Health Law Advocates, a public interest law firm based in Boston that provides free legal services to people struggling to access health care. The template includes:
A list of all of the records that should be included in your claim file.
Space for you to write in your case details.
You will likely need to print the request out. If you do not have access to a printer you can visit your local public library, which should have one available for you to use.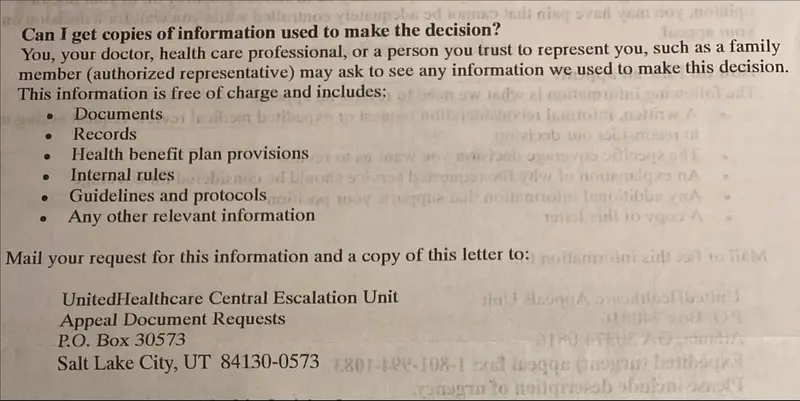 What information do I need to provide as part of my request?
Always make sure to include your name, address and phone number, plus the date you are sending the request.
You will likely need:
Your Plan ID and unique Member ID (often listed directly below your name on your health insurance card).
The unique case number(s) associated with your denied claim. This will allow you to ask for specific records associated with the case number(s). Health insurance plans may instead call this your service reference number or have another name for it altogether. You can often find this number on the first page of a denial letter or of a letter from your health plan explaining how much you must pay for the treatment or service (known as an explanation of benefits).
The dollar amount of the claim.
The dates of your appointments, procedures or other services in question.
The date you received notice of the denial.
Can't find one of these? Don't stress. You can either call your insurance company's member service line or request it from your health care provider.
If you end up calling your health insurance plan's member service line, patients and lawyers have suggested recording the call or taking written notes so you have proof of the interaction. If you want to record the call, be sure to ask the person on the other line for permission to do so.
How do people usually word these requests?
Whether you use a health insurance plan's request form or write your own claim file request from scratch, you may want to consider asking for:
Case management information
Medical utilization information
Telephone logs and call summaries
Recordings of telephone conversations
Any other correspondence
Any medical records and assessments
All other records related to your unique claim number(s)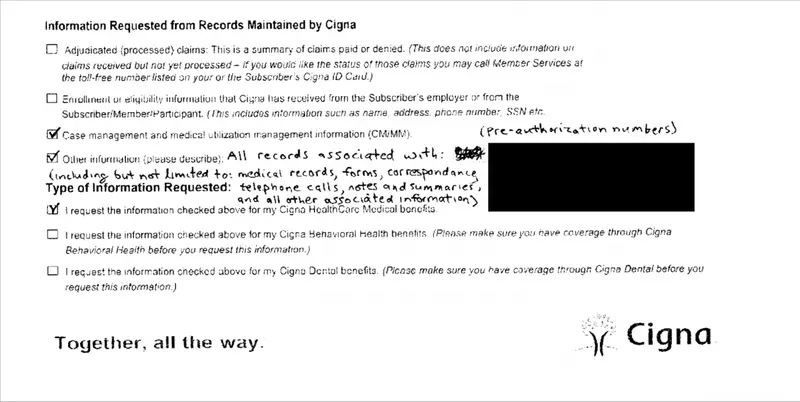 If you are writing up your own claim file request from scratch, you may also want to include a line saying this is a request for a claim file, not an appeal. (Health insurance plans have mistaken claim file requests for appeals.)
What should I actually send to the health insurance plan?
Along with the printout of your claim file request form, patients and legal experts say, it is helpful to send a copy of the denial letter, or the letter the insurance plan sent you explaining how much you owe for the treatment or service. (Patients and their advocates stressed that you should send in a copy, rather than the original denial letter you received.)
You might also want to keep a copy of the claim file request for your records.
Where can I send my claim file request?
This depends on your health insurance plan. There are a few places you can find out where to send the request:
On request form templates
On any denial letters or explanation of benefit letters
Most plans ask that you mail or fax the forms to a physical location. Legal advocates said they usually send these requests to the appeals and member request departments because employees there often understand the process best. We've listed department addresses below for some of the country's largest health insurance plans.
If you send the request through the mail, experts on the process recommend that you do so through certified mail so you can track it.
Note: While we have confirmed the addresses below, some companies administer subsidiary health plans that may require different mailing addresses, so you may want to double-check whether the address below applies to your specific plan before actually sending your request. Search "appeals department mailing address" plus the name of your health insurance plan and see what comes up on a search engine like Google.
If you have trouble finding this address, you can try two more steps: (1) You can search for your plan's appeal form, which often includes the address of the appeals department, or (2) You can call your health insurance plan's member service line and ask for the mailing address for the plan's appeals department.
Aetna CVS Health:

Mailing address: Aetna Appeals Department
P.O. Box 14463
Lexington, KY 40512
Fax number: 859-425-3379
Anthem BCBS (now Elevance Health):

Mailing address: Anthem Blue Cross and Blue Shield
P.O. Box 659403
San Antonio, TX 78265-9403
Cigna:

Mailing address: Cigna Healthcare, Central HIPAA Unit
P.O. Box 188014
Chattanooga, TN 37422
Fax number: 877-815-4827 or 859-410-2419
Humana:

Mailing address: Humana Grievance and Appeal Department
P.O. Box 14546
Lexington, KY, 40512-4546
UnitedHealthcare: Depends on the plan you have. Below find the mailing addresses and fax numbers for major plans, and find the rest of the contact information at this link:

Mailing address for anyone who has a health plan through their employer:
UnitedHealthcare
P.O. Box 30573
Salt Lake City, UT 84130-0573
Mailing address for anyone who has bought a health plan through the insurance exchange:
Member and Provider Appeals and Reconsiderations:
UnitedHealthcare
P.O. Box 6111
Cypress, CA 90630
Fax number: 888-404-0940
I still can't figure out where to send my request.
You can send the claim request to your health insurer's appeal department or HIPAA unit, according to patients and legal advocates who help people submit claim request files. They said people working in these units, and particularly in appeals, are often more familiar with claim file requests than customer service representatives are.
If you can't find these addresses online, you can call your insurance company's member service line and ask for them.
Do I really have to send my request via snail mail or fax?
If that is what your insurance plan requires, then yes. You can try uploading your request through your online health insurance portal. But mailing or faxing seems to be the preferred delivery method for most health insurance plans, at least for now. Legal advocates say this may change. For example, Massachusetts recently passed a law requiring health insurers to accept appeals and requests for authorizing representatives via email.
If you learn that your state requires that companies accept these documents via email, please let ProPublica reporters know through the form below so we can keep this post up to date.
How long does it usually take to get the claim file?
If you have health insurance through your employer, you should get a response to your claim file request within 30 days of sending it in. The plan provider could be fined up to $110 for each day it is late, which could be awarded to you. However, courts, rather than regulatory agencies, have discretion over enforcing these fines. This means one would have to file a lawsuit to retrieve this sum.
No matter what kind of health insurance plan you have, legal advocates said, if you do not receive your claim file request in a timely manner or receive an incomplete set of files, you can ask the insurance plan to pause all other countdowns related to your denied claim. For example, when you receive your denied claim, you have a specific number of days to appeal the denial. Legal advocates said you can request that the health insurance plan pause this countdown until the company completely fulfills your claim file request.
I am having trouble getting my claim file. What are some possible next steps?
If you have health insurance through your employer and do not work for a city, state or federal government agency, your plan is generally governed by the federal Employee Retirement Income Security Act. You may want to double-check with your human resources department to confirm that is the case. If your health plan is under ERISA and you have not heard back about your claim file request within 30 days, you can reach out to the United States Department of Labor's Employees Benefits Security Administration to alert them and ask that they intervene. You can contact them by phone at 866-444-3272 or online through this portal.
If your employer is a city or state government agency, you can reach out to the Center for Medicare and Medicaid Services. You can contact them by phone at 877-267-2323 or by email at [email protected]. If your employer is the federal government, you can connect with the Office of Personnel Management through this website.
If you have an individual (nongroup) private health plan that is not through your employer, or if your employer's plan is fully insured, you can contact your state agency that regulates insurance for help. If you do not know whether your employer's plan is fully insured, you can reach out to your human resources department to check.
When reaching out to government agencies, it can be helpful to include a copy of any forms you submitted as part of the request.
ProPublica reporters are also interested in hearing about any problems you have in getting your claim file. Feel free to reach out to [email protected] to tell us about any challenges you might be experiencing.
I got my health insurance claim file. What next?
The claim file should include more information on why your health insurance claim was denied. This may help you and your health care provider if you end up appealing your denial.
For Lee Mazurek, the claim files shed light on a Cigna cost-saving program that played a role in his denial. (Cigna said it would not directly benefit under a self-funded plan like Mazurek's, but would pass along the savings to the employer.)
Mazurek was eventually able to continue receiving treatment, but he dipped into his savings to buy secondary insurance during the process. He has since switched health plans.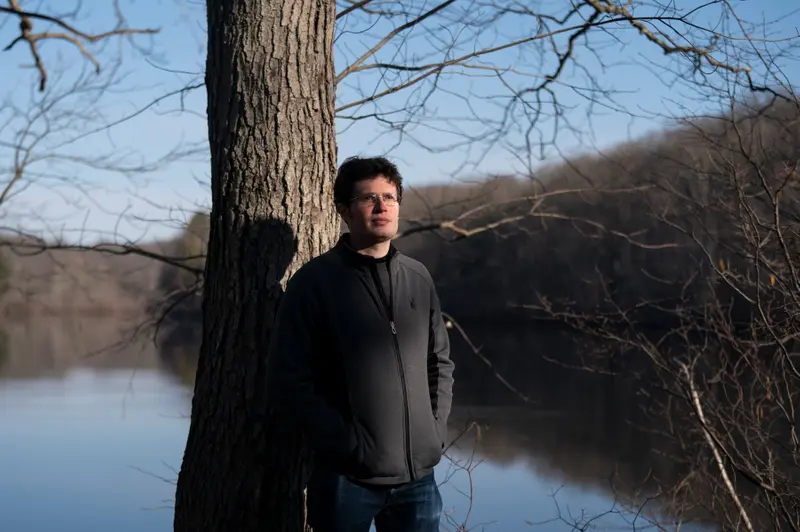 I want to tell reporters my story and share my claim file.
ProPublica is continuing its reporting on the systems that lead to health insurance denials. Claim files can help us better understand these systems.
If you would like to send your claim file to a ProPublica reporter, you can fill out this form. You can also email [email protected] with any questions.
To reiterate: If you send over your claim file, ProPublica reporters will be the only ones reading the files. We appreciate you sharing your information and we take your privacy seriously. We are gathering these for the purposes of our reporting, and will contact you if we wish to publish any part of your story.