Title lenders offer quick cash to anyone who can use their car as collateral, but in Georgia, lax regulation leaves many borrowers trapped in high-interest debt.
This article was produced for ProPublica's Local Reporting Network in partnership with The Current. It was also co-published with The Atlanta Journal-Constitution. Sign up for Dispatches to get stories like this one as soon as they are published.
When Robert Ball turned 63, he was looking forward to retirement in his wife's hometown of Savannah, Georgia. The couple had a comfortable house with a lush garden, the certainty of his pension and the hope of spending more time with their grandchildren.
That dream shattered when Ball's wife, Gloria Ball, developed severe health problems. They faced huge medical bills, yet their bank refused to refinance their mortgage. Left with few options for raising cash, Robert Ball drove to TitleMax, a business that prospers in Georgia's banking deserts and lends money at terms that would be illegal for other financial institutions. "I was desperate" for quick cash, Ball said. "They welcome folk like me."
In July 2017, Ball signed a contract to receive $9,518 from TitleMax in exchange for a lien on the title to his 2006 Honda Ridgeline truck, money that the couple used to pay for Gloria's medical needs. The terms of Ball's contract were typical for TitleMax, specifying that he would have to repay the money plus interest in 30 days. But the store manager explained that, as long as he paid $1,046 each month, he could extend the contract indefinitely and keep his car — on which he had no other debt — from being repossessed by the company. What the manager did not mention, Ball said, was that his payments would only cover interest.
For two years, Ball made his payments diligently, court records show. Then the company told him something that nearly made him fall down: Even though he had paid more than $25,000 by then, his principal hadn't budged.
TMX Finance, TitleMax's parent company, calls itself a community resource to its 293,000 customers, people written off as credit risks by traditional lending institutions but who need financing to pay for life's basic needs. As the nation's largest title lender, TitleMax thrives on an innovative business model that lends money to risky clients in exchange for collateral: the title to the vehicle in which the customers drove to the store. In 2019, TMX Finance reported $910 million in revenue, primarily from its TitleMax brand.
Rather than seeing the company as a force for good, a growing consortium of lawmakers, religious leaders and consumer advocates believe TitleMax, and its industry writ large, to be predatory leeches on the growing ranks of working-class Americans. More than 30 states prohibit title lending or have laws inimical to the industry. In 2016, TMX Finance paid a $9 million fine, approximately 1% of the company's revenue that year, to the federal Consumer Financial Protection Bureau, which ruled that the company misled customers about the full costs of its loans in Georgia, Alabama and Tennessee. Since then, at least five states have passed laws capping interest rates that title lenders can charge at 36% per year.
Georgia, however, has bucked this trend. Nearly two decades ago, the state made it a felony to offer high-interest payday loans that state lawmakers described as usurious. Yet state law allows title lenders to charge triple-digit annual interest rates. This has helped the industry grow like kudzu throughout the state, which is home to three of the nation's top title lenders.
The Current and ProPublica spent seven months examining the operations of TitleMax, the dominant industry player in Georgia, based on hundreds of pages of internal company documents, interviews with current and former company officials and an analysis of storefront locations as well as vehicle lien records from the Georgia Department of Revenue's motor vehicle division. The investigation offers for the first time a window into the scope and scale of the company in the state, as well as the impact on its target customers: the working poor and communities of color.
The Peach State is TMX Finance's second-largest market, accounting for 20% of its business volume as of June, according to a financial ratings report by S&P Global Ratings. Only Texas, which has nearly three times the population of Georgia, was larger, representing 32% of the company's business volume. From July 2019 through June 2022, roughly 210 TMX Finance stores in Georgia issued new "title pawns" for approximately 47,000 vehicles annually, under brand names TitleMax and TitleBucks. They represented more than 60% of the state's total volume.
Annual interest rates in typical TitleMax contracts ranged from 119% to 179%, and title pawns — even though they are structured to last only 30 days— often remain active for multiple months, or even years.
Despite offering a product that customers say feels like a loan, TitleMax and its competitors aren't considered lending institutions under state law. Instead, the title-lending industry works under Georgia's pawn shop statutes, a loophole that exempts it from the usury laws and state oversight that other subprime lenders in Georgia must operate under. Title pawn contracts, meanwhile, are not amortized like home mortgages, which offer customers a set schedule to pay off their loans. Critics say this practice creates a debt trap — which is profitable for companies and bad for consumers like Ball.
TMX Finance did not respond to repeated requests for comment on a detailed list of questions about the company's operations.
"Privately there is not a legislator in Georgia who doesn't feel like it is a scourge on our state, but publicly there aren't many willing to take on" the title-lending industry, said Liz Coyle, the executive director of Georgia Watch, a consumer advocacy group that has pushed for regulatory reform for title lenders for roughly 15 years. "Their clout is too great, and political will is too weak."
State Sen. Lester Jackson, a Black military veteran who represents Savannah, has voted against more regulation for his hometown company, arguing that title lenders fill a necessary gap for his constituents, given the lack of equity in the traditional banking sector.
"Banking deserts are real" in Georgia, said Jackson, a Democrat. "Sometimes, this is all that the community has."
​​For customers like Ball, the power imbalance favoring TitleMax in Georgia feels like being caught in an undertow.
At age 71, Ball declared bankruptcy, seeking relief from his debt burden. Even then, TitleMax pursued him. The company threatened to repossess his car, sell it and keep the profit. It then went to court to assert its right to do so — and won.
---
Past the gilded dome of Savannah's city hall and along the azalea-lined Johnson Square sits an unobtrusive two-story brick building from which privately held TMX Finance and its founder and sole shareholder Tracy Young run the nation's largest title lender.
Unlike other Savannah-based corporations, TMX Finance and its biggest brand, TitleMax, keep a low profile. No corporate sign graces its headquarters. The company rarely sponsors local charity events. When TMX Finance needed money to expand its business operations, it turned to private investors rather than a public stock listing. When it's sued, the company moves swiftly to seal documents that might reveal even its most mundane business details.
Young, a one-time pawn shop owner, relied on this impenetrable business culture as he built the company from two retail locations in Savannah and Columbus, Georgia, in 1998 into a national juggernaut. The company now operates in 16 states and has nearly 1,000 stores. In 2019, TMX Finance reported its most successful year ever, according to S&P, with revenue topping $900 million that year. (Revenue dropped to $753 million in 2020, the first year of the COVID-19 pandemic, and then to $712 million in 2021, after the company closed operations in three states after regulations there were tightened.)
Georgia has emerged as a critical profit center for TitleMax, with some stores making more than $1 million in gross revenue per year, according to tax documents and former store managers who requested anonymity to speak about internal company procedures. That's despite Georgia's history as a vanguard against some parts of the fringe financial services industry.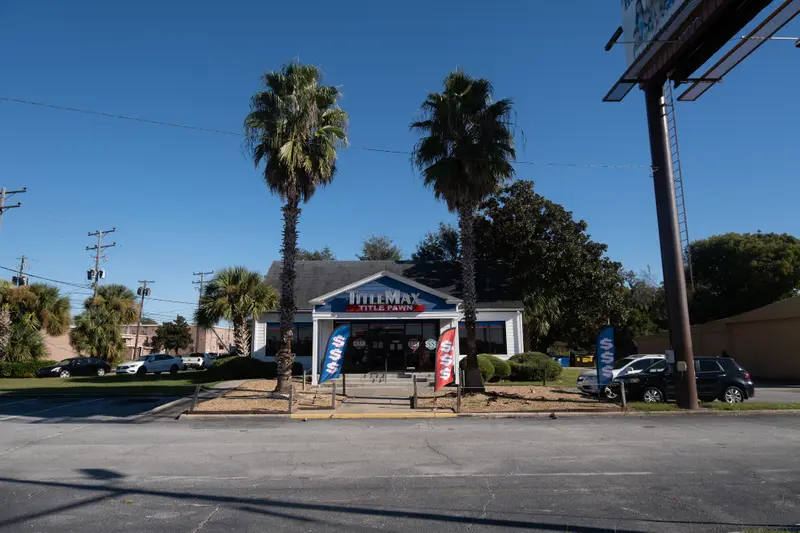 In 2004, Georgia lawmakers cracked down on payday lending, an industry that offered triple-digit-interest loans to people in need of cash in between paychecks. They closed loopholes that had allowed the industry to evade long-standing usury laws in the state and made offering payday loans a felony. The lawmakers — many of them proud churchgoers — considered such loans to be both unchristian and unfair, according to Chuck Hufstetler, a Republican state senator who has voted for more regulation for title lenders.
The Georgia Department of Banking and Finance regulates and licenses other subprime lenders that offer loans to customers considered high risk. For instance, the 166 installment lenders working in the state are subject to Georgia's usury cap of 60% annually, including interest and fees.
Yet lawmakers in Atlanta also passed a law that allowed the burgeoning title-lending industry to operate outside these regulations. Since then, TitleMax and at least 90 other title-lending companies in Georgia have operated under state pawn shop statutes, rather than financial or banking laws.
The bar to open a title-lending business in Georgia is low. A company must apply for a pawn shop license for their employees from the local government in the city or county where they work. With that in place, "title pawn" stores can offer customers a 30-day contract at an interest rate up to 25%. State law allows these contracts to be renewed for an additional two months at that same monthly interest rate. After that, additional renewals have a lower interest cap of 12.5% per month, but that combined rate — up to 187.5% annually — is still far above the usury caps for other types of lenders in Georgia. Title lenders have no obligation to assess customers' credit or their ability to repay what they borrow or to report the number of title pawns issued to state regulators.
Only a few states offer similarly permissive operating landscapes for title lenders. Alabama, the only other state where the industry works under pawn shop statutes, allows title pawns with up to 300% annual percentage rates. Texas also permits triple-digit rates, with no caps on the total amount of title loans or their fees.
At least 20 states have laws that cap interest rates at 36% or less per year for title lenders — or 3% per month. Several other states have set loan terms for fixed periods or require the principal to be paid down as a condition of renewal, which limits customer costs of borrowing and title lenders' maximum profit.