Colorado Gov. Jared Polis signed into law Friday a bill that mandates a statewide wildfire-resistant building code, a step that scientists say will help protect residents and first responders as climate change intensifies blazes.
The bill creates a 21-member board charged with developing standards for new and substantially remodeled homes in high-risk areas, including rules for using fire-resistant construction materials and clearing vegetation around residences. The board — which will include building industry representatives; urban and rural residents and government officials; an architect; fire officials; and insurers, among others — must be appointed by Sept. 30 and adopt a minimum building code by July 1, 2025. The law requires the code to be reviewed every three years.
The measure passed after a ProPublica investigation found that Colorado regulations hadn't kept pace as mega fires, fueled by extreme weather, threatened the state's urban areas. Legislative efforts to require fire-resistant materials in home construction had been repeatedly stymied by developers and municipalities, while taxpayers shouldered the growing cost of fighting the fires and rebuilding, ProPublica found.
"Articles like ProPublica's helped drive the awareness that we are all in this together," said Mike Morgan, director of the Colorado Division of Fire Prevention & Control, in an interview Friday at a fire station in the Rocky Mountain foothills.
The new law "gives us the opportunity to start looking at ways to build homes safer," he said, gesturing to nearby residences hidden among towering pines. "This will normalize fire-resistant construction over time."
Until Friday, Colorado was one of only eight states that didn't have a minimum construction standard for homes.
Polis signed the bill inside an Inter-Canyon Fire Protection District station, which is in an area at high risk for wildfire, about 25 miles southwest of downtown Denver. He also signed a measure providing more resources to fire investigators and another to bolster the workforce dedicated to thinning vegetation and setting prescribed burns, measures intended to better protect forests and residents from wildfire.
The lack of uniform regulations cost the state $101 million in grant money from the Federal Emergency Management Agency's resilient infrastructure funds between fiscal years 2020 and 2022. The state's applications were denied, in part, because Colorado didn't have a statewide building code.
Polis lauded the bill establishing a wildfire-resiliency code, saying it will make the state better able to compete for such federal grants.
"And it gives us the flexibility we need to make sure we don't add costs to homeowners," he said.
Efforts to adopt a statewide code began gaining momentum after the December 2021 Marshall Fire, the most destructive in state history. Driven by hurricane-force winds and overgrown grasslands, it killed two people and incinerated 1,084 residences and seven businesses within hours. Financial losses from the fire are expected to top $2 billion.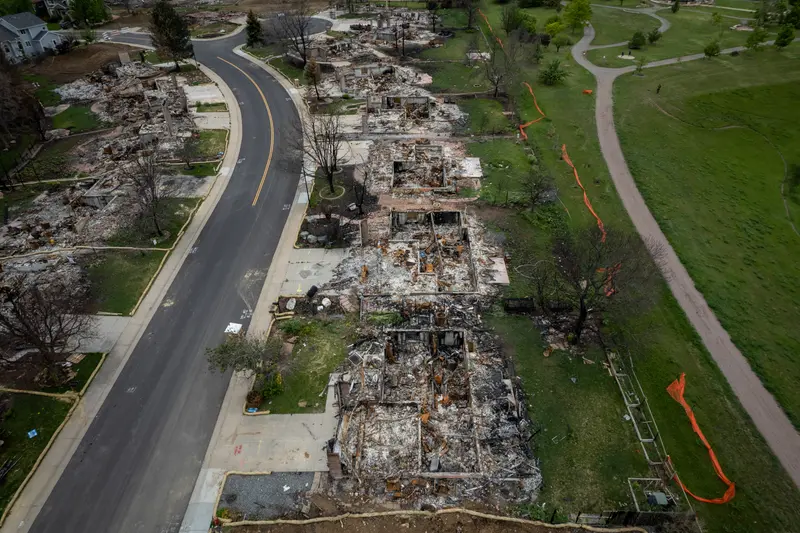 A little-known subcommittee of the Colorado Fire Commission recommended the creation of a board to design a uniform wildfire building code after Polis sent a letter in 2021 that was critical of lawmakers' failure to "address a critical piece of the wildfire puzzle in Colorado: land use planning, development and building resiliency in the wildland-urban interface."
Lawmakers took the recommendations to heart and tried to pass such a measure last year in the waning days of the legislative session, but the effort failed in the face of stiff opposition from municipalities and builders.
ProPublica reviewed legislation introduced from 2014 to 2022 and found that only 15 out of 77 wildfire-related bills focused primarily on helping homeowners mitigate risk from fires. Most of the 15 proposals offered incentives to homeowners and communities through income tax deductions or grants — some of which required municipalities to raise matching funds — to clear vegetation around structures. None called for mandatory building requirements in wildfire-prone areas, even as 15 of the 20 largest wildfires in state history have occurred since 2012.
Such safety codes usually require fire-resistant materials on siding, roofs, decks and fences, along with mesh-covered vents that prevent embers from entering the building. These measures have been scientifically proven to reduce risk for residents and rescuers and to increase the odds that structures will withstand a blaze.
After the new panel begins work this fall, it must first define what's known as the "wildland-urban interface," or WUI, where homes mix with trees, shrubs and grasses that make them more vulnerable to fire. Following the Marshall Fire, ProPublica found, firefighters agreed that practically the entire state could fall under this high-risk designation.
A common understanding of which areas are at risk will help officials prioritize resources to protect communities, said Jefferson County Commissioner Lesley Dahlkemper. Her community enacted one of the state's most stringent wildfire building standards in 2020.
"If you asked each of us to define the WUI right now, we would all give you a different answer," she added.
State Sen. Lisa Cutter, who spent months shepherding the code board bill through discussions with community leaders, builders, firefighters and others, said once the minimum building code is published by the board, the responsibility will fall to individual municipalities to enact it.
"This is now state law," said Cutter, who represents some of the state's most fire-prone communities. "Everyone will have to have a minimum standard code, and it helps communities hold each other responsible."
As she stood in front of uniformed firefighters and a fire engine, Cutter said she and her co-sponsors made concessions to ensure communities have flexibility to tailor fire-resilient codes to meet their needs, including giving municipalities the ability to petition the board for modification to the codes. Such compromises were necessary to pass the law in a state with a longstanding culture of local control.
In debating the building code board bill, legislators heard emotional testimony from firefighters forced to repeatedly defend their communities against deeply unpredictable wildfires.
In testimony before a state Senate committee on March 16, Grand Fire Protection District Chief Brad White recounted how the 193,812-acre East Troublesome Fire in 2020 traveled 25 miles overnight and incinerated 366 homes, so far costing $720 million.
"Two-and-a-half years later, these costs are not what bother me," White said as he asked the Senate Local Government & Housing Committee to support the bill. "What bothers me is that of those 366 homes, we saved many of them several times before."