Series:
A Closer Look:
Examining the News
Spanish-speaking dairy farm workers in Wisconsin, many of them undocumented immigrants, are not regular readers of our website. Most have never heard of ProPublica, let alone formed a trusting relationship with us. Some have low levels of literacy and poor internet connections because the farms they work on are remote. Connecting with them, both to conduct our reporting and to share our findings, is a challenge.
For months, Melissa Sanchez and Maryam Jameel have been reporting on conditions at these farms. But one of their earliest missions was crucial. They needed to find out how the workers got their news and make sure ProPublica's reporting reached them and their communities. The reporters' process underscores one of our central beliefs at ProPublica: Publishing a story about injustice isn't enough if we don't reach the people who are directly affected.
Back in February, when we released the tragic story of a child's death on a Wisconsin dairy farm, we knew we had to do more than translate it into Spanish.
Sanchez and Jameel are both fluent Spanish speakers; they are both the daughters of immigrants and grew up speaking the language. Sanchez works out of our Midwest office in Chicago, and Jameel is an engagement reporter based in Washington, D.C. Early on in their reporting, they learned that dairy farm workers regularly use TikTok, sometimes making humorous videos of themselves dancing in dairy milking parlors. So the reporters, too, became active on the platform, chronicling their reporting trips to Wisconsin and documenting what they saw.
Sanchez and Jameel also developed relationships with hosts at several of the Spanish-language radio stations across the state. They knew that dairy farm workers have long hours and few days off. The radio shows serve as a public square. Workers get their news from the stations and call the hosts when they have been injured, gotten fired or had their wages withheld. Months before the story on Jefferson, the boy who died, was published, Sanchez appeared on one DJ's show and spoke for nearly an hour in Spanish about the reporting she and Jameel were hoping to do.
The team also identified businesses in these rural communities that serve Spanish-speaking customers — the spots where immigrants wire money to their families, buy groceries or do their laundry. They visited more than 60 businesses across the state and hung up flyers seeking sources. At one business, a small store a few miles from where Jefferson died, Sanchez and Jameel connected with community members and learned how the official version of the child's death did not match the account the community knew to be true.
The story we published after months of reporting showed how the sheriff's deputy who responded to the scene mistranslated a key phrase and blamed Jefferson's father for running him over with a piece of farm equipment rather than understanding that another worker had been driving the machine. Their search for the truth prompted local and state officials to call for police to use more effective translation practices when responding to scenes at which people only spoke a language other than English.
The story appeared on our website and on the front pages of nearly a dozen Gannett-owned newspapers in Wisconsin. We translated the story into Spanish and developed relationships with several Spanish-language publishing partners in Wisconsin and Central America, where many of the immigrant workers are from. These outlets included Mi Wisconsin and El Faro. We also commissioned an audio version of the story in Spanish. Jefferson's father, who has a first-grade education, said he listened to the audio version several times. Hearing our story, he told the reporters, helped him finally understand how his son died, and how law enforcement so completely failed to understand what happened.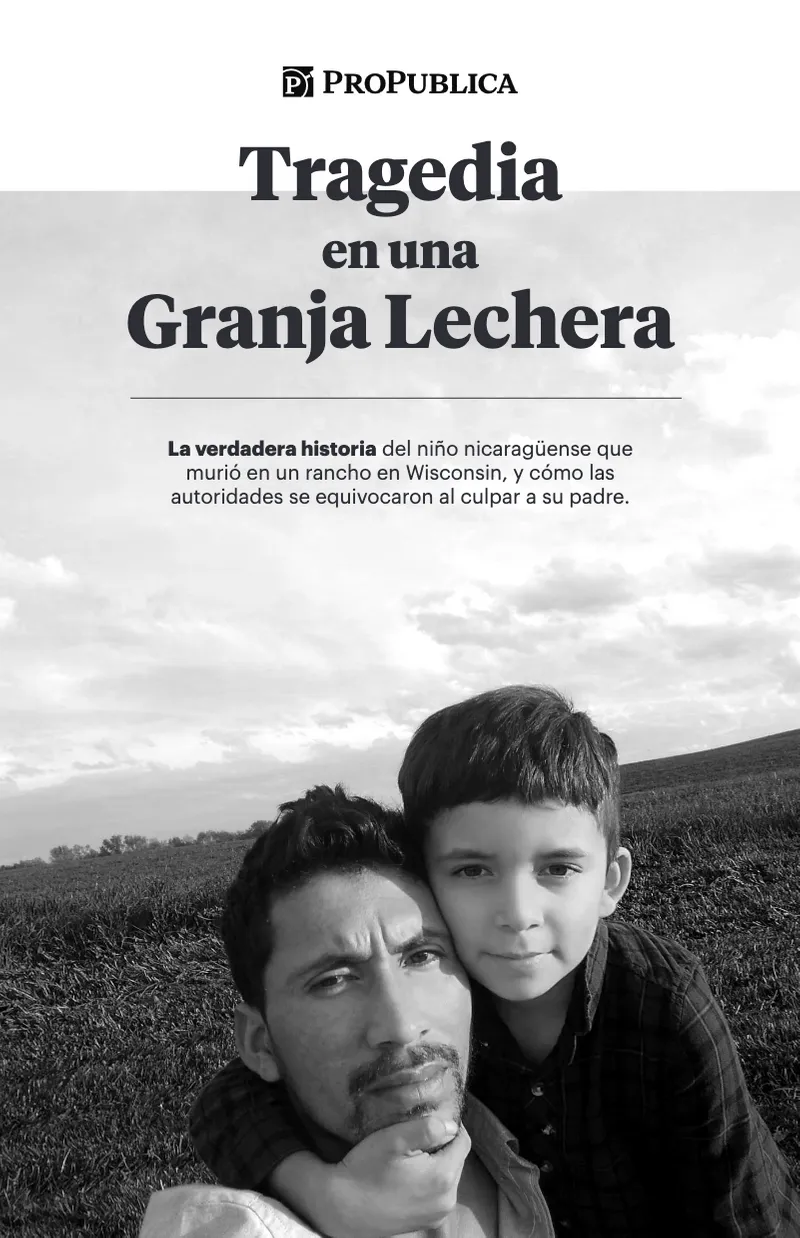 Sanchez and Jameel also worked with ProPublica interactive story designer Anna Donlan to design large postcards and a booklet that they could hand out at Latino stores and restaurants across the state. The materials included a QR code that took people to the audio version of the story. ProPublica paid to print thousands of the postcards and hundreds of the booklets and covered the cost of the written and audio translations.
The team mailed copies of the booklet to key sources, including Jefferson's father and workers who had helped them and who wanted a physical copy of the story. And last week, Sanchez and Jameel hit the road to distribute them more widely.
Their first stop was a strip mall just outside Madison that has a Mexican bakery, La Concha, and Latino grocery stores. Dairy workers go there to send home remittances and buy familiar foods like nopales and plantain chips. The bakery manager's eyes welled up with tears when she saw the booklet. She gently caressed a copy and told Sanchez and Jameel that she knew Jefferson and his father. She'd already read our story, but it clearly made an impact to see the physical copy of the booklet, and she asked if she could keep one for herself.
They spoke with maybe a dozen people in the store parking lot. When they approached people — in Spanish, of course — they introduced themselves, explained that they are reporting on a variety of issues affecting dairy workers, and said they are looking to talk to more people who work or have worked in the industry. Sometimes they conducted interviews on the spot; more often they tried to get a phone number and find a good time to reach the person to schedule an interview. They're also receiving lots of tips for other stories.
In Sauk City, a village on the Wisconsin River not far from Madison, they visited a grocery store called La Bombita, where they spoke with the store owner, who'd been in the back butchering meat, and his son, who handled the counter. As they chatted, dairy worker customers came in and out. Jameel talked at length to one who, a few weeks after Jefferson's death, had worked on the same farm.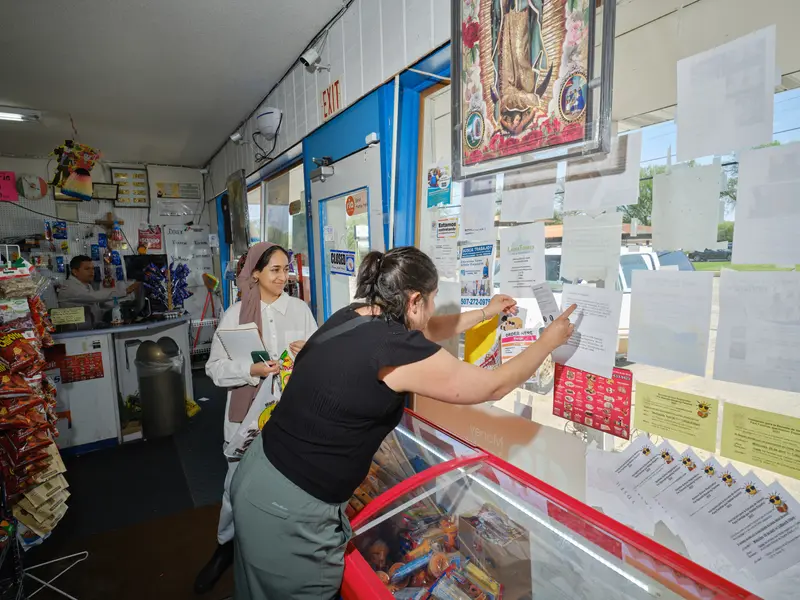 In Sparta, near the Mississippi River, the team spent about an hour at the Supermercado Guerrero. They watched a young Nicaraguan woman take a booklet and tuck it into her purse. They asked her if she'd heard of the story, and she said she had read it in Mi Wisconsin, one of the websites that republished the article. What's more, her mother lives in El Rosario, the Nicaraguan community where Jefferson was buried. She happened to be visiting her mother when the boy's body had just arrived from the U.S. and she learned of his death. She was clearly moved and agreed to be interviewed later about her experiences working on a dairy farm.
Sanchez gave the booklet and postcard to a worker she met who lived near a farm in Clark County. The documents served as calling cards and proof to skeptical workers that she and Jameel were legitimate reporters. A roommate of the worker called Sanchez soon after and recounted his experiences working on a farm. Then he shared the postcard with his aunt, who works on another dairy farm, and the aunt called Sanchez. That woman's son had been crushed by farm machinery and nearly lost his leg a year earlier.
We have more stories planned about dairy farms in Wisconsin. If you would like to share your insight into or experiences with the dairy industry with us, you can get in touch with our reporters in English or contact them in Spanish. If you or someone you know reads news in Spanish, we have a newsletter that will deliver all our translated stories directly to your inbox.
Reaching diverse audiences, like dairy farm workers in Wisconsin, is part of a broader challenge facing ProPublica and journalism more generally. The question of how to reach audiences that are increasingly fragmented by age, political outlook, ethnicity, gender and other factors is central to what we're trying to accomplish at ProPublica. As with the story of Jefferson's death, we plan to do more than simply expect that readers will find the story and find us. We plan to take the story to them.