Illinois law bans schools from fining students. But police routinely issue tickets to children for minor misbehavior at school, burdening families with financial penalties.
Update, Aug. 7, 2023: A jury trial in this case is expected to begin Aug. 8 at the DuPage County Courthouse and continue for up to three days. The defendant, Amara Harris, is now 20 and entering her senior year at Spelman College in Atlanta. Her case is being decided as Illinois lawmakers and school officials consider whether students should be ticketed at school. ProPublica reporters Jodi S. Cohen and Jennifer Smith Richards will cover the trial and provide updates on Twitter and Threads.
In the three years since Amara Harris was ticketed for theft over a pair of missing AirPods at her high school, she has graduated, earned an associate degree and moved from Naperville, Illinois, to Atlanta to attend Spelman College.
Meanwhile, a statewide reckoning over the harm caused by ticketing students has Illinois lawmakers considering a bill that would outlaw the practice. Naperville police have not ticketed any students this school year.
But the city of Naperville is still committed to prosecuting Harris, who was 17 when she was ticketed for a municipal ordinance violation, and her case is headed toward a jury trial, an extraordinarily rare outcome for such a low-level civil infraction.
This week, Harris' attorneys and a city prosecutor faced off yet again before a DuPage County Circuit Court judge.
Her attorneys asked the judge at the end of February to dismiss the case, noting that the original ticket accused her only of having the classmate's AirPods, not of intentionally taking them, which is required to prove theft. In response, prosecutor Joseph Solon Jr. updated Naperville's allegation to state that Harris had "knowingly" taken the classmate's AirPods. Judge Monique O'Toole set a hearing for next month to give Harris' attorneys time to formally respond.
The city has never produced any evidence that Harris knew she had another student's AirPods, her attorneys say. From the beginning, Harris has said the whole incident was a simple mix-up.
"You have no surveillance video. You have no eyewitness accounts. You have no confession, obviously. What do you have? What is your proof?" Juan Thomas, one of Harris' attorneys, said after the hearing on Monday. "I've never seen a prosecutor update the charge without providing information to support the charge."
Thomas is one of two prominent civil rights attorneys who took Harris' case after ProPublica and the Chicago Tribune wrote about it last year.
"This feels very retaliatory. Why hold on to an ordinance violation for three and a half years?" said S. Todd Yeary, Harris' other attorney and the former chief executive officer of the Rainbow PUSH Coalition, a Chicago-based civil rights organization founded by the Rev. Jesse Jackson. "At the end of the day, the city of Naperville will regret going to such ends. This is not a good use of public resources."
Solon declined to comment after the hearing.
This would be the first time in at least a decade that a Naperville ordinance violation case went to trial. A Naperville spokesperson said the city hasn't spent extra money on legal fees for the case because it's being handled by a city prosecutor. She would not answer questions about what evidence supports the theft citation.
"The City will present the evidence at trial and will not try this case to the press," spokesperson Linda LaCloche wrote in an email to reporters. Naperville Community Unit District 203 — home of Naperville North High School, the school Harris attended — declined to comment on the case.
ProPublica and the Tribune featured Harris' case last June as part of a broader investigation into the widespread practice of police in Illinois schools issuing costly tickets to students for violating municipal ordinances. The investigation prompted state education officials to call for the end of school-based ticketing, the state attorney general to initiate a civil rights investigation into a suburban school district northwest of Chicago, and school superintendents to rethink when police should be involved in student discipline.
The Tribune and ProPublica investigation found that at Naperville North High School, Black students were nearly five times more likely than their white peers to be ticketed in the three-year period ending in spring 2021. The police chief said last month that the department now focuses "even more closely on restorative justice measures," which could account for the lack of tickets issued to students this school year.
Most students and other people ticketed for ordinance violations — civil matters that carry no threat of jail time — admit liability and pay their fine. It's difficult to fight a ticket because the standard of proof is lower than the one used in criminal court; defendants are held liable if the allegation is deemed more likely to be true than not, and the ticket itself is considered evidence.
Harris' ticket ordeal began in the fall of 2019, when the father of another student called the school to say he thought his daughter's AirPods had been stolen. The student then told a school dean that she believed Harris had them because a nearby laptop showed that the AirPods were in range. When the dean asked Harris for the AirPods so he could investigate, she handed them over and explained that she had lost her pair of AirPods and picked up this pair where she thought she had left them, in a school common area. It turned out that the serial number matched the classmate's missing ones and not the ones Harris had bought a few months earlier.
"When I found out the mistake, I didn't try to hide it. When the mix-up happened, I didn't try to keep them and say they were mine. I gave them back," Harris, now 20, said during a video call this month from a lounge in her dorm at Spelman.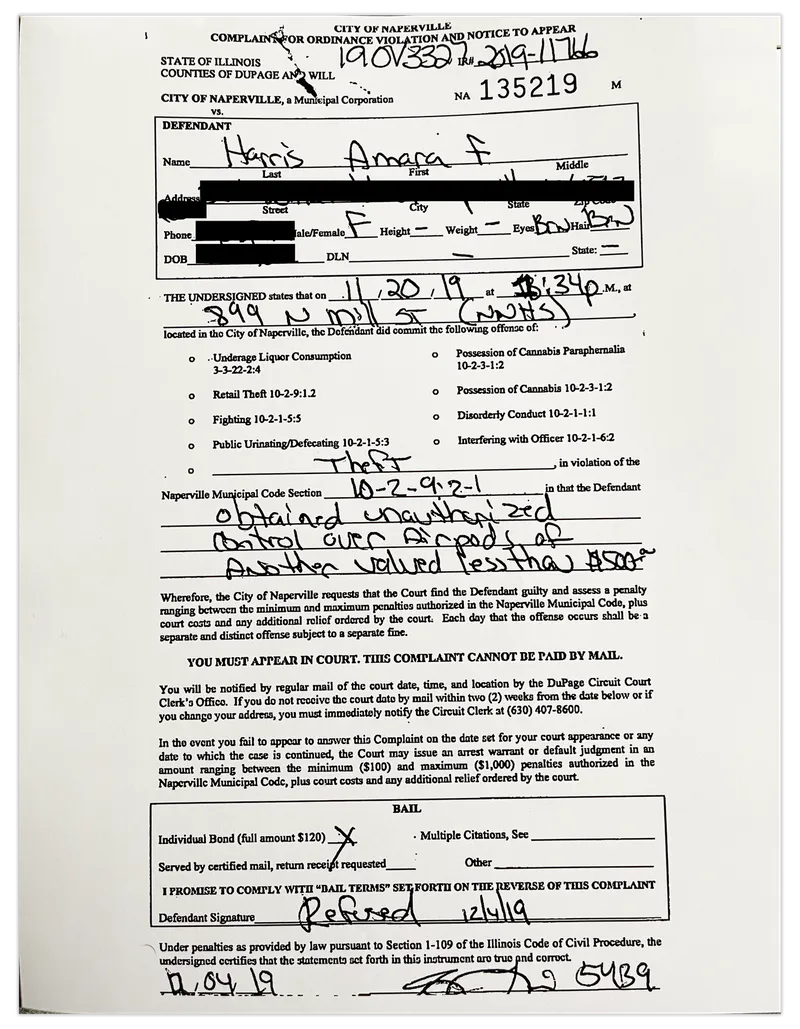 School administrators did not discipline Harris but relayed the incident to the Naperville police officer assigned to the school. The classmate's father said he wanted to press charges against Harris for theft, according to the police report. A few weeks later, police issued her a ticket.
Harris' mother, Marla Baker, has encouraged her daughter to fight the ticket, even as the family has paid significantly more in attorneys' fees than it would have cost to pay a fine. Harris has said she cannot plead guilty when she is innocent.
Harris' family has spent at least $2,000 in fees for previous lawyers, Baker said. Legal fees are now being paid for by a nonprofit organization that the family's current lawyers said wants to remain anonymous.
The maximum fine for violating Naperville's theft ordinance is $500, plus a $100 court fee.
"I had someone say to me recently, 'Don't you wish you just paid the fine?' I still say, to this day, 'No,'" Baker said. "I do believe strongly that if she would have paid the fine, it would have stuck with her in her life, all of her life. And probably would not have produced perseverance. I feel like she probably would have developed a defeated mentality."