Illinois law bans schools from fining students. But police routinely issue tickets to children for minor misbehavior at school, burdening families with financial penalties.
Update, Aug. 10, 2023: This story has been updated throughout with additional comment after Amara Harris was found not liable of violating Naperville, Illinois' ordinance against theft.
Earlier this week, Amara Harris had one last chance to take a plea deal. For $100, she could have avoided a trial, the testimony of her former high school classmates and deans, and the stress of not knowing whether a jury would believe her when she said she had mistakenly picked up a classmate's AirPods — not stolen them. It would've been over.
Instead, as she had for more than 3 ½ years, she chose to fight. Like other families and students across Illinois who have been ticketed by police for alleged behavior at school, Harris and her mother saw the system as unfair and capricious.
But in a rare move, Harris, now 20, went to trial, hoping to clear her name — even as she knew that municipal tickets are hard to beat because the burden of proof is so low.
On Thursday, Harris won her case when a six-person jury concluded the city of Naperville did not prove she knowingly took the AirPods and found her not liable of violating the local ordinance against theft.
"I feel vindicated, a weight lifted off my shoulder, and I can finish out my school year with nothing held over my head," said Harris, who will return to Spelman College in Atlanta for her senior year next week. She said her heart was racing as the jury returned with a verdict, and her mother cried after it was read.
"I am just glad it's over. I maintained my innocence, and they saw that I maintained my innocence," Harris said.
Naperville prosecutor Joseph Solon Jr. declined to comment. City spokesperson Linda LaCloche wrote in a statement that there was enough evidence to ticket Harris and that it was "incontrovertible that this was a triable case."
"We are glad that this matter has come to a conclusion," LaCloche said. "The Defendant wanted her day in court and now that she has had it we are ready to move on."
The verdict capped an extraordinarily unusual, drawn-out saga over a controversial municipal ticket issued to Harris when she was a junior at Naperville North High School, in DuPage County, west of Chicago.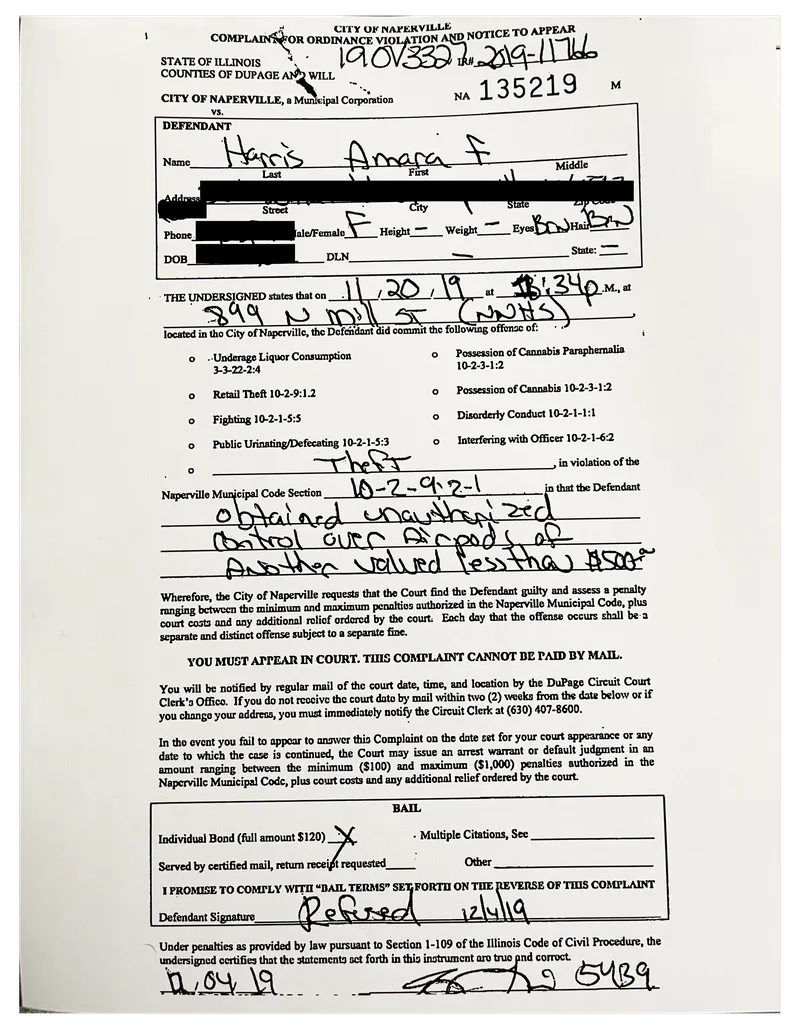 The case was decided after a three-day trial heard by a jury of two young women, including an 18-year-old college student, and four men, three of whom are fathers of teenagers. A trial over an ordinance violation, which carries a fine only and no jail time, is so rare that the judge and lawyers had to repeatedly tweak instructions and other procedures to adapt to this type of case.
Unlike in a criminal case, the prosecution only needed to prove that the allegation is more likely than not to have happened, a concept known as preponderance of the evidence.
The jurors' decision came down to whether they believed Harris, who said she did not realize she had the wrong AirPods until a dean pointed it out, or her two classmates, who believed Harris purposely took them. To rule against Harris, the jury had to believe both that she had someone else's property and that she "knowingly" took it, according to the city ordinance.
The jury deliberated for nearly four hours over two days.
"I don't think there was enough evidence to show the case the city had to make," said juror Jeff Talbot, 46, who has school-age children. "It wasn't clear she knowingly took them."
Between the time Harris was ticketed in 2019 and the trial this week, Illinois officials have taken steps to stop school administrators from working with police to punish students with municipal tickets for their behavior at school. Following a ProPublica and Chicago Tribune investigation, "The Price Kids Pay," the Illinois schools superintendent told administrators to stop outsourcing discipline to police, and state lawmakers are considering ways to end school-based ticketing.
The investigation found that an assembly-line system of justice for municipal tickets made it nearly impossible for students to avoid fines, and that fines and administrative fees could reach hundreds of dollars, money some families could not readily pay. (Harris' theft ticket carried a maximum $500 fine.) Unlike in juvenile court, there is no option for a public defender. And taking the case to a jury, as Harris did, requires incredible resources and commitment.
Students of color were ticketed more often than their white peers, the investigation found. At Naperville North, Black students were nearly five times more likely than white students to be ticketed by police over three school years examined, up until the spring of 2022. Racial disparities were not discussed in court; ahead of the trial, the prosecutor had successfully argued that the jury be instructed it could not decide the case based solely on race or other characteristics.
Harris, her family and attorneys said they will now turn her ordeal into an advocacy effort to stop the ticketing of students at schools across Illinois. They also intend to urge the Naperville school district to rethink how it involves police in low-level matters.
"We've got more work to do," said Harris' other attorney, S. Todd Yeary, the former CEO of the Rainbow PUSH Coalition, a Chicago-based civil rights organization founded by the Rev. Jesse Jackson.
They said Illinois must pass a law to protect students at school from being ticketed by police, an effort that stalled last session. They said they'll look to the governor and legislators to take action so that other students don't find themselves in the same situation as Harris.
"I hope they call it the Amara Harris bill," said attorney Juan Thomas, founder of the civil rights and social justice section of the American Bar Association.
Even as schools reevaluate ticketing, Harris was still holding the ticket she was written at 17. She continued to be weighed down by the accusation that she was a thief even as her life moved on: She graduated early from high school, earned an associate's degree at a local community college and has worked multiple jobs, even heading straight to her restaurant job from the trial two days this week.
Naperville police did not issue tickets at high schools through at least the first semester of last school year, and the district has tried to distance itself from Harris' case, in part by saying the decision to ticket Harris was made by police. However, four school administrators, including the district superintendent, were called to testify and point out the defendant, their former student, in the courtroom. The principal said while she initially suggested that Harris get a one-day in-school suspension for the AirPod incident, the suspension was never issued.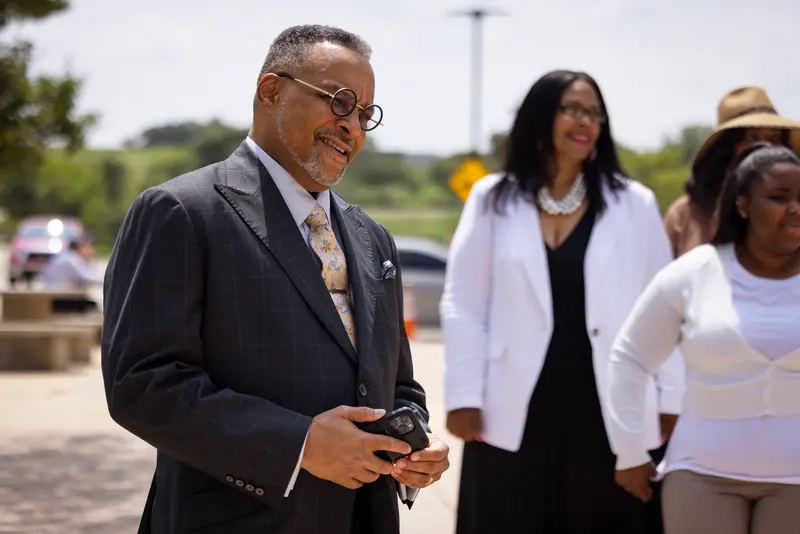 Minutes before jury selection began on the first day of trial Tuesday, Solon offered Harris a deal to settle the case with no fine and a $100 court fee — an offer he said he had made several times before. Harris would have had to agree that she could be found liable by a jury, something she said she could not accept since she says she accidentally picked up the AirPods and returned them to the rightful owner when school officials determined they weren't hers.
"We offered to waive the fine because the case dragged on so long," Solon told reporters outside the courtroom.
The testimony from nine witnesses, over two days, largely centered around two questions: How did Harris come into possession of AirPods that weren't hers and when did she realize they weren't hers?
The prosecution argued that Harris must have realized she took someone else's AirPods when they didn't automatically connect to her iPhone.
"She knew they weren't hers and possessed them anyway," Solon said. He said she didn't turn them over until she was "caught with her hand in the cookie jar."
On the witness stand, Harris and her mother, Marla Baker, established that Harris owned her own pair of AirPods before being accused of taking her classmate's.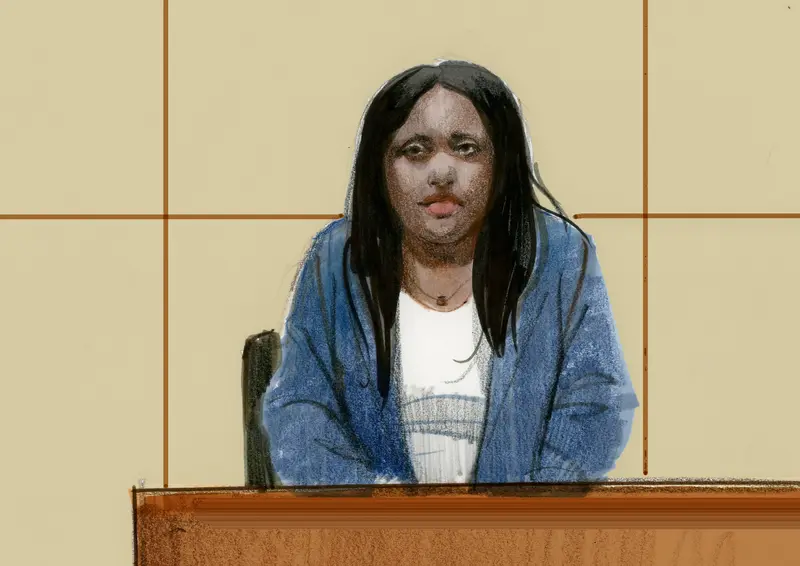 The defense introduced into evidence the receipt for Harris' AirPods and a photo of her wearing them at a dinner celebration for her 17th birthday, just days before the alleged theft. Then Harris explained to the jury what happened.
On the morning of the alleged theft, Harris said she realized she'd left her own AirPods in a school common area, retraced her steps and saw an identical pair where she thought she left them. Thinking they were hers, she picked them up.
They didn't sync initially, which wasn't a red flag for Harris, she testified: "AirPods were notorious for unsyncing. I thought I had to resync them." She said she easily resynced them and went on with her day, thinking they were hers, and got no alert on the device that they weren't.
But Solon questioned Harris' explanation that the AirPods automatically showed up with her name. He said that at that moment, she must have known they weren't hers and manually renamed them. Harris corrected him: "If you know how AirPods work, when you sync them up, whatever name appears on your phone, appears on AirPods," she explained.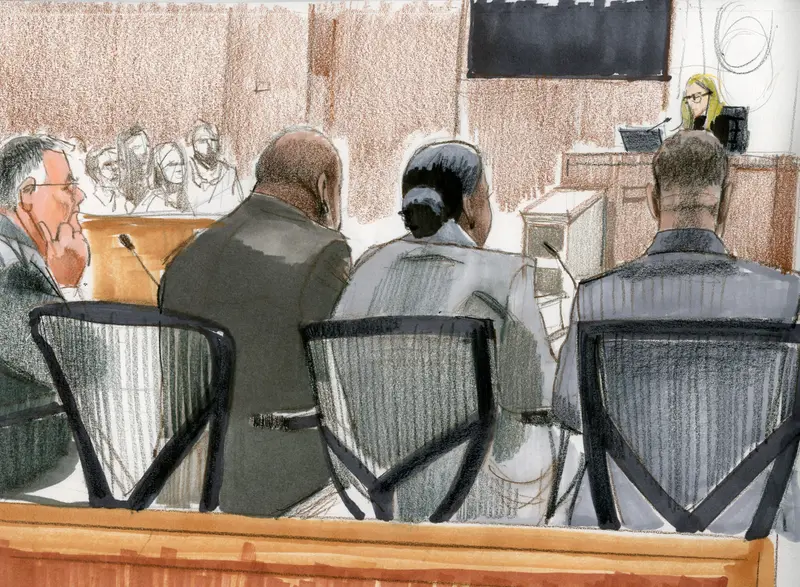 No expert witness was called to testify about the technology and how it worked at that time. So the testimony about the device — about how those AirPods would have synced and been named at the time — was left unresolved.
Testifying for the prosecution, Ashley Sanchez, now 19, explained that she could not find her AirPods that day, either.
She told her father, who called the school to report them as stolen. (He was on the city's witness list but did not show up at court; he previously told reporters he wanted nothing to do with the case.)
Sanchez explained during her testimony why she believed Harris had stolen them.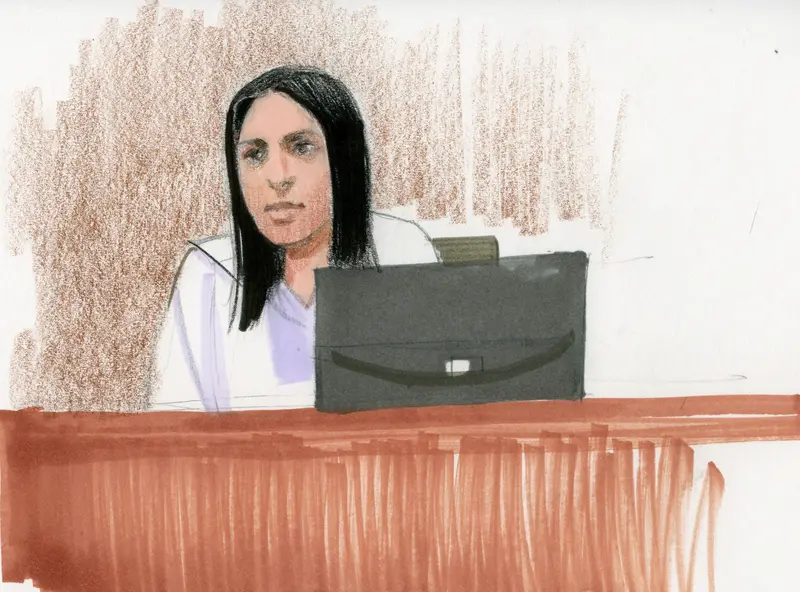 Days after Harris picked up the AirPods from the common area, Sanchez said a friend alerted her that she saw "Amara's AirPods" show up as a paired device on her Chromebook, and "Ashley's AirPods" no longer showed. (They had been paired before.) That friend, Gabriella Unabia, took a photo of what appeared on her Chromebook and sent it to Sanchez.
Sanchez went to Harris and asked her about them directly, Harris testified.
"She said, 'Did you take my AirPods?'" Harris said, "I replied, 'I don't know what you're talking about.'"
But Sanchez relayed her suspicion to a school dean that Harris had taken them from her backpack during a class they shared — and where her bag had been left unattended.
That became enough proof for the school police officer to accuse Harris of theft, and the prosecutor logged the photo as evidence in the trial.
"You have no evidence that Amara stole your AirPods?" Yeary asked Sanchez on the stand.
"Other than the picture, no," she replied.
A series of other city witnesses acknowledged a lack of direct evidence that Harris knowingly took AirPods that weren't hers.
Unabia, when pressed on how she could be sure Harris had stolen the device, said there wasn't any direct evidence.
"So, you made an assumption?" Yeary asked.
"Yeah, I guess," Unabia said.
James Konrad, one of Naperville North's deans, also testified he had "no reason to think" Harris, whom he described as a well-rounded student with no disciplinary history, had stolen them.
Later in the day, after Sanchez went home and got the AirPods box, Konrad took Harris out of class and compared the serial number on the AirPods with the box. They matched. Solon repeatedly used that as evidence that Harris should have known the AirPods weren't hers because of the serial number. But Harris said she had no idea about the serial number, and other witnesses testified that they also never had a reason to know the serial numbers on their devices.
Harris testified that after realizing she had Sanchez's AirPods, she had no qualms about turning them over to the dean.
"I expressed to him that I don't know how that happened, and if they're not mine, I am not going to keep them," Harris testified.
"You didn't object?" "You didn't run?" "You didn't yell?" Yeary asked in quick succession. She answered no after each question.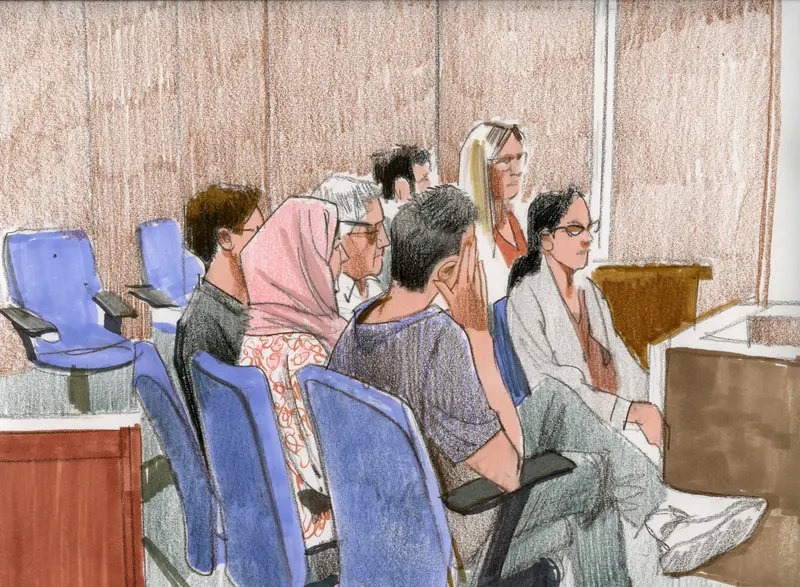 Even the officer who issued the ticket, Juan Leon, testified he had no direct evidence that Harris had sought to steal the AirPods instead of picking them up in error.
"You never got any factual information that Amara Harris knew the AirPods were not hers?" Yeary asked.
"No," Leon said.
Leon testified that he initially wanted to give Harris a "station adjustment," which requires parental approval and involves the minor talking with police and possibly doing community service. But when Harris' mother refused to discuss that option with him, Leon said, he issued the ticket.
"Because she refused to have a conversation with you … you used your discretion to issue a ticket?" Yeary asked.
"Correct," Leon replied.
Yeary reminded the jurors later in his closing argument of that testimony.
"He decided he would get mad and write a ticket because he could," Yeary said. "That should be chilling to anyone who has children."
After Leon issued Harris a ticket, the teenager refused to pay the fine. Naperville tickets are contested in DuPage County court proceedings, and after refusing to accept settlement offers in which Harris felt she'd still be admitting guilt, the case advanced to trial by jury.
"I didn't steal them, so there was no need for me to pay a fine," Harris testified Wednesday afternoon, repeating for the jury what she has said for years about why she didn't simply pay the fine that came with the ticket. "I didn't take the AirPods."
Before the case went to the jury, Solon called Harris' story "wholly unbelievable" and told jurors she must have gone into her classmate's backpack, swiped the AirPods and then actively renamed them as her own.
Yeary appealed directly to the parents among the jurors.
"Imagine if it were your children sitting in Amara Harris' seat. Would you want someone to tell you your child was liable for a mistake?" Yeary asked. "It's almost like they are just saying pay the ticket and make it go away. Can you imagine how that sounds?"
LaCloche has said the city hasn't spent extra money on legal fees for the case because it's being handled by a city prosecutor, though he has spent many days in court handling it. A school district spokesperson would not immediately say whether the district has incurred costs, but multiple attorneys representing it were at the trial this week.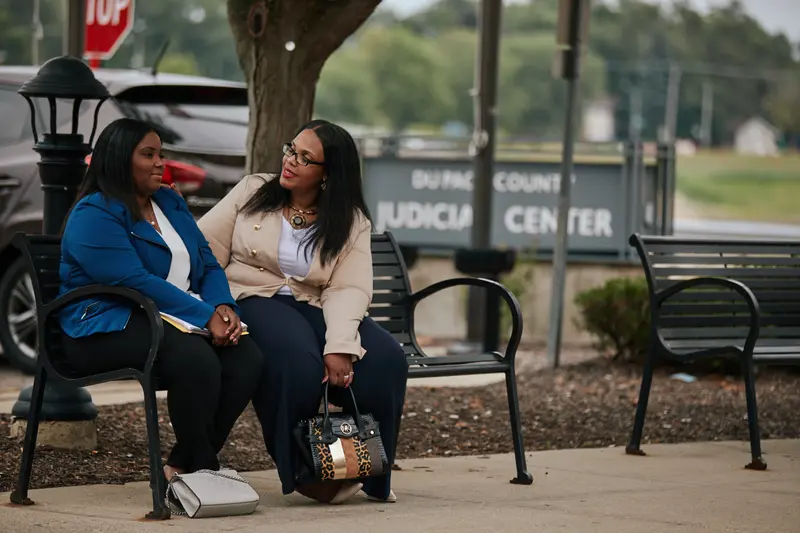 Outside the courtroom, Baker and Harris prayed together throughout the trial, sometimes holding hands. Baker said the case was about more than the ticket issued to her daughter, pointing to the reporting that has exposed how students across Illinois are ticketed by police for their behavior at school — with little chance of winning.
"We now know it's not just us. This is about the thousands of children being thrown into the system without proper legal representation," she said. "We hope this encourages people to fight even the smallest of injustices and fight for the truth."
Correction
Aug. 10, 2023: This story originally misstated the day a verdict was handed down. It was Thursday, not Wednesday.