For the past decade, ProPublica's Nonprofit Explorer has published financial details of every tax-exempt organization in the United States that files annual reports with the Internal Revenue Service. And until this year, the site looked about its age.
While we regularly update our database with new documents, we've only occasionally added new features (like a full-text filing search and an employee search) or updated its looks or back-end code. This year, however, we dedicated a team to take our favorite news app and give it some much-needed love, as well as new bells and whistles. Most exciting of all, we now have email alerts to let you know when we publish new documents for an organization you're interested in. You tell us which nonprofits you want notifications for, and we'll do the rest.
There are under-the-hood improvements, of course: We updated and upgraded much of the underlying code, tuned our data loaders and upgraded our search systems. But the most exciting updates are the ones we hope will help you in your research. (Our reporters and editors will be doing a walkthrough of the new features on Monday, Nov. 27.)
First, the email alerts. On every organization page of Nonprofit Explorer, you'll find a "subscribe" button. If you click it, we'll ask for your email address, and we'll verify that you want us to send you emails. Once you do, we'll alert you every time we publish a new 990, 990-PF, 990-EZ or audit for that organization. You can add more nonprofits to your list at any time and manage them from a single page. These alerts should be rare — most likely no more than once or twice per year for any given organization — but it's something we know users, including many journalists here at ProPublica, have wanted for a long time.
What's more, we've changed how search works. Search is one of the primary uses of Nonprofit Explorer, and now you can find what you're looking for faster and easier than ever. When you search, we'll tell you not just how many organizations match that search, but how many times that term appears in the full text of e-filed documents and how many key employees or officers match the same term. You can also access search from any page on the site in the top right corner.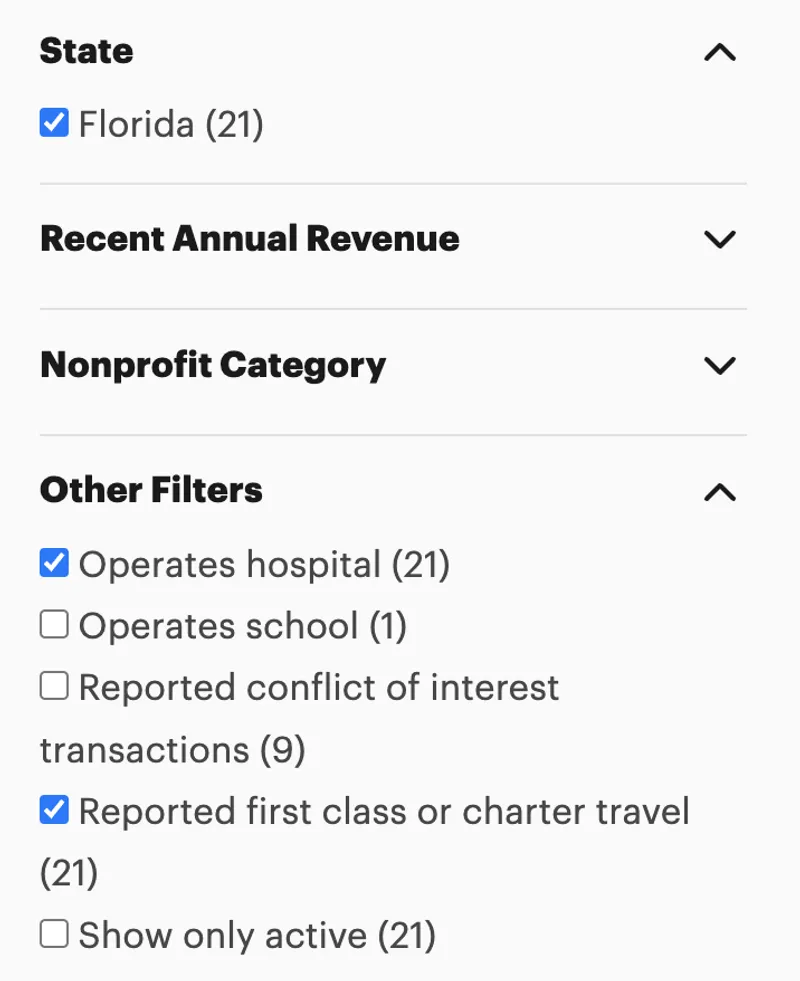 Once you've searched, you can narrow your results with a number of new filters. Drill down to organizations in a specific state, or with a specific revenue range. If you're a journalist or researcher, you may appreciate the option to filter down just to organizations that said they provide first-class travel, or that have reported conflicts of interest. For the employee search, you can filter by state or compensation. For the filing text search, you can filter by which part of the 990 your search term was found on — meaning you can filter down, for example, to anyone who listed ProPublica as a grantee on Schedule I. We also give you context and highlight where the term appears on the form page, much like in a Google search result.
Instead of searching, you can filter all nonprofits, employees or forms — meaning you can filter down to all nonprofit hospitals in Florida that reported paying for first-class or charter travel for executives.
We also wanted to help people who are not tax experts understand these important documents. To that end, we made some information easier to understand. For instance, we now have indicators to show if a nonprofit operates a school, hospital or donor-advised fund, or provides certain benefits to executives. We also added charts of revenue, expenses, assets and liabilities, giving you a snapshot of a nonprofit's activities and health over time.
Instead of expecting people to already know the difference between a 990, a 990-T, a 990-PF or an audit, we now have helpful text that describes what each document is used for, and we give people a clear way to access each document. When you're reading a document, we've also added helpful navigation and a print button that also allows you to download a PDF of the filing.
Users also will have instant access to financial summaries of filings. Before, we had been relying on the IRS to release the information in its published annual extracts. Now, however, we extract that information ourselves, meaning that the summaries will appear as soon as we have the documents. This also allows us to correct summaries in instances when a nonprofit later files an amendment.
Last, but certainly not least, we've added state pages. State pages tell you what the highest-revenue nonprofits are in each state, as well as the highest-earning nonprofit employees in each state. If you're a local reporter, you might want to keep a tab on, for example, the largest nonprofits and the highest-earning nonprofit employees in Pennsylvania.
While these are the big updates, there are lots of small things we've done to make the experience of researching nonprofits even easier. This is a labor of love for us here at ProPublica — we really think this is one of our finest public services. Three developer-journalists — Andrea Suozzo, Alec Glassford and Brandon Roberts — spent six months working on this project full time. Designer Jeff Frankl and another news applications developer, Ash Ngu, made further contributions, and many other people helped us along the way. If you've ever found Nonprofit Explorer to be helpful in your life, please consider donating, and we'll make sure we keep updating it with new features and documents for years to come.